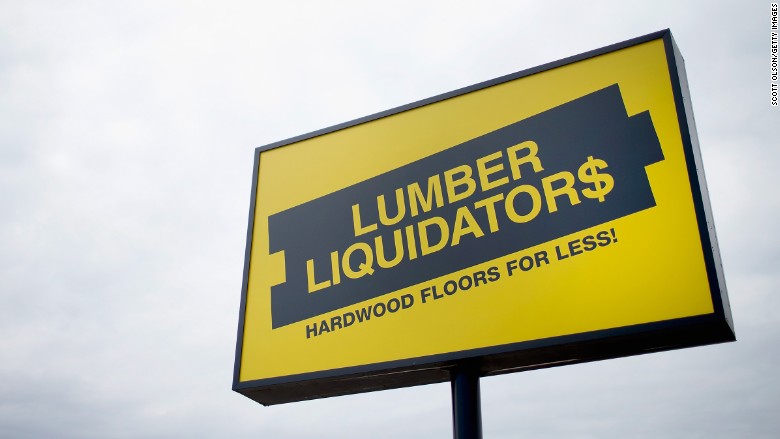 Lumber Liquidators bought a full-page newspaper ad attempting to clear up "confusion" about toxins in its laminate flooring.
The federal Centers for Disease Control said on February 18 that tainted laminate flooring sold by Lumber Liquidators poses a greater health risk than the CDC first reported.
The company's shares have plunged 21.8% in the past five days. It is due to report quarterly financial results on Monday morning.
Now, Lumber Liquidators is fighting to restore consumers' and investors' faith in the products it currently sells.
"Recent media accounts have created confusion about the products we sell and whether or not they are impacted by a report from the [CDC]," Lumber Liquidators' ad, which ran in Sunday's edition of the New York Times.
It says the CDC's findings "do not apply to any of our current laminate products sold in our stores -- all of which are made in North America or Europe."
Related: Zenefits triggers California probe into its own practices
The ad also points out that the CDC report is based on products that were made in China and sold by Lumber Liquidators between 2012 and 2014.
Lumber Liquidators also posted an open letter to consumers and FAQ on its website regarding the CDC report.
A federal probe began after a March 2015 "60 Minutes" report uncovered the presence of formaldehyde, a known carcinogen, in laminate flooring sold by Lumber Liquidators. The company said it ceased sales of the products in May 2015.
Federal investigators tested and confirmed the presence of formaldehyde in laminate flooring samples, and the CDC recently revised its report evaluating health effects of exposure to those products due to a calculation error.
Related: SEC probes HSBC hiring in Asia
The initial report, released February 10, put the risk of cancer at 2 to 9 cases per 100,000 people. Now, it's estimating 6 to 30 cases per 100,000 people, and warns even more customers may be at risk for eye, nose and throat irritation.
The report's recommendations were not altered. It says affected customers should take steps to aerate their home or remove the flooring if a strong chemical odor is present; however, the flooring does not likely pose a risk if it's been installed for more than two years.