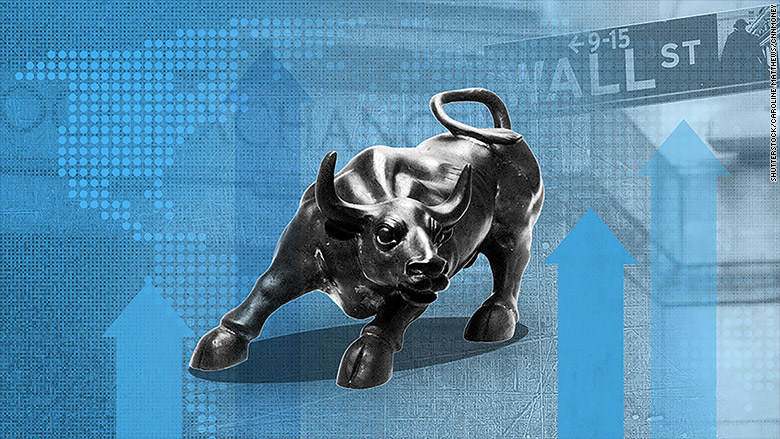 It turned out to be Super Tuesday for the stock market too.
As Americans in 13 states (and American Samoa) went to the polls to vote for their favorite presidential nominee, investors bought stocks with gusto.
The Dow popped 349 points (2.1%) for its second best day of the year. The S&P 500 surged 2.4%.
Not to be outdone, the tech-heavy Nasdaq index had its greatest day of 2016 with a whopping 2.9% gain.
America's favorite tech stocks -- the so-called "FANG" club of Facebook (FB), Apple (AAPL), Netflix (NFLX) and Google (GOOGL) -- helped lead the charge with big rallies.
Dave Lutz of Jones Trading dubbed it a "market moonshot" day.
The buying wasn't just limited to the United States. Markets surged around the world from China to India to Germany. Even troubled Greece ended the day with a gain.
Related: U.S. economy better, but Americans aren't feeling it
Yes, March is known to come in like a lion, but traders have more on their mind than the calendar. Here are the three reasons stocks soared today:
1. The U.S. economy is OK
Strong February auto sales figures are the latest sign that the U.S. economy -- and the U.S. consumer -- are still healthy.
"Economic data in the U.S. -- manufacturing, construction spending, industrial production, durable goods -- all have been better than expected. There is this sigh of relief being breathed," says Liz Ann Sonders chief investment strategist
There's still plenty of ugly economic data from China. But investors are encouraged that the U.S. is holding firm in the face of all the turmoil. At the moment, it looks like investors may have priced in too much pessimism in January when the market was down over 10%.
Now the market is down only 3.5% for the year. It's a big U-turn.
Related: Who's worried about China now?
2. Oil prices are finally picking up
Oil and stocks have been moving in lockstep since the start of the year. Sure enough, oil rose another 2% today to close at $34.40 -- its highest level since January 5. People are legitimately starting to wonder if the market has found a bottom and the worst may be over.
Related: U.S. oil production at 43-year high
3. The Federal Reserve seems to "get it"
Yet another Fed official -- this time Bill Dudley -- made it sound highly unlikely that the Fed will raise interest rates in March.
Even more importantly, he implied that he's starting to scale back his forecasts for how well the U.S. will do this year. It's not a drastic change, but enough to sound like caution is back.
The Fed came into 2016 expecting to do as many as four rate hikes. Now one or two seem more likely, if that.