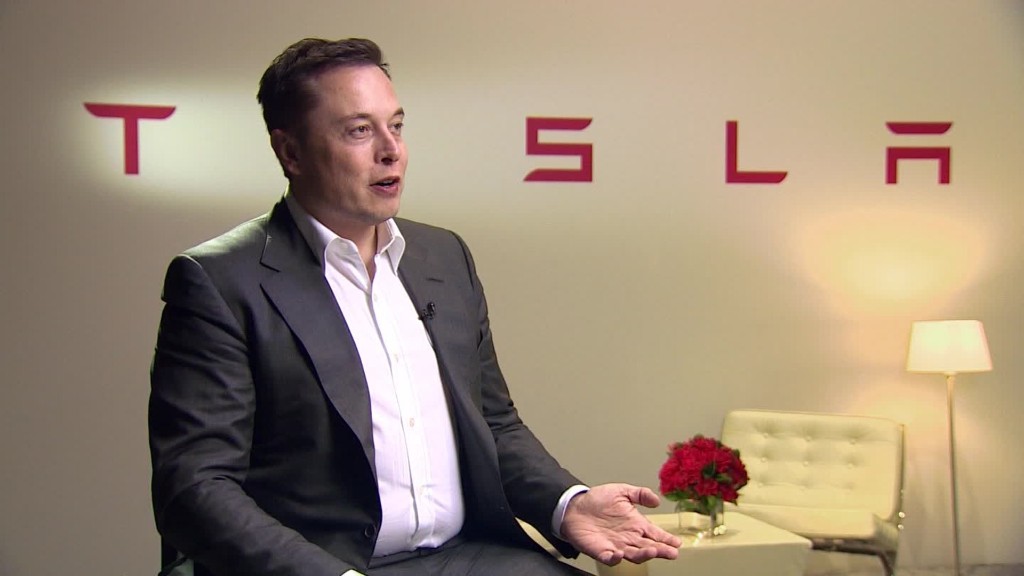 Tesla and its CEO Elon Musk may have a new problem. It's now the target of one of Wall Street's most prominent short sellers.
The electric car company's stock fell 3% on what turned out to be a Supercalifragilisticexpialidocious Tuesday for the broader market.
And it appears that one tweet from Citron Research was the reason for the selloff.
Citron said in the tweet that Tesla (TSLA) is having problems with both supply and demand, and that this could lead the stock to fall to $100 by the end of the year.
That's 46% lower than Tesla's current stock price. So Citron is recommending that investors short Tesla stock -- that is, borrow shares from a broker and sell them with the hopes of buying them back at a lower price in order to pocket the difference.
Citron has made a name for itself by advising investors to bet against stocks that it believes are due for a big fall.
It has been bearish on controversial drug company Valeant (VRX), online furniture retailer Wayfair (W), driverless car tech company Mobileye (MBLY), Monster Beverage (MNST) and Gap (GPS) in recent months.
Its founder, Andrew Left, is very vocal and media savvy. He's often appeared on CNBC and Bloomberg to talk about his short calls.
So investors should pay attention to Left and Citron.
Related: Tesla stock rallies on 2016 guidance
Still, it's worth noting that much of the risks that Citron cited about Tesla are already well-known. The stock is down 22% this year and is trading 35% below its 52-week high.
It's not a secret that supply issues could prevent Tesla from making as many Model X SUVs as it wants.
And demand for electric cars could wane in this era of cheap gas. Major automakers Ford (F), GM (GM) and Fiat Chrysler (FCAU) all just reported on Tuesday that sales of trucks and SUVs are booming.
Want more investing news? Subscribe to CNNMoney's Quest Means Business newsletter!
This also isn't the first time that Citron has had bearish things to say about Tesla. In August 2013, Citron wrote this in a report.
The reality is that once Tesla fills the orders from the early adopters, movie stars and high net worth trend setters, and begins to depend on the everyday mass market, buying a car is the most price-sensitive purchase in the marketplace.
The average customer walks through the dealer's door knowing full well, as does the dealer, exactly how many dollars per month they will fork over to close the deal. It is not a question of '"emerging technology."
Citron may be right about that. And the true test will come once Tesla starts selling its more affordable Model 3 sometime in 2017 or 2018.
Related: What we know about Tesla's Model 3
But betting against Tesla has been risky -- and often the wrong call.
The stock is actually up 30% since its last earnings report in mid-February. The company impressed investors with its outlook for vehicle deliveries.
And despite the stomach wrenching volatility in the stock, Tesla has gained nearly 400% over the past three years -- much better than the S&P 500 and the stocks of traditional automakers.