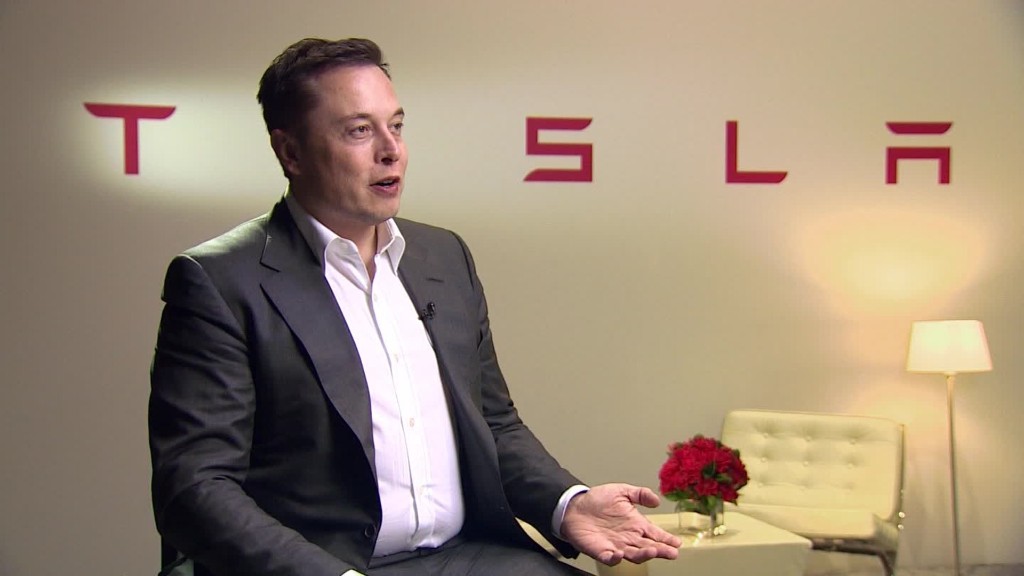 Tesla still isn't turning a profit. But the carmaker boosted its delivery guidance when it posted earnings, sending its shares up 13% in after hours trading.
In his letter to shareholders, CEO Elon Musk confirmed that Tesla plans to deliver at least 80,000 vehicles in 2016 and raised the high end of the guidance to 90,000, quelling investor fears that the company may not be able ramp up production to meet demand.
Deliveries are a key metric for the company because it gauges how quickly Tesla is producing its electric cars and getting them to customers that placed orders for them.
In a conference call Wednesday, Musk said the company has been focused on meeting that challenge rather than boosting sales. But in 2016, that will be different. He projected that sales will grow between 60% and 80% in the year ahead.
"The last several months have been quite excruciating I'd say, a lot of late nights and weekends, but I'd say we're through the woods a bit at this point," Musk said.
Related: Tesla fixes its auto-park feature after Consumer Reports raises safety concern
Musk said Model S deliveries were up 76% from the same quarter last year, and he doesn't anticipate any hangups with Tesla's new Model X SUV. It began delivering those vehicles in late 2015, and Musk said Tesla is "now significantly increasing Model X production."
Tesla (TSLA) spent billions of dollars investing in a new factory and other capital projects in 2015, and the company ended the fourth quarter $114 million in the red. Analysts had expected it to post a small profit of $3.89 million.
Related: Tesla's worst nightmare ... cheap gas
But Musk plans to turn a profit before the end of 2016. In the coming months, Tesla's massive new Gigafactory will kick into a higher gear by producing batteries for cars and home energy storage, as well as new Tesla Energy products.
There's also the Model 3 to look forward to. At $35,000 before tax breaks, it's about half the price of the basic version of the Model S. The Model 3 could be Tesla's key to the mass market. It'll start taking deposits from buyers on March 31.
But the company does face challenges. The company in the past has overestimated its delivery projections, and demand for electric cars may be sluggish if gas stays stubbornly cheap.
It'll also see new competition. General Motors is likely to start selling the all-electric Chevy Bolt early next year, at a roughly comparable price.
It's been a rough year for Tesla stock. Before the company posted earnings, its shares were down 38.4% year-to-date.