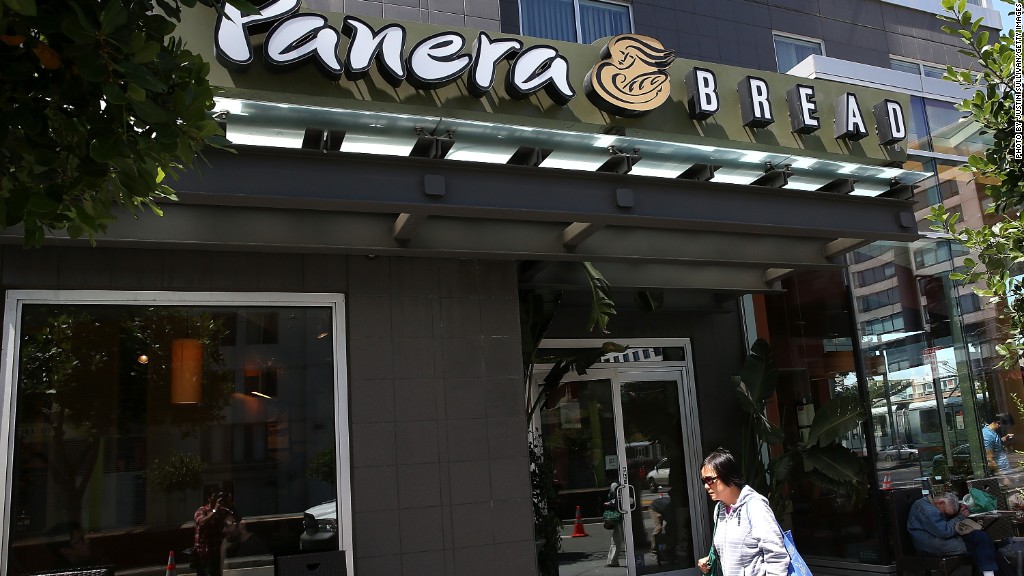 Chipotle's stock has finally stopped falling. It's actually up 10% this year.
Investors are breathing a sigh of relief that Chipotle's E. coli outbreak is over.
But shares are still well below the all-time high they hit last summer. And Chipotle's outlook for the first quarter is not promising. Customers may be slow to flock back to Chipotle (CMG) for their burrito fix.
And that could be good news for another leader of the so-called fast casual dining revolution: Panera (PNRA).
Panera's stock hit a new all-time high on Thursday. Shares have risen like a nice loaf of bread over the past year -- a 30% gain compared to Chipotle's more than 20% drop.
Related: Chipotle's profits sink after E. coli scare
Several analysts suggested back in November -- when Chipotle was in full-blown crisis mode due to the E. coli incidents -- that Panera stood to gain the most from Chipotle's problems.
Even though Panera's menu is nothing like Chipotle's -- the only cilantro you'll find at Panera is in Thai chicken salads and sandwiches -- the two are both regarded by many consumers as being a better place to grab lunch. A step up from fast food.
But Panera executives don't think that Chipotle's woes are helping the company. They point out that Panera was doing just fine before Chipotle's food safety issues.
"Our sales have never correlated heavily with Chipotle's. Customers don't wake up in the morning and think I'm going to choose between fast-casual restaurants. They think, I'm in a mood for a burrito or I'm in a mood for a soup or salad," said Panera president Andrew Madsen last month.
It's a good point. But the numbers tell a different story. Panera's sales growth has picked up in the past few months while Chipotle's have tanked.
Related: Chipotle's E. coli outbreak is over
Panera reported last month that same-store sales (or bakery cafes as the company refers to them) were up 3.6% in the fourth quarter. So far in 2016, the company's sales are up 6.4% -- extremely impressive.
Panera may not want to make it look as if it is taking advantage of Chipotle's problems. But it's fair to say that both Panera and Chipotle share a lot in common.
Both companies have touted the quality of their ingredients as a big selling point.
Panera announced in the summer of 2014 that it was planning to get rid of all additives in its food by the end of last year. And last May, the company published a list of all the artificial colors, flavors, sweeteners and preservatives it was removing.
Sign up for the Quest Means Business Newsletter!
Earlier this year, Panera said that it has already succeeded in making all of its soups "clean" of any additives.
Chipotle now faces a battle to convince customers that its food is still high-end.
But Panera raised its menu prices last year -- and it doesn't look like it hurt demand.
Panera's investments in technology have also helped endear it with customers.
Related: McDonald's sales soar thanks to all day breakfast
The company has been rolling out its Panera 2.0 system to its restaurants over the past few years.
Some of the perks of this technology include Rapid Pick-Up and Fast Lane Kiosks for customers looking to grab a meal without waiting in line, as well as the ability for diners to order from their tables.
Panera, unlike Chipotle, is also open for breakfast. So it competes even more directly with the likes of McDonald's (MCD), Burger King and Taco Bell throughout the day.
And Panera is winning.
The company said that sales before 11 a.m. have been growing faster than lunch and dinner sales for the past few quarters.
So it looks like Chipotle's reign as the king of fast casual may have ended. The crown has been passed to Panera.