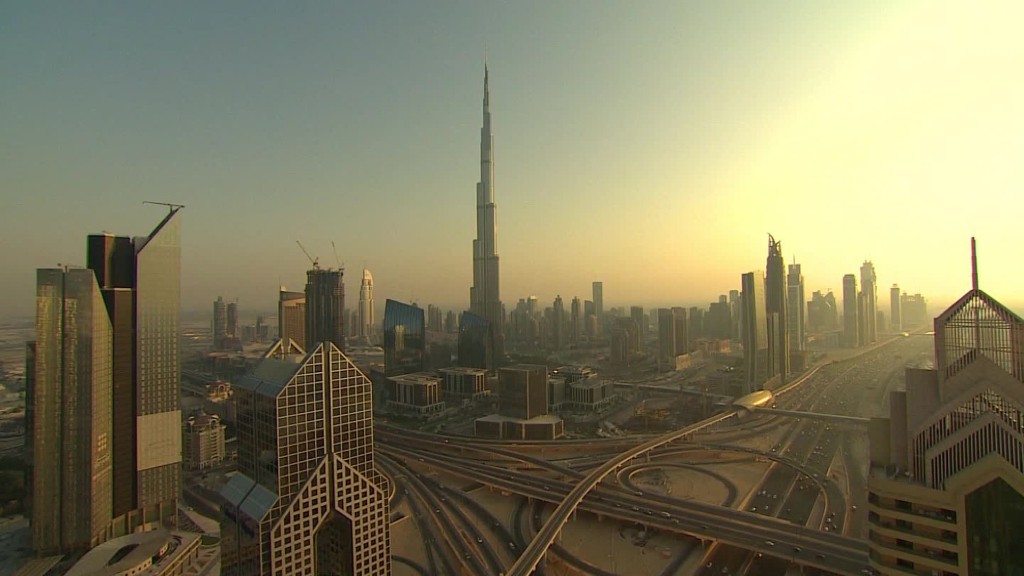 Oil's dramatic price fall has sent shock waves through many Middle Eastern economies.
Generous fuel and food subsidies have been slashed, new taxes introduced, and social benefits axed.
The years when oil cost $100 a barrel and generated $1 trillion in export revenues are gone, and the oil-rich Gulf nations and their people are being forced to accept a new reality.
Here are some of the painful measures they've introduced:
Kuwait
Kuwait enjoys one the world's lowest oil production costs. The country also boasts one of the oldest sovereign wealth funds.
Still, the collapse in crude prices is forcing Kuwait to think the unthinkable: tax company profits.
The plan for a corporate tax rate of 10% follows a move by all Gulf states to roll out a 5% sales tax during 2018.
"The fact that Kuwait is going down the taxation route for corporates is a very different form of ... revenue generation," said Monica Malik, chief economist for Abu Dhabi Commercial Bank.
Related: Oil crash leaves Gulf graduates panicked
United Arab Emirates
The UAE was the first Gulf country to target fuel subsidies when it introduced market pricing for petrol last summer.
Robin Mills, CEO of oil consultancy Qamar Energy, said the move triggered a domino effect. "Once one country feels able to take the step of removing subsidies as the UAE did in this case and that seems to go okay, then other countries get some confidence in following them," said Mills.
All six countries in the region are now cutting subsidies, raising prices at the pump and the cost of water and power.
Saudi Arabia
Ratings agency Moody's downgraded its outlook for the Saudi banking system on Wednesday.
It highlighted Saudi Arabia's 14% reduction in public spending this year as a key factor behind the move.
The region's largest oil producer has already introduced deep spending cuts, cut subsidies, and even slashed its foreign scholarship program.
Related: Big money is betting against Saudi Arabia
Qatar
Qatar is expected to run its first budget deficit in 15 years in 2016. The host of the 2022 World Cup has built up a huge sovereign wealth fund and so is better protected than some of its neighbors.
But even Qatar has had to make cuts. The ruler of the country, Sheikh Tamim bin Hamad al-Thani, was quoted by a state news agency as saying the government could no longer "provide for everything."
It has raised prices of petrol by up to 35%, pushed up water and electricity prices, and ordered state-owned institutions to reduce spending.
According to some, these cuts also led to the closure of the Al Jazeera America news channel.
Related: Gulf investors look to India with hope
Bahrain
Bahrain raised petrol prices for the first time in more than 30 years in January, and cut subsidies on energy. Last October, the government also cut subsidies on meat, which led to a doubling in the price of beef and chicken.
Bahrain's government announced a wide-ranging reform program earlier this year, saying the country needs to diversify and cut spending.
Oman
Oman has also hiked the price of fuel, and announced an increase in corporate income tax to 15% from 12%.