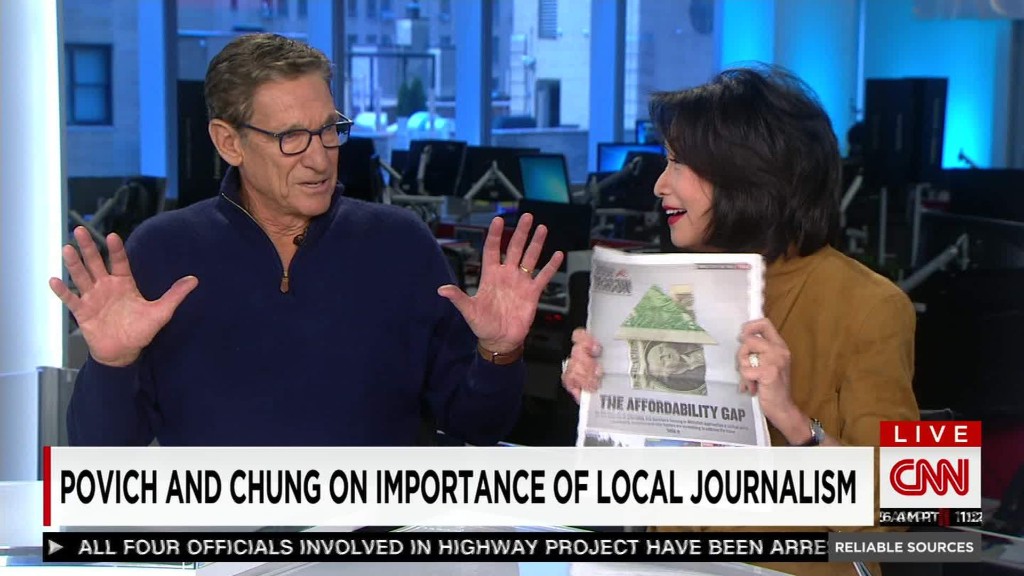 "After nine years, we're almost breaking even."
Maury Povich's local newspaper was never meant to be a profit engine. But he's proud that it is gaining readers, revenue and respect.
The weekly paper, the Flathead Beacon, serves the town of Kalispell and Flathead County in Montana, population 90,000. Povich -- famous for his eponymous daytime talk show -- and his wife, Connie Chung, have a vacation home nearby.
"It's really homegrown and it's been a critical success," he said in a telephone interview.
To that end, the Columbia Journalism Review recently profiled the paper and quoted a journalism professor who called it "the best newsroom in Montana."
"The first edition of the Beacon, totaling 24 pages, was published in May 2007," CJR explained. "Since then, the Beacon has grown from a staff of seven people to more than 20 employees, with five and a half newsroom positions."
The staff publishes news stories every day on the web site in addition to the weekly print edition.
Povich started the paper partly because he wasn't impressed by the community's existing daily paper, the Daily Inter Lake, and partly as a "tip of the hat" to his late father, the legendary Washington Post storyteller Shirley Povich. He operates several other businesses, including a production company, but this one is more personal.
Speaking with CNNMoney, Povich said he has received a surprising amount of feedback about the profile of the Flathead Beacon. So has Heidi Gaiser, a veteran Montana reporter who wrote it.
"Many people did not know Maury Povich was the owner. They have never hidden it, but they've never made a thing of it either," Gaiser said in an email message.
Related: For longtime subscribers, print papers remain a lifeline
Povich said he has always sought to make editor-in-chief Kellyn Brown the face of the paper, along with Brown's lieutenants.
"Not only are they great reporters, they're great writers," he said.
Chung, also on the phone, added with obvious pride, "they're so good."
The paper recently paid for two staff members to travel to the Super Bowl because one of the quarterbacks was a Montana native.
The paper brings the couple joy, but it is a business. And there have been some media business lessons along the way.
"What we've found out is that you just can't make it on print alone," Povich said. "You've gotta be a bit more expansive. So I bought Flatland Living." That's a glossy quarterly magazine guide to the region.
He also bought a local marketing firm and integrated it with the paper. "It is almost like a production company, so we can give advertisers more than just a spread in the paper," he explained. "We do web site development for clients; social media; we do their brochures, special sections."
Gaiser, who used to write for the Daily Inter Lake, said the Beacon "is incredibly well regarded" in town.
After her profile let more people know about Povich's ownership, she said there's been buzz elsewhere in the state about it: Some people in Billings "would like Maury to start a paper there."
Povich and Chung will appear on CNN's "Reliable Sources," Sunday at 11 a.m. Eastern.