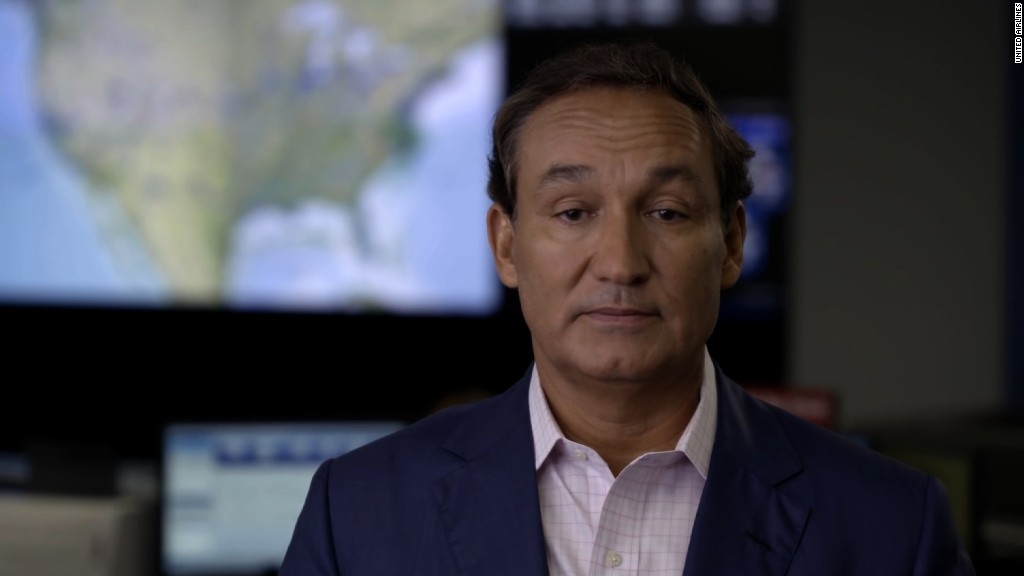 United Airlines has given up on its plan to buy Delta's takeoff and landing times at Newark Liberty International Airport -- a move that the federal government had sued to block.
Last year, United agreed to buy 24 "slots" from Delta at Newark. Slots are FAA-issued 30-minute windows in which an airplane can take off or land. The FAA issues a limited number of slots at Newark to reduce congestion.
But United (UAL) already controls 902 slots at Newark, making up 73% of the total available takeoff and landing windows -- 10 times more than any competitor. Buying Delta's slots would have given United control of 75% of Newark's slots.
In November 2015, the U.S. Department of Justice filed a lawsuit to block United's proposed deal with Delta, claiming that it violated federal antitrust laws. The DOJ said United already has a monopoly at Newark and the deal would have led to higher fares and fewer choices for flyers.
United and Delta (DAL) unsuccessfully sought to dismiss the lawsuit in January.
The FAA came to the rescue on April 1. The agency agreed to open up more slots at Newark, noting that there is excess capacity for takeoffs and landings. Many airlines, including United, bought slots that they never used in order to create a buffer for delayed flights.
In fact, United has such a monopoly at Newark, that it lets more slots go unused than any of its competitors have to actually take off or land.
With the option to buy more slots from the FAA's new inventory, United has canceled its slot purchase agreement with Delta.
"This is a great win for Newark travelers and for all American consumers," said Assistant Attorney General Bill Baer in a prepared statement. "The FAA's action opens up Newark to more robust competition and achieves the very outcome we sought in litigation: protecting consumers from United's plan to enlarge its monopoly at Newark."
Related: United CEO returns to work after heart transplant
Airlines are free to negotiate slot deals between themselves. As part of the United and Delta deal, United sold Delta 30 of its slots at New York's JFK airport for $14 million.
That part of the deal went through, and Delta is currently using United's former JFK slots. Delta is the largest airline at JFK, controlling 31% of the airport's slots.
There is a robust market for slots at high-traffic airports, so the DOJ has attempted to limit control of them.
For example, American Airlines (AMERICAN AIR) and US Airways faced opposition from the DOJ in 2013 when they tried to merge. The DOJ only allowed the merger to proceed after the airlines agreed to give up a certain number of slots at seven high-traffic airports.
This isn't the first time United has ended up in trouble over its dealings at Newark. United's former CEO Jeff Smisek resigned in September 2015 after a federal investigation probed whether the airline provided kickbacks in exchange for improvements at Newark's airport.
United warned that the FAA's new arrangement could increase congestion at Newark.
Newark is one of the country's busiest airports, with 35 million travelers passing through every year. The DOJ noted that Newark airfares are among the most expensive in the country, and that United's service at Newark "ranks among the worst."