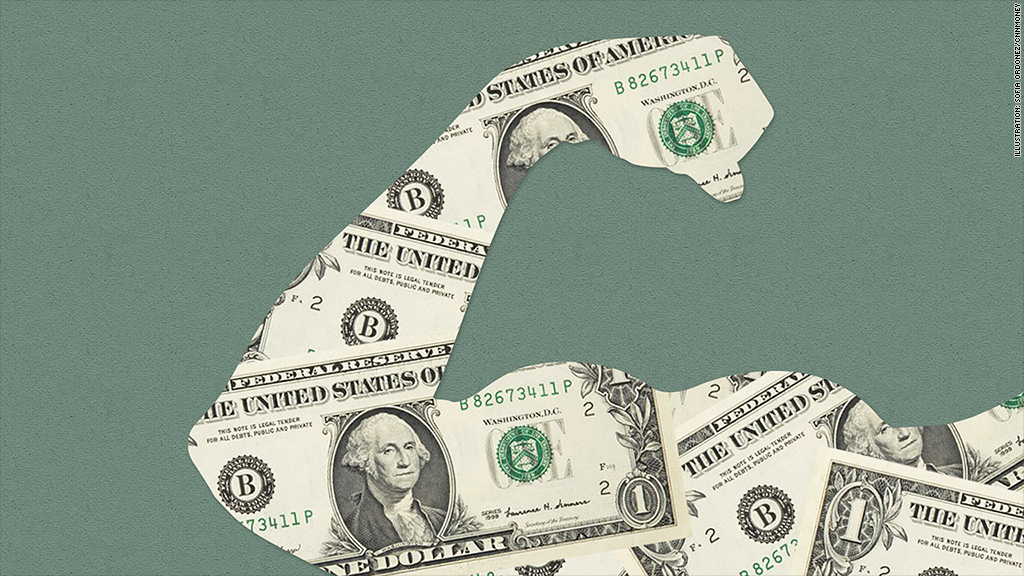 The dollar has started to weaken again -- which should be good news for all those huge U.S. companies in the Dow and S&P 500 that do big business overseas.
But you wouldn't know that from the latest batch of corporate earnings.
Apple (AAPL), Coke (KO), Procter & Gamble (PG) and DuPont (DD) are just a few of the many blue chip companies whose profits were dinged by the strength of the dollar in the beginning of the year.
A strong dollar hurts their results because these companies have to translate sales made in weaker international currencies back into dollars when they report their results.
Many of these companies also issued a cautious outlook for the second quarter and full year, partly due to the impact of the dollar.
So shouldn't Corporate America be excited by the dollar's recent slide? It is currently trading at $1.13 against the euro -- well above its 52-week low of about $1.05.
Worries about dollar-euro parity have faded ... for now.
Related: Whirlpool is the poster child for global economic turmoil
Still, experts said they understand why executives aren't jumping for joy about the recent pullback in the greenback.
"The dollar is not creating the same level of headwinds now. There is a bit of a reprieve for large multinationals," said Eric Wiegand, senior portfolio manager with the private client reserve at U.S. Bank.
"But earnings have merely been less bad. There is still a lot for investors to be guarded about," he added.
The Federal Reserve could put an end to the dollar doldrums as well. There are growing expectations that the Fed may be preparing for another interest rate hike (or two) later this year.
That would likely cause the dollar to rally.
"If the Fed moves faster than anticipated with rate hikes, you would expect the dollar to be stronger again. That would still be a negative," said JJ Kinahan, chief market strategist for TD Ameritrade.
Related: Emerging markets have rallied. Will it last?
Not all big companies are worried though. Johnson & Johnson (JNJ) recently hit an all-time high after it reported its earnings -- and said that it expected the dollar to remain relatively weak and boost earnings.
It's also important to note that the dollar is only weak compared to its recent trading range. It's nowhere close to the peak of above $1.60 against the euro that it hit against the euro during the depths of the 2008 financial crisis.
Crit Thomas, senior investment strategist at Touchstone Investments, added that many big companies have currency hedges in place to protect themselves from wild swings in the dollar. So as long as the dollar stabilizes, Corporate America should be okay.
But given how unpredictable the financial markets have been lately, most companies seem to think that it's better to not express too much excitement about what's happened to the dollar lately.
"CEOs don't get fired because things were better than expected. It's better to be cautious," Kinahan said.