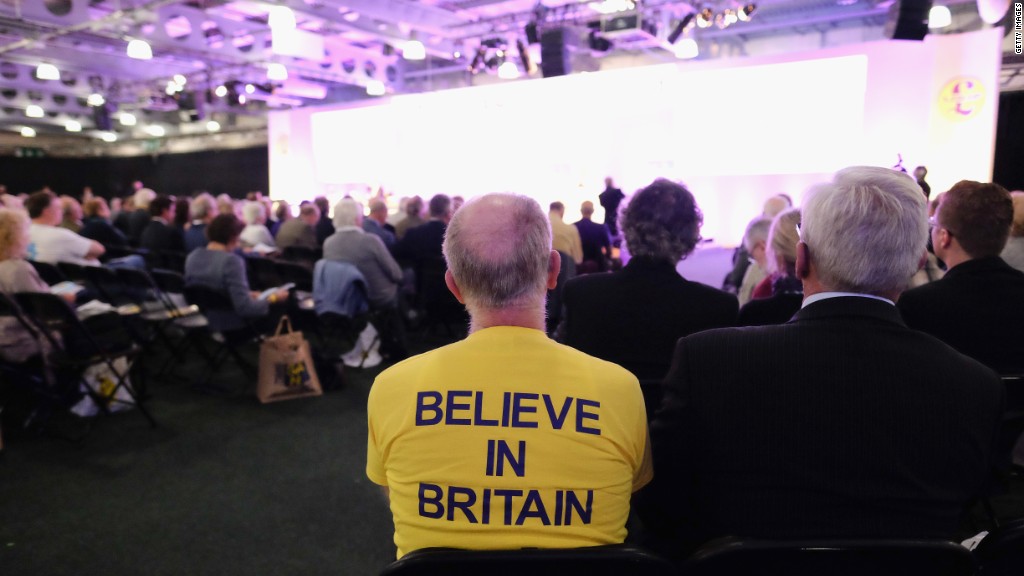 Britain's vote on membership of the European Union is still two months away but it's already hurting the economy.
Latest official data show economic growth slowed to 0.4% in the first quarter. Industrial production and construction output shrank, as investment decisions were postponed pending the June 23 referendum on whether to leave the EU.
"The slowdown was caused by largely idiosyncratic and transitory risks, namely the financial market rout at the start of the year and the forthcoming EU referendum," said Kallum Pickering, senior U.K. economist at Berenberg.
Most forecasters, the U.K. government and the International Monetary Fund have warned of an economic shock if Britain votes to leave -- the Brexit scenario -- largely because it's impossible to know whether the country would continue to enjoy easy access to the vast European market.
The Organization for Economic Cooperation and Development joined the chorus on Wednesday, saying Brexit would hit confidence and raise uncertainty.
"Britons will be paying a heavy 'Brexit tax' for many years if the U.K. leaves the EU," the OECD said.
It estimates that GDP would be 3% lower by 2020 than if the country remains in the 28-country bloc.
Related: Britain's EU vote matters to America
Some analysts say the slump could get worse in the current quarter as uncertainty increases in the weeks before the vote.
"This is expected to weigh down on business investment and employment, and it may well also limit consumers' willingness to splash out on big ticket items," said Howard Archer at IHS Economics.
Investment in commercial real estate in central London has seen a marked slowdown in the last few months.
At least the pound is getting some relief.
The currency hit a seven-year low of $1.41 in February on concerns about the fallout of a Brexit vote. But last week's anti-Brexit intervention by President Obama, seen as a major boost for the pro-EU campaign, has helped the pound bounce back to $1.46.