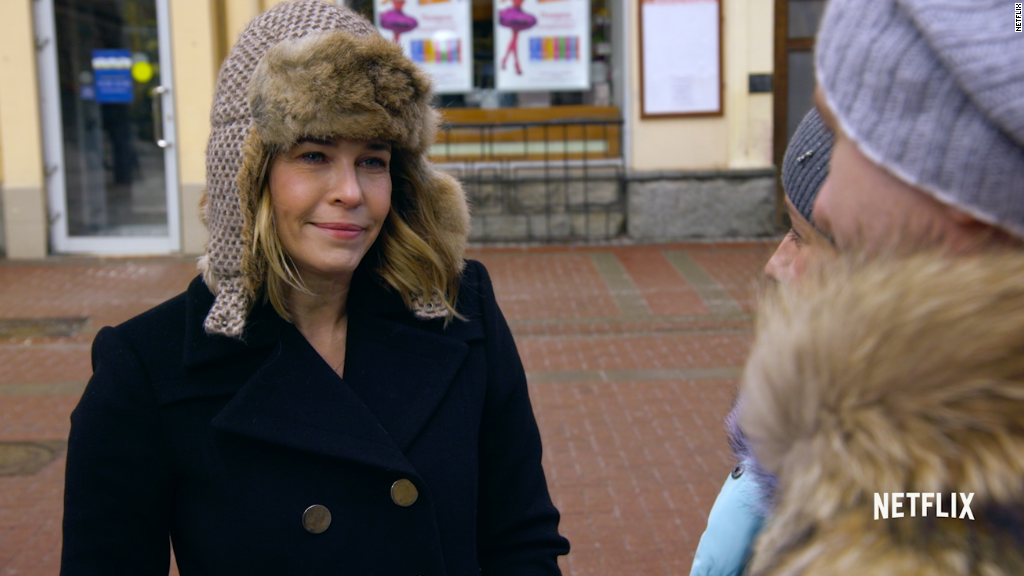 Chelsea Handler is getting another show on Netflix.
The 30-minute show called, "Chelsea," is the streaming service's first-ever talk show.
It is set to premiere on Wednesday, and new episodes will debut every Wednesday, Thursday and Friday night at 12:01 am PT.
"Chelsea" will feature live in-studio interviews with celebrities, experts and dignitaries as well as footage of her worldwide exploits.
In a new 90-second trailer, Handler can be seen training with Russian athletes, being rejected by a polygamist, and pretending to be Oprah.
"I'm treating this show like the college education I forgot to get," she says in the trailer.
"Chelsea" is the latest step in Netflix's efforts to frame itself as a media company. It has spent billions of dollars to acquire and produce shows and got 34 Emmy nominations last year.
Related: Marvel's 'The Punisher' to star in spinoff Netflix series
According to Netflix (NFLX), Handler will also tackle "politics, parenting, education, health, sports, alternative lifestyles and international cultures."
Her first three shows will focus on education, telenovelas and comics. She'll interview Drew Barrymore, Pitbull and Gwyneth Paltrow and will travel to Mexico. She'll also host a dinner at her house with some of the cast members from "Captain America: Civil War."
Related: Chelsea Handler Instagrams another nudie pic
"Chelsea" is Handler's second Netflix show.
"Chelsea Does," which debuted earlier this year, consisted of four episodes in its first season and featured Handler taking on topics like marriage, drugs, racism and technology.
She also has a Netflix standup comedy special called "Uganda Be Kidding Me, Live" which is based on a trip she took to Africa and other events and characters in her life.
Handler used to host a late night talk show on E! called "Chelsea Lately."