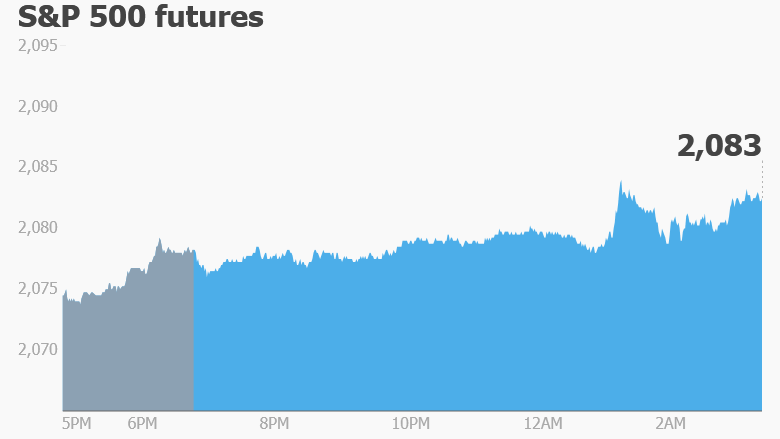 It looks like investors have an appetite for risk on Wednesday.
Markets across the world are gaining, and U.S. stock futures are higher, after solid U.S. home sales data and a strong trading session in Asia.
Here are the five things you need to know before the opening bell rings in New York:
1. Stock market movers -- HP Enterprises, Monsanto, AB InBev: Hewlett Packard Enterprise (HPE) is up 11% premarket, after announcing it will spin off its enterprise services unit late on Tuesday.
Monsanto (MON) gained nearly 2% in after hours trading Tuesday after it rejected Bayer (BAYRY)'s $62 billion takeover bid. Monsanto indicated it was open to a deal at a higher price.
Anheuser-Busch InBev (BUD) is up 2% after the European Commission approved its plan to buy rival SABMiller (SBMRY) for about £68 billion ($99 billion).
2. Oil edging towards $50: U.S. oil futures are up 1.3% early Wednesday, racing towards the magic level of $50 per barrel. Analysts are expecting a further drop in U.S. crude inventories when the latest data is released at 10.30 a.m. ET.
Oil has been gaining steadily in the past couple of weeks, but analysts warn more wild swings in prices might be coming.
3. Earnings and economics: Tiffany & Co (TIF) will report its earnings before the opening bell.
Costco (COST), Guess? (GES) and HP (HPQ) are among the companies reporting after the market close
Canada's central bank will decide on interest rates at 10 a.m. ET. The Canadian economy has been hit by lower oil prices and recent wild fires in Alberta.
4. International markets overview: European markets are up in early trading. Germany's DAX hit the 10,000 points barrier Wednesday, gaining about 1%.
Greece reached a deal with its creditors overnight that will unlock the next tranche of its latest bailout agreed last summer. It also received a vague promise of debt relief in 2018. "The often used headline in recent years was 'kicking the can down the road' and for the most part, this amounts to another example of that," said Simon Smith, the chief economist at FxPro.
Asian markets rallied overnight and finished the session higher.
5. Wednesday market recap: The Dow Jones industrial average gained 1.2% on Tuesday, while the S&P 500 climbed 1.4% and the Nasdaq added 2%.