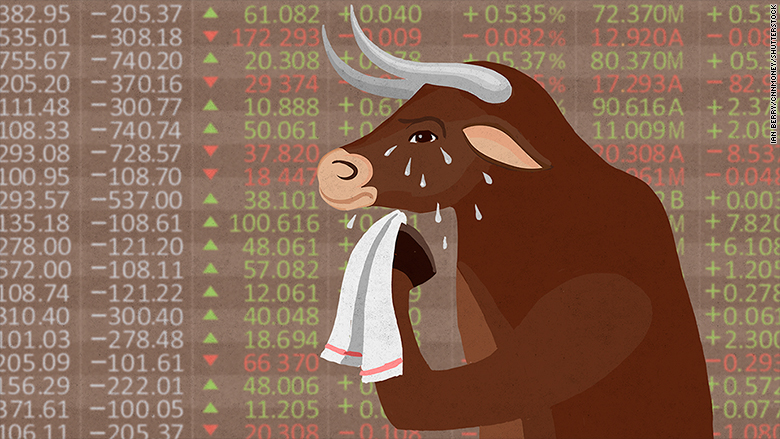 If you love stocks, you're probably feeling pretty lonely right now.
Less than 18% of mom and pop investors are bullish on the market, according to a survey released on Thursday by the American Association of Individual Investors.
That's the lowest level of support for stocks since April 2005 and down dramatically from late 2014 when 58% of individual investors were stock market optimists.
The "meh" attitude doesn't mean that people hate stocks either. Many investors have simply become fence sitters. The percentage of "neutral" investors is now up to 53%, the highest since April 1990, according to survey.
So what's going on? Clearly the backdrop isn't great for investors right now. The global economy is barely growing, the Federal Reserve is talking about lifting the low rates that have juiced stocks for years and there are mounting political risks at home and abroad (see: Brexit).
Ed Yardeni, president of investment advisory Yardeni Research, says the looming U.S. election in November is also putting investors in a bad mood.
"It's going to be a choice between two of the most unpopular candidates ever. That can't be doing much for market sentiment," said Yardeni.
Mark Cuban recently told CNN he believes a Donald Trump victory in the fall could cause "huge, huge" losses for stocks because of the presumptive GOP nominee's unpredictable style.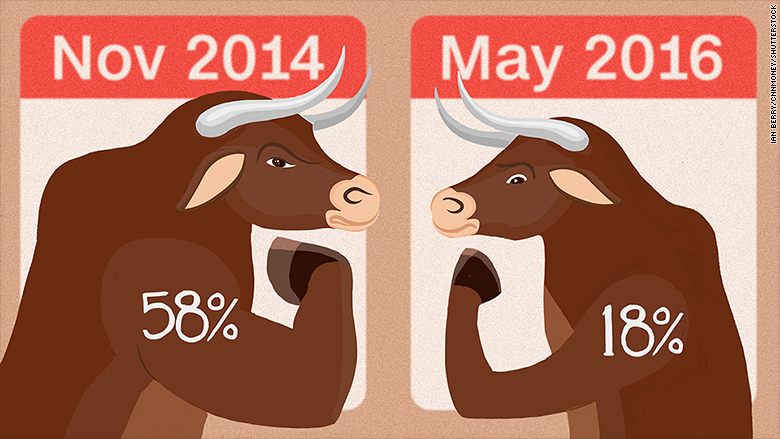 Related: 20 stocks the 'smart money' is betting against
Yardeni also said the recent chatter from the Fed officials about raising rates has "spooked" investors.
Interestingly, the recent decline in bullish sentiment has not occurred during a scary period in the stock market. In fact, Wall Street has calmed down considerably compared with last August and early this year when the markets were basically in meltdown mode. CNNMoney's Fear & Greed Index was flashing "extreme fear" back then. Now it's firmly in "greed" territory.
The Dow is currently sitting at 17,800 and is only about 550 points away from setting new all-time highs for the first time in over a year.
Related: An unhappy anniversary for the bull market
But the stock market could still creep higher. The disappearing bulls means that euphoric feelings about the market have also evaporated. That's often a contrarian indicator, signaling that stocks aren't trading at frothy levels.
Michael Block, chief strategist at Rhino Trading Partners, found that very few stocks in the S&P 500 are trading at overbought levels based on a technical metric known as the relative strength index.
"We have room to run. This is not overdone by any stretch of the imagination," Block wrote in a note.