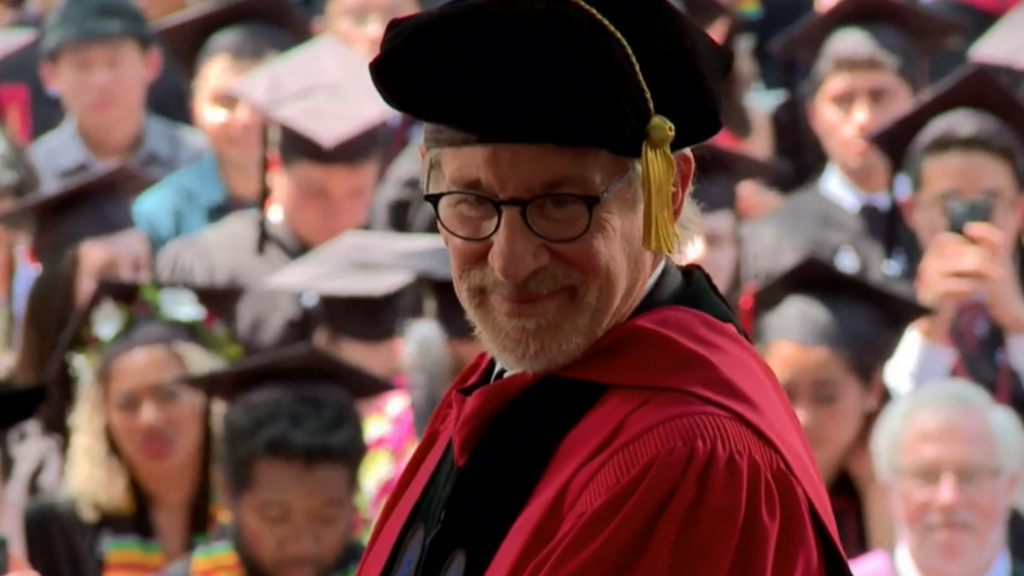 In an "unapologetically sentimental" speech, Steven Spielberg told Harvard graduates how to be real-life cinematic heroes.
The legendary film director's message: Speak up when you disagree with voices of authority.
"A hero needs a villain to vanquish, and you're all in luck. This world is full of monsters. There's racism, homophobia, ethnic hatred, political hatred and religious hatred," Spielberg said at Harvard's 365th commencement ceremony Thursday.
To combat those evils, Spielberg said, people need to study history in order to understand humanity -- and learn to use a moral compass.
"[That is] the reason I so often make movies based on real life events," Spielberg added.
The three-time Academy Award winner got his two Best Director awards from films based on historical events: 1993's "Schindler's List," which is based on the true story of a Nazi who save more than 1,000 Jews from a concentration camp, and 1998's "Saving Private Ryan" about a U.S. Army captain during World War II.
The Jewish director added it was his own experiences with anti-semitism that led him to make movies like "Schindler's List" and record personal accounts of genocide survivors through his USC Shoah Foundation.
Spielberg graduated from California State University Long Beach in 2002 at the age of 55 -- years after he won Academy Awards.
Related: Weighed down by characters, 'X-Men: Apocalypse' doesn't take off
He said he decided to finish his education to encourage his seven children to attend college.
"I began college in my teens but sophomore year, I was offered my dream job at Universal Studios," Spielberg said. He regretted that because "I knew, at 18, exactly what I wanted to do, but I didn't know who I was."
Spielberg, 69, has made more than 27 movies that have together grossed more than $9 billion. His titles also include "Jurassic World," "Transformers," "Jaws" and "E.T."
Related: 'Roots' vividly revived for a new generation on History channel
Spielberg also took what seemed to be a jab at Republican presidential candidate Donald Trump and his immigration policies.
"We are a nation of immigrants...at least for now," he said to chuckles.