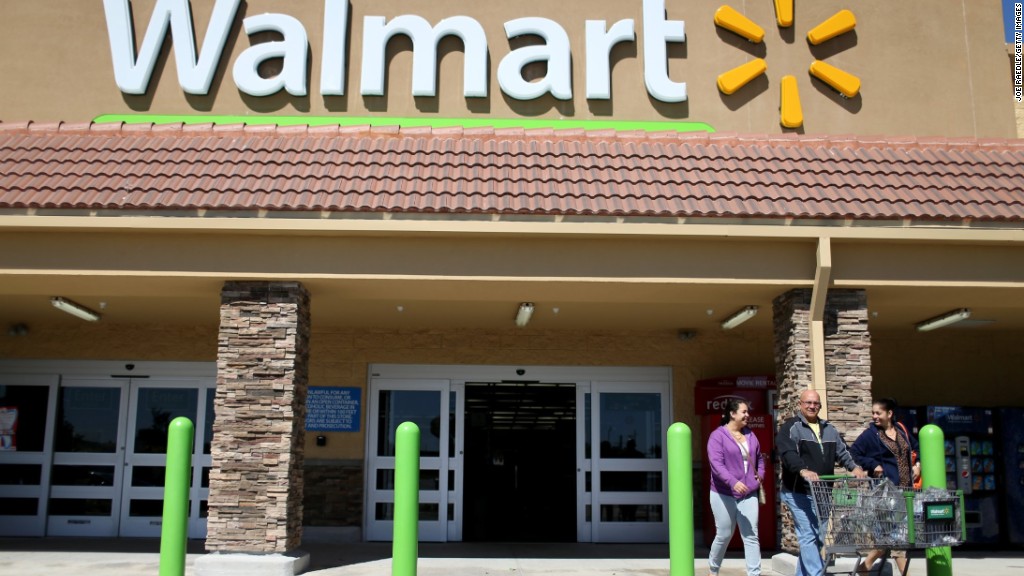 Walmart's iconic yellow smiley face logo is coming back to greet shoppers.
That's fitting ... because Walmart shareholders have reason to grin too after a tough 2015.
Walmart (WMT) stock is up more than 16% this year. That makes the discount retailer the third-best performing stock in the Dow, trailing only UnitedHealth (UNH) and Exxon Mobil (XOM) ... and not by much either.
Walmart has done much better than its key competitors. Target (TGT) and Costco (COST) have each fallen more than 5%. Even Amazon (AMZN) is "only" up 7.5%.(Granted, Amazon is at an all-time high. Walmart is not.)
Walmart still has a ways to go to convince consumers and investors that it can truly go toe to toe with its rivals.
The stock plunged nearly 30% last year and is still more than 20% below the record high it hit in 2014.
That's in large part due to concerns about how recent wage increases for Walmart workers will hurt the company's bottom line and worries about investments Walmart is making to spruce up its digital business so it can more effectively take on Amazon.
Related: Walmart's Smiley is back after 10 years and a lawsuit
But analysts are slowly warming up to the fact that Walmart needs to spend big on its online and mobile shopping efforts to remain relevant with customers -- especially when it comes to Walmart's supermarket business.
"Grocery online looks like it will be big for Walmart and likely accelerate the ecommerce sales growth rate," wrote Jefferies analyst Daniel Binder in a report Monday.
Binder boosted his rating on Walmart stock to a "buy" as well. He gave a David Letterman-esque (Remember him? The guy before Stephen Colbert?) top 10 reasons for the upgrade.
Improvement in the grocery business was one. Binder also highlighted the company's renewed focus on "thoughtful" price cutting, better inventory management and more rational expansion plans as well.
Will this be enough to right the ship at Walmart though?
The company is a bright spot in retail this year ... but it's mainly because expectations are so low for Walmart.
Same-store sales rose just 1% in the first quarter. That's lousy for most retailers, yet it topped analysts' forecasts.
"Sales were not as bad as expected last quarter," said Joseph Agnese, an analyst with S&P Global Market Intelligence. "But I would like to see growth pick up more."
Related: Walmart brings back its greeters
Agnese, who has a "hold" rating on Walmart, said there are some encouraging signs that some recent changes will help boost sales though. He said Walmart's plan to let people order groceries online and pick them up at the store is a smart move.
"This makes Walmart's Supercenters more convenient and gives customers more opportunities to buy other things," he said.
Still, Walmart has a ways to go before it convinces skeptical consumers that it is the best place to shop for a variety of goods.
Agnese notes that Walmart faces tough competition from more focused retailers like grocery king Kroger (KR), drugstores CVS (CVS) and Walgreen (WBA) and dollar store chains Dollar Tree (DLTR) and Dollar General (DG) -- in addition to Amazon, Target and Costco.
"It's not really just Walmart vs. Amazon," he said. "Walmart needs to retain customers as they shift toward a new way of shopping. Walmart can do well. But it will have to improve in a bunch of different areas."
Wall Street likes what it sees so far though. The frown that Walmart investors had on their face just a few months ago has been turned upside down.