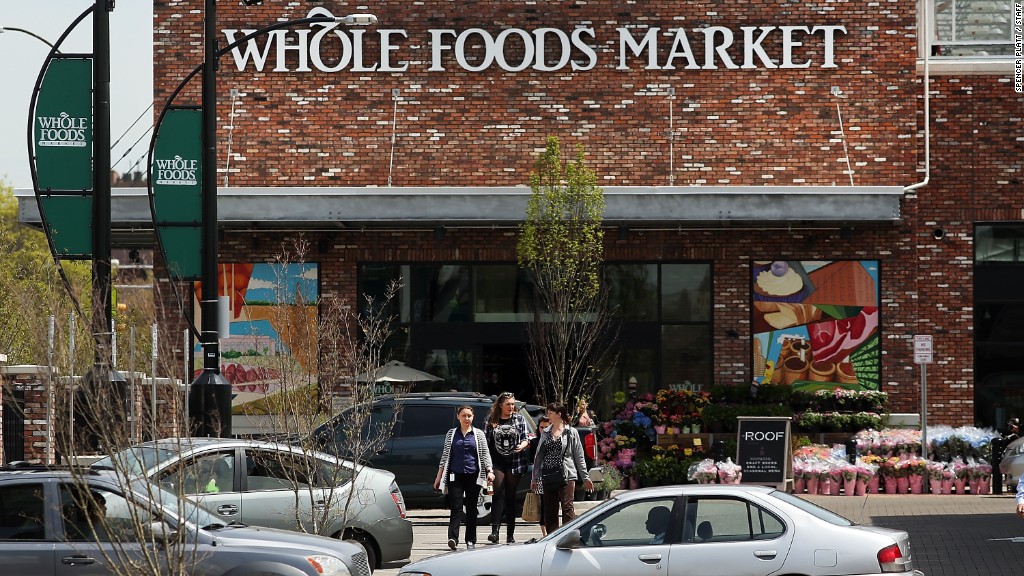 When it rains, it pours for Whole Foods. Literally, it seems.
The Food and Drug Administration sent a warning letter to Whole Foods co-CEOs John Mackey and Walter Robb about what the FDA called "serious violations" it found after inspecting a Whole Foods food preparation facility in Everett, MA, in February.
The FDA said in the letter -- dated June 8 -- that it found various items, including pesto pasta, mushroom quesadillas, egg salad and couscous, were in areas where "condensate" was leaking from ceiling joints, a doorway and condenser fan.
The FDA inspector cited many other violations, such as failure to sanitize food prep surfaces, dirty dishes near food, sinks without hot water for hand-washing and a worker who sprayed an ammonium-based sanitizer on "an open colander of salad leafy greens."
Whole Foods was not immediately available for comment about the FDA's concerns.
Related: Lionfish now on the menu at Whole Foods
The FDA said that it did receive a response from the company on March 17 in which Whole Foods said it took the FDA's concerns seriously and will do what is necessary to correct the problems.
But the FDA still doesn't seem convinced. It said that it still has "serious concerns" about what it found -- and the willingness of Whole Foods to really address them.
"We do not consider your response acceptable because you failed to provide documentation for our review," the FDA added.
You can read the full letter here.
Investors weren't pleased either. Shares of Whole Foods (WFM) fell more than 2.5% Tuesday. The stock is now in the red for the year.
It's been a tough few years for the company. The stock fell more than 10% in 2014 due to increased concerns about slowing sales.
And Whole Foods plunged nearly 35% last year following accusations that it overcharged customers and other health scares.
The company has found it difficult to shake off that Whole Paycheck reputation -- the perception that its products are way overpriced.
Whole Foods may have helped create the organic food revolution. But it no longer has the natural market to itself.
It faces tough competition from mass merchandise retailers Walmart (WMT), Target (TGT) and Costco (COST)as well as supermarket chain Kroger. Whole Foods also has to contend with organic rivals like Trader Joe's, Sprouts (SFM) and Fresh Marke (TFM)t.
Whole Foods may have been in better position to deal with these competitive challenges if not for a slew of negative publicity about its prices.
The store was accused last year of overcharging customers for prepackaged items in New York City. The company eventually apologized and settled with regulators in the Big Apple. But sales took a big hit as a result of the allegations.
Related: Whole Foods makes big bet on new stores
Shortly after the NYC allegations surfaced, a Whole Foods store in Southern California was found to be selling 3 sticks of asparagus in 16-ounce bottles of water -- for a whopping $5.99 a bottle. The company said it was a mistake.
But HBO's John Oliver had a field day making fun of this. A mock ad on his show featured "two baby carrots tied together with artisanal twine" and a pomegranate that listened to NPR. (CNN and HBO are corporate cousins.)
Whole Foods also had to deal with a listeria scare last year. The company recalled blue cheese and various salad bar items in two separate incidents last October.
As if that wasn't enough, Whole Foods decided last September to stop selling products from a supplier that used inmate workers after an activist pointed out how poorly the prisoners were being paid.
Same-store sales, a key measure of success at retailers, have fallen recently as a result of all these problems.
And Whole Foods is dealing with all these issues as it tries to expand as well. The company just opened its first 365 by Whole Foods Market store in California. The 365 stores are aimed at urban Millennials and feature cheaper grocery products.