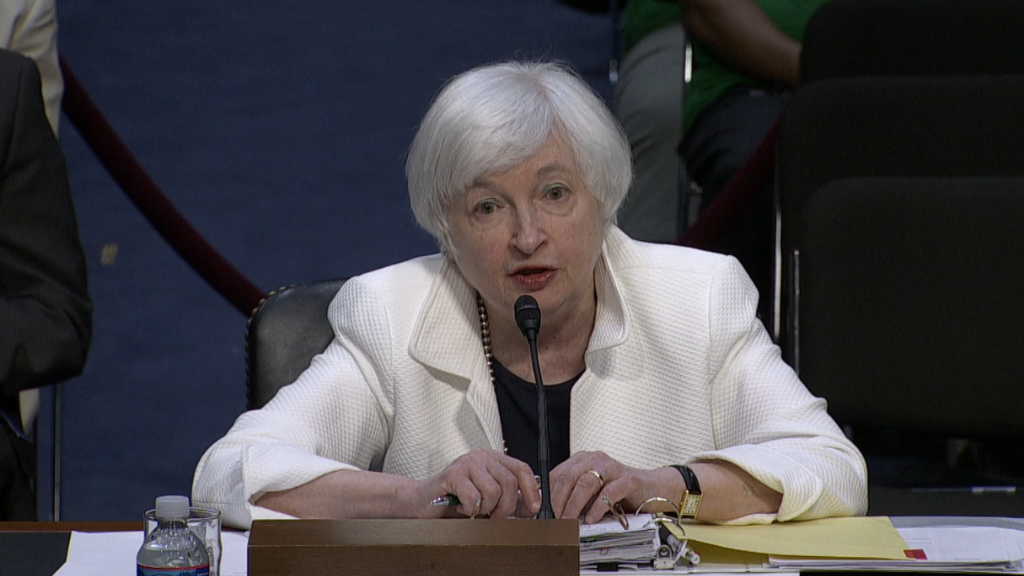 Is this the calm before the storm?
Markets are looking relatively steady following a spate of heightened volatility.
Here are the four things you need to know before the opening bell rings in New York:
1. Stock market overview: U.S. stock futures are flat and European stocks are mixed in early trade.
Investors are waiting for another round of testimony from the head of the Federal Reserve, Janet Yellen. They're also pausing for breath before the U.K.'s historic referendum Thursday on whether to exit the European Union. Opinion polls show Britain is split down the middle over a decision that could have huge economic consequences.
Related: These big companies could be hurt by a Brexit
Fed chair Yellen gives her semi-annual monetary policy report to Congress at 10:00 a.m. ET. On Tuesday, she testified before the U.S. Senate Committee on Banking, Housing and Urban Affairs.
"The Q&A session could provide more information on monetary policy and her views on the state of the U.S. economy," noted Ana Thaker, a market economist at PhillipCapital.
Asian markets ended the day mixed, but markets in China posted healthy gains. The Shanghai Composite was the standout performer of the day after rising by nearly 1%.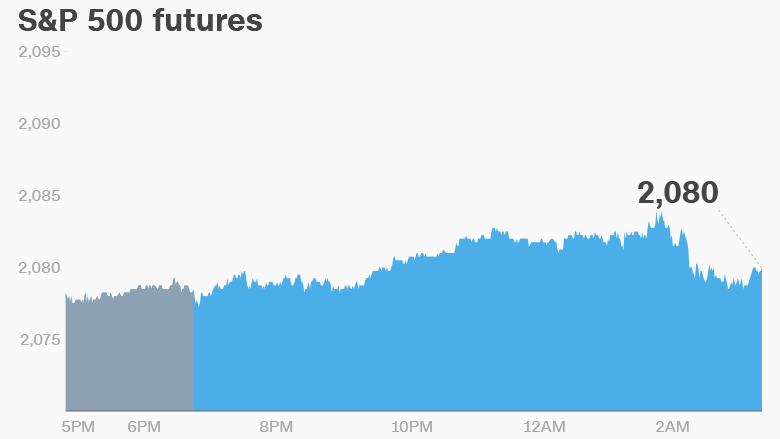 2. Elon Musk moving markets: Tesla (TSLA) chief Elon Musk is looking to consolidate his work and investments.
His electric car company made an offer to acquire SolarCity (SCTY) for nearly $3 billion in a bid to create an all-inclusive sustainable energy company. Musk owns 22% of SolarCity.
Tesla shares are set to slump following the announcement, while shares in SolarCity are shining premarket.
3. Mitsubishi & Volkswagen on the radar: Japanese automaker Mitsubishi Motors said Wednesday it expects to post a net loss of 145 billion yen ($1.4 billion) for the current financial year as it reels from a fuel scandal.
The company admitted in April to falsifying fuel economy tests on hundreds of thousands of cars. Shares in the company rose by 2.5% Wednesday. But this follows a 47% crash since the start of the year.
Meanwhile, troubled automaker Volkswagen (VLKAY) is holding its annual shareholder meeting in Germany. The company is still reeling from its own disastrous emissions scandal.
Related: Prosecutors probe Volkswagen's former CEO
Volkswagen admitted late last year that it fitted as many as 11 million diesel vehicles worldwide with software that could cheat nitrogen oxide emissions tests. But it only came forward after the U.S. Environmental Protection Agency alerted the world to the issue.
4. Earnings: It's a relatively slow day for corporate results. Barnes & Noble (BKS) and Bed Bath & Beyond (BBBY) are two of the firms reporting quarterly earnings after the close of trade.
Shares in Adobe (ADBE) look set to slip at the open following the release of the company's latest quarterly results.