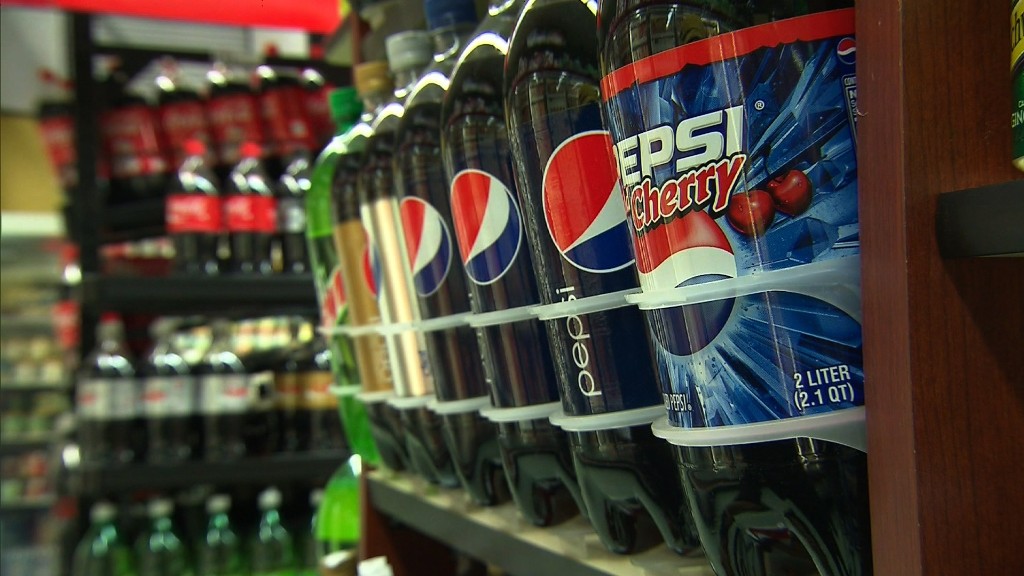 Frustrated by all the Brexit market volatility? Why not eat, drink and be merry ... and buy some food and beverage stocks?
Pepsi reported strong earnings Thursday morning and raised its guidance as well.
Shares of the soft drink and snacks giant rose nearly 2.5% on the news ... to an all-time high.
And Pepsi (PEP) is not the only supermarket staple doing well.
In the past week, shares of cereal kings General Mills (GIS), Kellogg (K) and Post (POST) have hit new records.
So has Campbell Soup (CPB). And Smucker (SJM). And Pepsi rival Dr Pepper Snapple (DPS). And spice maker McCormick (MKC). And Gores Holdings (GRSH) -- the investment firm that's planning to buy Twinkie-maker Hostess and take it public.
Then there's Warren Buffett's favorite food company -- Kraft Heinz (KHC). The ketchup and cheese maker is Berkshire Hathaway's (BRKB) largest holding. It's at an all-time high as well.
Whew! I feel like I'm in a food coma after typing all that.
It makes sense that the food and beverage companies are holding up nicely in a volatile market. (Forget about hopes of winning the Mega Millions jackpot. Companies like Kraft Heinz and Pepsi are already helping make savvy investors rich.)
Related: Twinkies maker Hostess to go public
Most of the major food and beverage makers are still reporting decent, if not spectacular, sales and earnings growth -- despite concerns about Brexit impacting the global economy.
The U.K. is Pepsi's fifth largest market, for example. So Brexit doesn't seem to be hurting demand for soda, Gatorade and potato chips.
Many of the big brand name food and beverage companies also pay solid dividends. That makes them attractive at a time when yields for most major government bonds are extremely low -- and in some cases, negative.
Finally, there's an M&A food frenzy to whet investors' appetites as well.
French yogurt and dairy giant Danone (DANOY) announced plans Thursday to acquire organic food company WhiteWave Foods (WWAV) for about $12.5 billion -- including debt. WhiteWave surged nearly 20% on the news.
Related: Hershey rejects sweet takeover offer from Cadbury owner
WhiteWave rival Hain (HAIN) rose 10% as well on hopes it could be the next food company to get gobbled up by a larger rival.
The Danone-WhiteWave deal comes just a week after Hershey (HSY) revealed that it had rejected takeover advances from Cadbury owner Mondelez (MDLZ).
Many experts think Hershey could still be in play though.
Heck, maybe Buffett could even come calling. After all, Berkshire helped back the Mars takeover of gum and candy maker Wrigley back in 2008. And Berkshire already owns See's Candies. We know Buffett -- also a big owner of Coke (KO) -- has a sweet tooth.
But even if Hershey decides to remain independent, one thing remains clear. Investors haven't grown tired of stuffing their faces with food and beverage companies just yet.