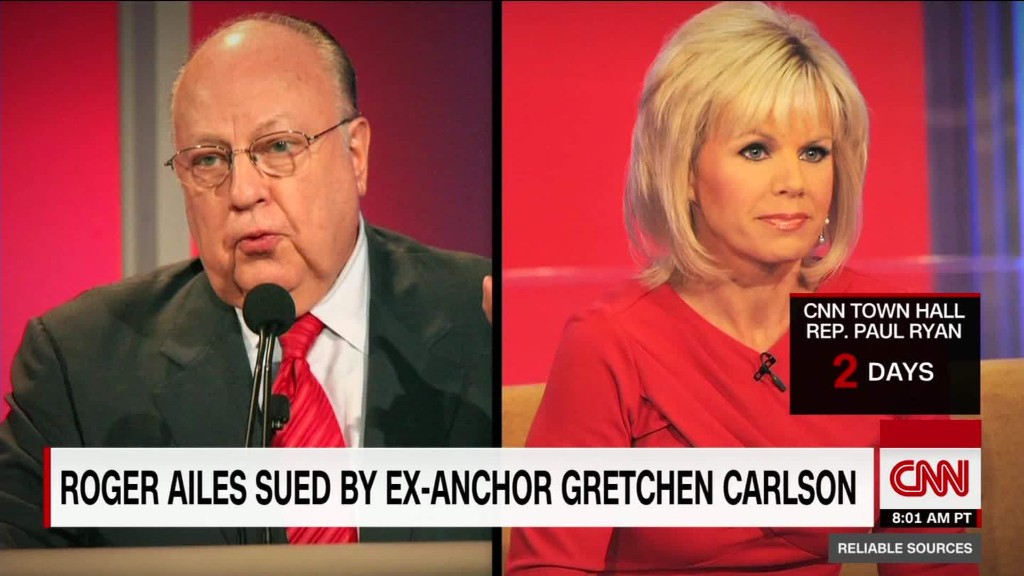 Gretchen Carlson, the former Fox News host who has accused Roger Ailes of sexual harassment, says she had at least six interviews with her former boss in which he talked about her body and heard -- but ignored -- her complaints of mistreatment.
In an interview with The New York Times, her first since bringing allegations against Ailes, the former Fox & Friends host said Ailes' demeaning language was "continuous," and described being "intimidated" by both him and the workplace culture.
"Everyone knew how powerful Roger Ailes was. I certainly felt intimidated by that," Carlson told the Times. "The culture of 'Fox and Friends' was intimidating to me."
Carlson's lawsuit, which was filed earlier this month, claims that Ailes made sexual advances, specifically saying, "I think you and I should have had a sexual relationship a long time ago." The lawsuit also claims that Carlson was fired because of her complaints.
Carlson told the Times she had "between six and ten" meetings with Ailes in which he used demeaning language and harassed her.
In a statement, Fox News spokesperson Irena Briganti said Carlson "never filed a formal complaint about sexual harassment to the H.R. department or to the legal department."
Ailes, the chairman and CEO of Fox News, has previously called Carlson's allegations false, and described them as retaliation "for the network's decision not to renew her contract, which was due to the fact that her disappointingly low ratings were dragging down the afternoon lineup."
Related: Roger Ailes' defenders
Meanwhile, more than a dozen current and former Fox News personalities, including Bret Baier, Greta Van Susteren, Maria Bartiromo and Elisabeth Hasselbeck have come forward to defend Ailes and sing his praises.
"This is something that is totally inconsistent with the man I've known probably longer than most people who work in that building," Jeanine Pirro, a Fox News host, recently told the Times.
On the other side of the argument, six women (four of them anonymous) recently gave interviews to New York Magazine in which they accused Ailes of sexual harassment. Those women offered examples from episodes stretching between the late 1960s to the late 1980s, before the founding of Fox News.
Related: Carlson v. Ailes case deepens as decades-old harassment claims surface
Both of the two women who spoke on the record said Ailes implied that they would need to have sex with him in order to advance their careers.
"I recall very clearly, he said he'd put me on the show but I needed to go to bed with him," Marsha Callahan, a former model, said of her experience auditioning for The Mike Douglas Show, where Ailes was a producer in the late 1960s.
Kellie Boyle, a former Republican National Committee field adviser, said that in 1989 Ailes told her, "You know if you want to play with the big boys, you have to lay with the big boys."
Ailes' defenders believe these charges are being leveled to tarnish the Fox News' chief's reputation in the court of public opinion.
Meanwhile, in the New Jersey Superior Court, Ailes' lawyers have filed a motion requesting that the case be moved to arbitration in a federal court, on the grounds that Carlson is contractually bound to arbitration.
A judge is set to rule on that motion on August 1.