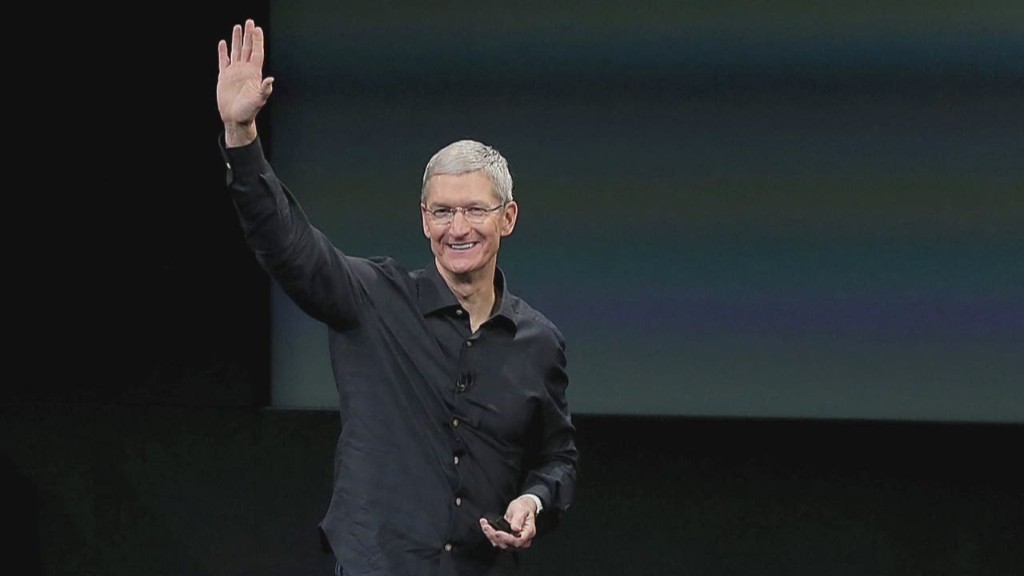 U.S. stocks are near record highs and traders are having a hard time deciding whether to buy or sell.
Here are the five things you need to know before the opening bell rings in New York:
1. It's earnings time: Tons of companies are reporting quarterly results ahead of the open Tuesday, including Verizon (VZ), 3M (MMM), DuPont (DCDEX), Under Armour (UA), JetBlue (JBLU) and McDonald's (MCD).
After the markets close, investors will hear from Apple (AAPL), Twitter (TWTR), Chubb (CB) and Panera Bread (PNRA).
Traders will be very focused on Apple as there are growing concerns that the iPhone's popularity may have peaked.
These various earnings could set the direction for trading as U.S. stock futures are currently holding steady.
2. Stock market movers -- Texas Instruments, Gilead Sciences, BP: Shares in Texas Instruments (TXN) are jumping premarket after the company reported better-than-expected results on Monday evening.
Shares in Gilead Sciences (GILD) are moving in the opposite direction -- down about 4% -- following its earnings release.
And BP (BP) stock was slipping by about 3% in London after the oil giant released second quarter results. The company reported that the final bill for its high-profile Deepwater Horizon oil spill tallied up to $61.6 billion.
Related: U.S. emerges as safe haven amid chaotic world
3. Sweet deal?: Anheuser-Busch InBev (AHBIF) has sweetened its offer to buy rival SABMiller (SBMRY).
It's now promising investors a cash payment of £45 ($58.83) per share, up £1 from its previous offer.
There were concerns that SABMiller shareholders were unhappy about the previous price. The deal was agreed months ago, but then the pound dropped significantly after the U.K. voted to leave the European Union in June.
That move essentially devalued the offer. To put this in context, the takeover offer of £44 per SABMiller share had been worth $67.59 when the deal was announced in October. Now that same £44 will only get you about $57.69.
4. Housing: Two new reports on the state of the U.S. real estate market are due on Tuesday. The Case-Shiller index on U.S. home prices from May is released at 9 a.m. ET. Then the more timely June new home sales numbers are out at 10 a.m.
The U.S. Conference Board is also releasing consumer confidence data for July at 10 a.m.
5. Global market overview: Even as U.S. stock futures hang tight, there's a negative mood in European markets. Markets in Asia turned in a stronger performance.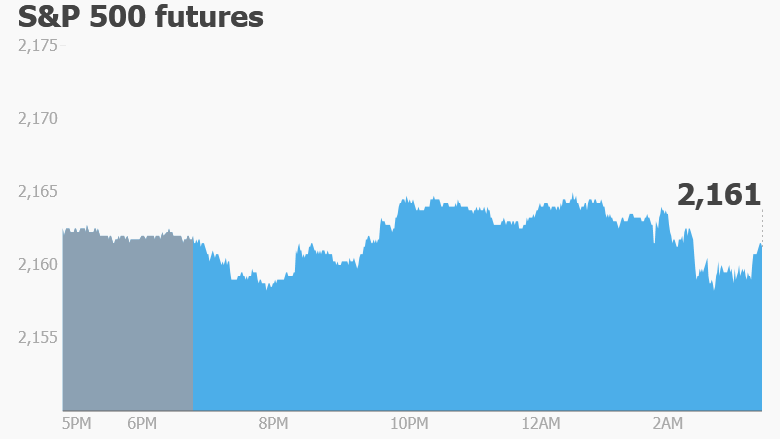 Oil is in focus after crude futures fell below $43 per barrel.
"Oil prices on both sides of the Atlantic have fallen to 3-month lows as bullish traders found little reason to keep betting on higher prices," explained Hussein Sayed, chief market strategist at FXTM. "Ongoing oversupply will likely keep dragging prices lower."