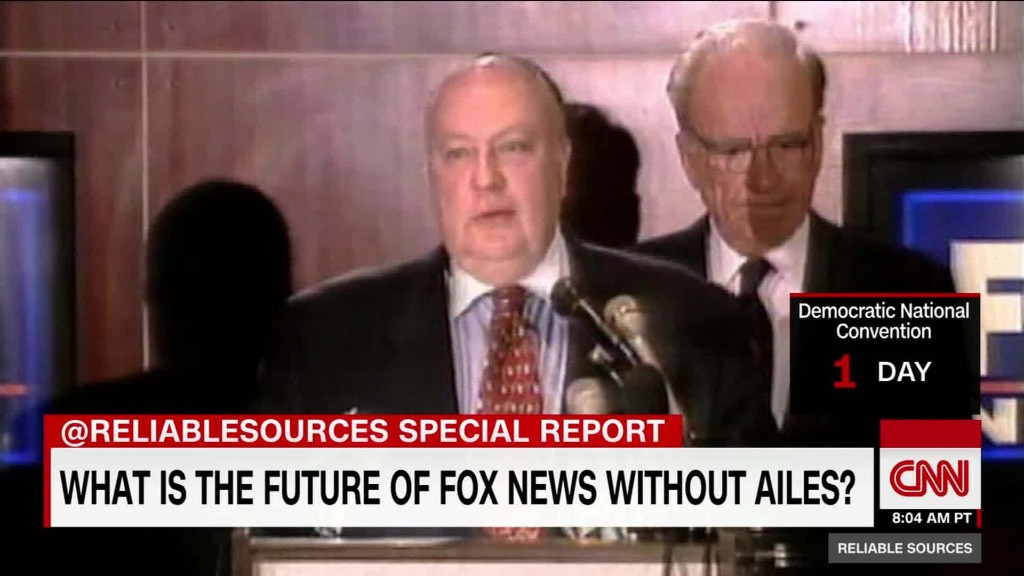 The Murdochs are sidestepping many of the questions swirling around Fox News in the wake of Roger Ailes' resignation. But they're being clear about one thing: Fox will retain Ailes' conservative view of the world.
On a quarterly earnings call Wednesday afternoon, 21st Century Fox executive chairman Lachlan Murdoch said Fox News has a "unique and important voice," and that the company is seeking to protect it by appointing his father Rupert as the channel's acting CEO.
"There is no one more dedicated or more able to transition Fox News to new leadership than its founder," Lachlan said, pointedly portraying Rupert, not Ailes, as the network's founder.
Wall Street analysts did not press the Murdochs for further information about the investigation into Ailes' removal.
Ailes, who launched the network for Rupert in 1996 and ran it ever since, resigned two weeks ago amid a flurry of sexual harassment allegations, which he has denied.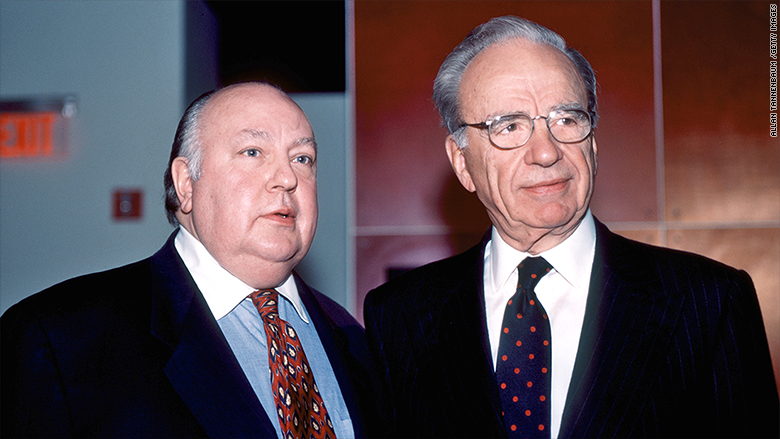 A law firm retained by the Murdochs is continuing to probe potential wrongdoing by Ailes, and is pursuing leads about other executives who may have known about the alleged harassment.
Inside Fox News, speculation is rampant about a pending "housecleaning" of Ailes' deputies.
But Lachlan's statement at the beginning of the earnings call may have been meant to assuage some of those concerns.
He said Rupert "joins an existing team that is extraordinarily strong and equally devoted to its success."
Related: Megyn Kelly's 'sigh' on sexual harassment speaks volumes
Rupert Murdoch, 85, has not said how long he'll remain in the acting CEO role. Staffers around him say he is in no hurry to appoint a replacement.
For now, the Murdochs are in a fact-finding mode. Four weeks ago, ex-anchor Gretchen Carlson sued Ailes, alleging a pattern of sexual harassment and retaliation. Ailes said she was fired for poor ratings performance.
The Murdochs said they had full confidence in Ailes, but hired the law firm Paul, Weiss to look into the allegations. The firm quickly uncovered many other accounts of Ailes allegedly harassing other Fox News employees, according to people briefed on the investigation. One of the accusers was reportedly Megyn Kelly, one of Fox's best-known hosts.
Related: The uncouth Roger Ailes
The Murdochs soon determined that Ailes had to go. Although Lachlan repeated the corporate line — that Ailes' exit was a resignation, not a firing — he emphasized on Wednesday that "throughout this process we have moved quickly and decisively to protect the business, to protect its employees, and to protect the unique and important voice Fox News broadcasts."
"Protect its employees" could be interpreted to mean they removed Ailes as soon as they found out what he was allegedly doing.
But the questions about the Murdochs' level of awareness remain unanswered. Did they know anything about Ailes' behavior in the years before Carlson sued?
Spokespeople for 21st Century Fox declined to comment. A source close to the company answered: "Of course not."
But that raises another question: If they didn't know what one of their most important employees was doing behind closed doors, why didn't they?
Related: Fox News investigation is 'winding down'
New York magazine's Gabriel Sherman reported last week that Fox News reached a $3.15 million settlement in 2011 with one of Ailes' alleged victims, former booker Laurie Luhn.
Although the sum of money shocked many readers, it is "still just a rounding error" for a network that makes more than a billion dollars in profit every year, a former Fox News executive pointed out.
Speaking anonymously, the executive said Ailes exercised almost complete control over his Fox News fiefdom. Rank-and-file Fox News employees rarely interacted with the jet-setting Murdochs.
"Access to the Murdochs went through Roger," this person said, explaining why it is possible the Murdochs did not know about the alleged wrongdoing.
This was seconded by a former Fox News reporter who described harassment by Ailes in an interview with CNNMoney last month.
"Roger made the rules, so there was no one above him acting as a court of last resort," the reporter said.
Related: At Fox News, Grand Old Problems
The New York Times and New York magazine have raised broader questions about a toxic workplace culture for women at Fox News. Other supervisors are also alleged to have harassed women.
But last week sources with knowledge of the Paul, Weiss probe told CNNMoney that it was "winding down."
Sherman's harrowing story about Luhn, alleging "psychological torture" and 20 years of harassment by Ailes, may have changed that.
The story described how at least two of Ailes' lieutenants essentially cleaned up after the CEO and struck the $3.15 million settlement.
It also said that Luhn contacted Paul, Weiss — not the other way around.
This caused Bruce Schaeffer, a lawyer for another potential Ailes accuser, to issue a statement questioning the legitimacy of the law firm's work.
Schaeffer is representing Laurie Dhue, an ex-Fox News anchor who recently said that she is writing a book that will detail her time at the network.
On Tuesday Schaeffer told The Daily Beast that Ailes acted inappropriately with her, and said, "Paul, Weiss has thus far not contacted us as part of its investigation, which fairly questions the credibility of its investigative process."
On Wednesday The New York Times reported that the investigators are also "examining whether other executives knew of improper behavior by Mr. Ailes and failed to act on it."
"More current and former Fox News employees scheduled for interviews," The Times said.
Amid all this, Fox News is enjoying some of the highest ratings in its history. 21st Century Fox's cable channels division, which includes the news channel, earned $3.9 billion in revenue in the quarter that ended in June, up from $3.6 billion in the same quarter last year.
Operating income was dented a bit due to higher costs. But cable remains the most important piece of Fox's business.
That's why, for investors, Lachlan's most important comment on the earnings call might have been this: "There is no desire or need to shift the position" that Fox News has "in the market."