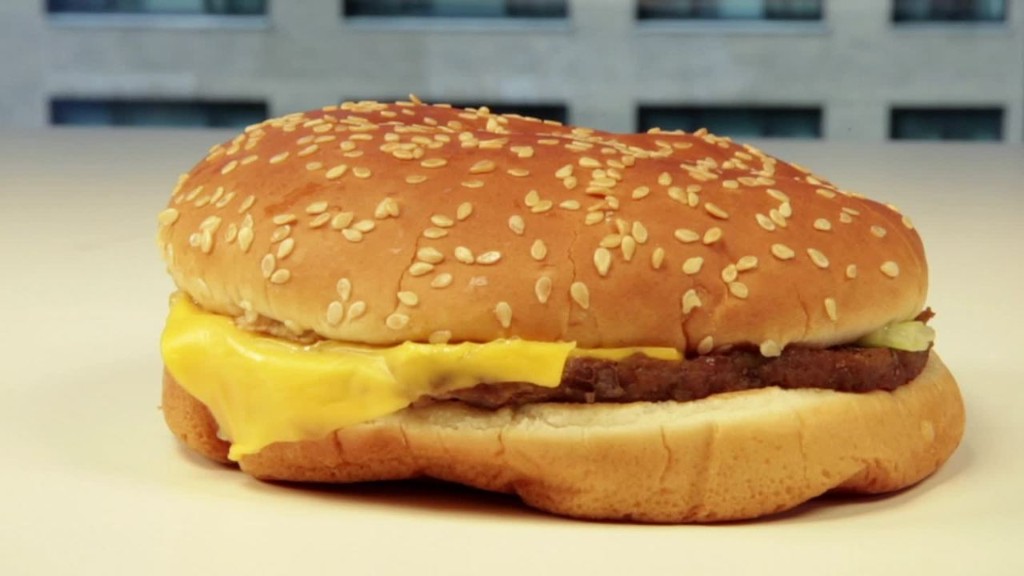 I can't decide if Burger King's new Whopperito -- a combination of ground beef and queso sauce wrapped in a tortilla -- is the greatest idea since sliced hamburger buns or an unholy matrimony of two dishes that were never meant to be together.
But give Burger King credit. Its wacky food fusion gimmicks generate a lot of attention -- as well as sales and profits.
Restaurant Brands, the parent company of Burger King -- as well as coffee and doughnut chain Tim Hortons -- is bucking the recent downtrend for fast food restaurant companies.
Shares of Restaurant Brands -- QSR (QSR) -- are flame broiling. Or, shall I say, en fuego?
They are up more than 25% this year and are trading near an all-time high. The company reported sales and earnings for the second quarter that topped Wall Street's forecasts.
Related: Pizza Hut creates freakshow combo of pizza and hot dogs
And it looks like Restaurant Brands will continue to do well for the rest of the year. Analysts are predicting sales growth of 5% for the next two quarters and earnings increases of more than 20%. To quote Mel Brooks, "It's good to be the King!"
So Burger King's goofy food stunts -- this is also the company that has given birth to Mac n' Cheetos, Chicken Fries, an Angry Whopper with a crimson bun, a Halloween Whopper with a black bun and the King Fusion Twix sundae -- are paying off.
Burger King's success comes at a time when other fast food restaurants are starting to warn of slowing growth, as consumers are taking advantage of cheaper grocery food prices and eating in more.
Wendy's (WEN) and Shake Shack (SHAK) recently disappointed investors with their latest sales and earnings. McDonald's (MCD) great McComeback is showing signs of losing steam.
Related: The real reason Americans are eating out less
And Chipotle (CMG) continues to struggle -- although that may have to do more with last year's E. coli scare than a sluggish economy.
Chipotle is getting into the burger game too though. It will launch a new restaurant -- Tasty Made -- in Ohio. Maybe Chipotle should steal a page from Burger King and put carnitas burgers on the menu?
It seems that consumers can't get enough of these monstrous food combinations. (And I thought Monsanto was the only company behind Frankenfood!)
Snack food giant Mondelez (MDLZ) announced plans for Swedish Fish Oreos this week. (Yuck!) And Walmart (WMT) is now starting to sell frozen Deep Fried Twinkies from Hostess. (Double Yuck! I like my fried snacks freshly made please.)
Related: Forget the county fair. Get your fried Twinkies at Walmart
So Burger King really seems to be tapping into something with its mad scientist culinary concoctions. Even Warren Buffett is a fan.
QSR is run by Buffett's favorite private equity firm -- and frequent investing partner -- 3G Capital. Buffett's Berkshire Hathaway (BRKB), which has a big stake in Kraft Heinz (KHC) along with 3G, owns a 3.6% position in QSR.
The only two institutions with a bigger stake in QSR? Bill Ackman's Pershing Square Capital Management and the Canadian arm of mutual fund colossus Fidelity.
So here's hoping that junk food lover Buffett -- who's also a big fan of Cherry Coke, See's Candies and Dairy Queen Dilly Bars -- scarfs down a Whopperito or two with his pal Charlie Munger at next year's Berkshire shareholder meeting in Omaha.