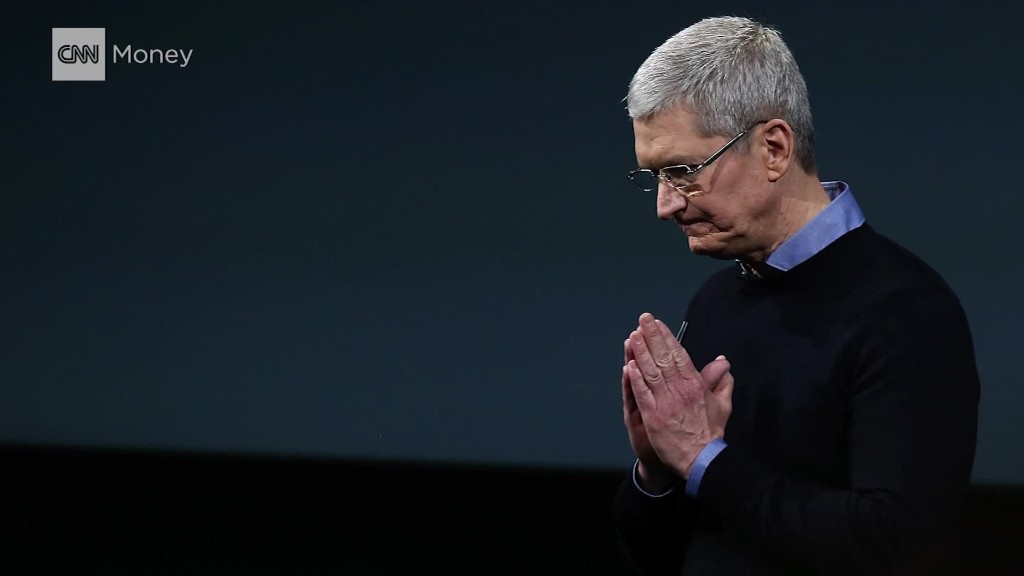 Apple may finally be bringing some of its enormous offshore cash pile back home.
Just days after the EU hit Apple with a $14.6 billion tax bill, CEO Tim Cook said he expects to transfer billions of dollars in profit to the United States next year.
"We provisioned several billion dollars for the U.S. for payment for as soon as we repatriate it, and right now I would forecast that repatriation to occur next year," Cook said in an interview with Irish broadcaster RTE news.
U.S. companies are supposed to pay federal taxes on their global profits, but the tax on money made overseas is only due when it's brought back to the U.S.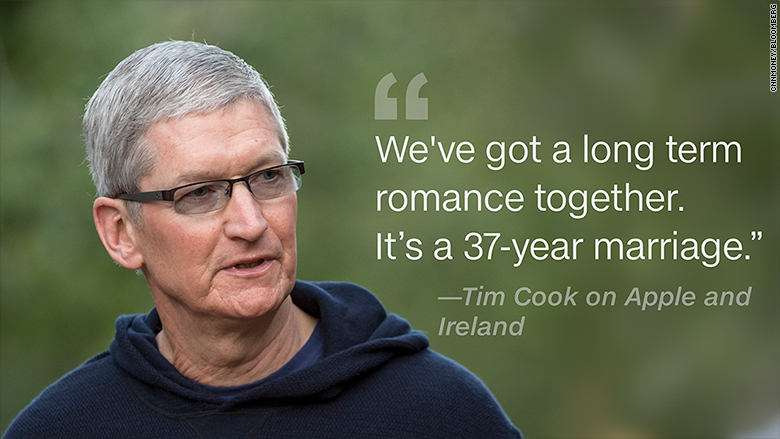 Cook said last year that he would "love to" repatriate Apple's foreign profits but that he can't because "it would cost me 40%." That refers to the combined U.S. federal and state tax rate Apple would likely owe.
Oxfam America estimated in April that Apple (AAPL) was holding $181 billion offshore, and that the company's effective tax rate was 25.9% between 2008 and 2014.
Apple says it paid $400 million in taxes in Ireland in 2014, and another $400 million to the U.S.
"In 2014, our worldwide income tax rate was 26.1%...I personally think that's a reasonable level," Cook told RTE.
Related: How Apple paid just 0.005% tax
European officials said Tuesday that Ireland must recover 13 billion euros, plus interest, in unpaid tax from Apple.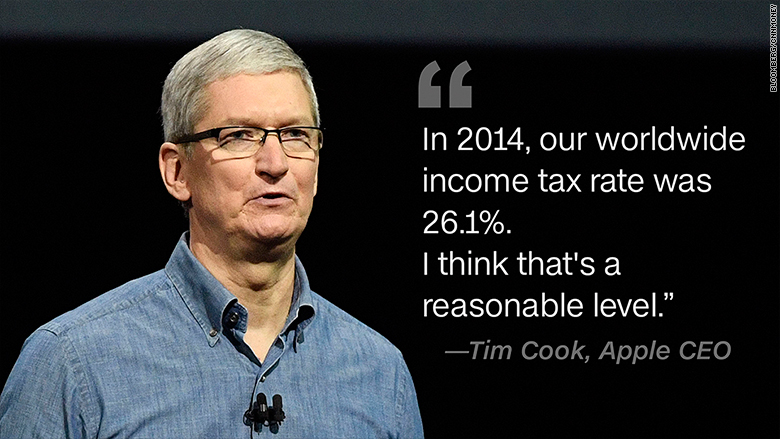 The European Commission, which administer EU law, said that the Irish government had granted illegal state aid to Apple by helping it to artificially lower its tax bill for more than 20 years.
The corporate giant paid just $50 in tax for every million it made selling iPhones and iPads to most of the world outside America, the EU claimed, equal to a tax rate of just 0.005% in 2014.
"It's a false number," Cook said. "I have no idea where the number came from. It's not true."
Apple has said it will appeal the EU ruling, and expects to win. Ireland is also expected to appeal, although the government postponed a decision on Wednesday.
Despite the turmoil, the company said it remains committed to its operations in Ireland.
"We've got a long term romance together," says Cook. "It's a 37-year marriage. Like any marriage you go through pothole here or there but we stuck together because we always felt so close to the community and the people there."