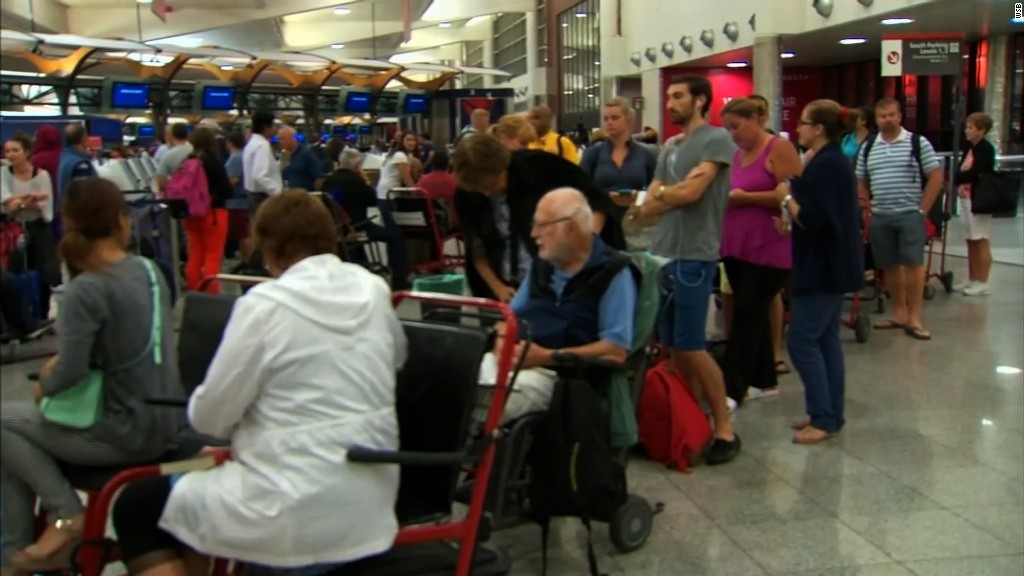 Delta Air Lines says the total bill for its devastating computer outage will come to $150 million.
The problem occurred when the company lost power at its operations center in Atlanta early on the morning of Aug. 8, causing computers needed to book in passengers and fly jets to be down for nearly five hours.
The airline eventually canceled about 1,000 flights on the day of the outage and ground an additional 1,000 flights over the following two days. It also agreed to give affected customers refunds and vouchers for future travel.
Related: The real reason airline computers crash
The cost of the outage was disclosed in a presentation Delta made to investors Wednesday. The losses came out of pre-tax profits, but the airline did not provide a break down of the various costs.
Delta (DAL) is not the only airline to experience these kinds of computer problems recently.
British Airways was hit with its own computer problems on Tuesday. Southwest (LUV) had to deal with a computer outage in July that resulted in canceled flights over three days.
Southwest said in an investor presentation on Wednesday that the outage hurt its quarterly revenue. The airline didn't place a precise dollar figure, but it did give ratios that would work out to at least a $177 million hit to passenger revenue.
Despite the news about the cost of the outages, and information from both airlines that fares continue to be lower than they were a year ago, airline stocks are up broadly as a group in trading Wednesday. The data on fares showed less of a decline than many investors had feared.