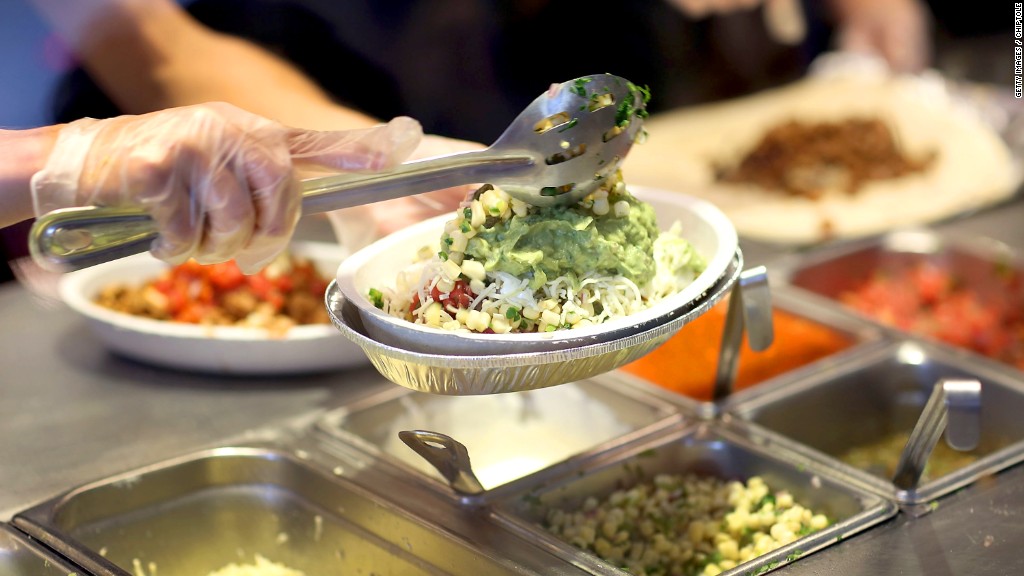 Chipotle is pulling out all the stops to win back customers after last year's E.coli outbreak. And activist Bill Ackman has even invested in the stock, a move that briefly pushed shares of Chipotle higher.
But will the company ever be able to recover? Sales have fallen sharply for the past three quarters, and analysts are expecting them to decline again in the third quarter before finally starting to stabilize at the end of the year.
Even though co-CEO Steve Ells touted the company's new food safety measures in a video on its website Wednesday, Wall Street is not convinced that Chipotle (CMG) will ever be what it once was, a juggernaut in the so-called fast casual restaurant industry.
Chipotle stock has given up the Ackman bump and is now back near 52-week lows. It's fallen about 8% since Ackman announced his nearly 10% stake in the company.
Chipotle dipped below $400 a share Wednesday before recovering a bit Thursday. But Chipotle's stock is still down 15% this year.
Related: Chipotle founder touts improvements to food safety
Chipotle has lagged the performance of former parent company McDonald's (MCD). Mickey D's spun off its stake in Chipotle in 2006.
Other fast food restaurants are eating Chipotle's lunch, so to speak, as well. Panera (PNRA), which is often mentioned alongside Chipotle as a pioneer in the fast casual sector, has outperformed Chipotle's stock since the E.coli outbreak.
Shares of hamburger chain Jack in the Box (JACK), which also owns Tex-Mex chain Qdoba, has soared more than 30% this year, thanks to strong sales. Privately-held Moe's Southwest Grill is thriving too.
And Chipotle marketing executive Mark Crumpacker -- who was arrested for cocaine possession in July but still works for the company after a brief leave -- conceded in an interview with the AP that McDonald's and "knockoff" Chipotles are stealing sales.
Goldman Sachs cut its price target on Chipotle Wednesday as well, citing lingering concerns about sluggish sales.
Related: Chipotle is Bill Ackman's next big bet
The Goldman analyst added that benefits from the company's Chiptopia rewards program may be starting to fade too.
And recent accusations by workers about unpaid wages -- nearly 10,000 are suing the company for allegedly cheating them out of overtime pay -- won't help matters either.
So unless Chipotle can turn things around soon, the stock could continue to slump -- and wind up being yet another losing bet for Ackman.
Ackman has taken his lumps lately due to a huge bearish position in nutritional supplements company Herbalife (HLF) that he's had for years, as well as his continued support of controversial pharmaceutical company Valeant (VRX).
Herbalife stock has risen while Valeant has slid. Oops. Herbalife has even poked fun at Ackman's recent investing woes.
Related: Chipotle puts aside problems to go on hiring spree
Last year, the company trolled him by saying in a statement that it hoped Ackman had done more research on Valeant than it did on Herbalife as well as J.C. Penney (JCP), Target (TGT) and Borders.
Ackman's Pershing Square Capital Management was a big backer of J.C. Penney but the stock slumped while he owned it, due mainly to the disastrous tenure of former CEO Ron Johnson, an Apple executive that Ackman recruited.
Target has turned its fortunes around lately, but that's after Ackman sold his stake. Borders went bankrupt in 2011 and closed all its stores.
So it may not be a huge surprise why investors are skeptical that Ackman can revitalize Chipotle. He's lost his golden touch with investors -- just as Chipotle has with diners.