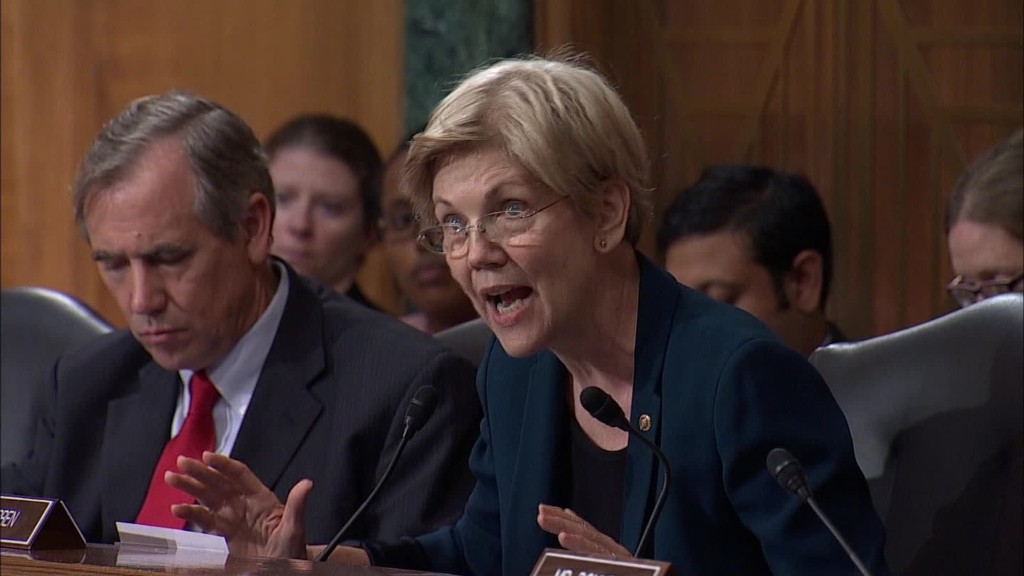 A Wells Fargo investor is pressuring the bank to punish executives who oversaw a massive fake account fraud.
CtW Investment Group -- which works with union pension funds that own a 0.25% stake in Wells Fargo -- sent a letter to the company's lead director Friday, demanding the bank's board invoke a clawback policy.
Specifically, CtW wants Wells Fargo to reclaim money it gave to Carrie Tolstedt -- the executive who oversaw the Wells Fargo unit during the time it carried out a massive fraud. Tolstedt resigned earlier this year with a $124 million severance payment, plus equity.
The scandal, which became public earlier this month, involved inflating sales data by creating more than 2 million unauthorized accounts for unsuspecting customers.
The bank was slapped with $185 million in fines, and ordered to refund $5 million to customers.
It's prompted Wells Fargo to fire more than 5,300 employees -- but none from senior management.
Related: I called the Wells Fargo ethics line and was fired
CtW is joining elected officials in pressuring the board to hold top-level executives accountable.
Earlier this week at a Senate Banking Committee hearing, lawmakers called on Wells Fargo to order clawbacks. CEO John Stumpf told the lawmakers it'd be up to the board of directors.
In addition to seeking a return of some of Tolstedt's salary, CtW demanded that the board appoint two new members who are committed to "human capital management practices."
It also wants a "comprehensive review" of some of the bank's practices, including whether its employee compensation structure "encourages unethical behavior."
The investment firm warned that if Wells Fargo does not comply, it will be "unable to support the re-election" of the current board members when shareholders vote next year.
Related: 'Wells Fargo isn't the only one': Other bank workers describe intense sales tactics
The company already faces a customer lawsuit and investigations from the Department of Justice and the House Financial Services Committee.
And Senator Elizabeth Warren -- who called Stumpf a "gutless" leader -- has said the CEO should resign and be targeted by a criminal investigation. Warren also called for an investigation into Wells Fargo's dismissal of those 5,300 employees.