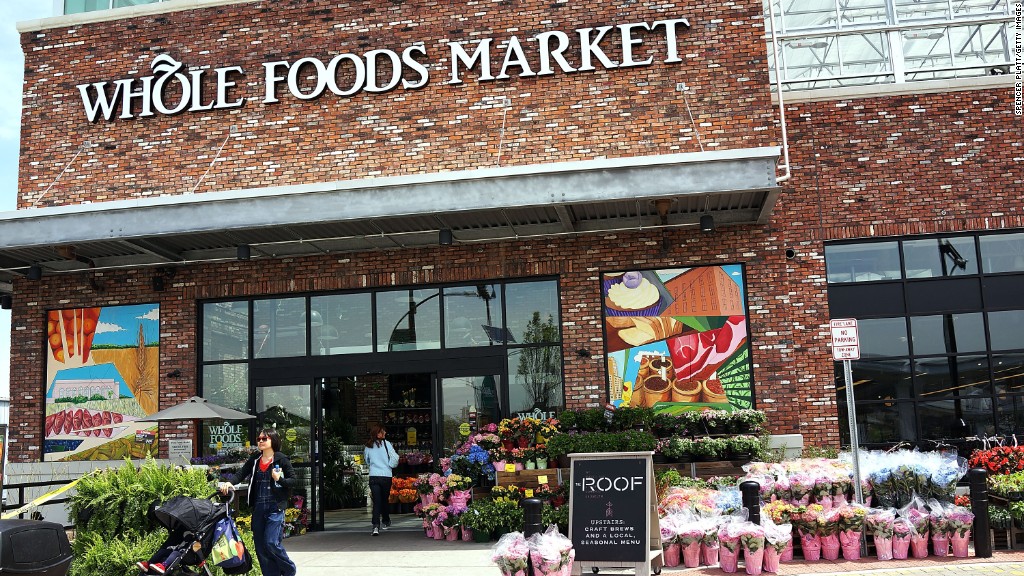 Will $6 bottles of asparagus water soon be coming to a Kroger, Ralphs or Harris Teeter near you? Whole Foods stock shot up 5% Thursday and briefly rose again Friday on chatter that supermarket king Kroger may want to buy the troubled organic grocer.
But is Whole Foods (WFM) really for sale? Investors may need to take these rumors with several grains of Himalayan pink sea salt.
For one, Whole Foods is still facing many challenges, mostly stemming from bad press about its high prices. The company settled charges of price gouging with regulators in New York City last year, but the company's Whole Paycheck image persists.
Who could forget the segment on John Oliver's "Last Week Tonight" HBO show a year ago that mocked Whole Foods? (HBO is a corporate cousin of CNNMoney; both are owned by Time Warner.)
Oliver's show featured fake ads for a block of ice with an avocado balanced on top for $25.99, a pomegranate that listened to NPR for $64.99, granola blown back and forth between two fans for $300, and tilapia wearing yoga pants for $84.99.
Customers aren't laughing, though. They have fled Whole Foods. Same-store sales, which measures how well stores open at least a year are doing, have fallen for the past four quarters. Analysts are expecting another 2.1% drop this quarter as well.
A move to attract more urban Millennials with new 365 by Whole Foods stores in big cities may not pay off either. Wall Street analysts are predicting that earnings for Whole Foods will fall this year and next year.
Whole Foods needs to stop the bleeding somehow. The stock is still down more than 10% this year despite the recent merger scuttlebutt. Shares fell in 2014 and 2015 as well and are more than 50% below their all-time high from 2013.
Related: The new 'Big Shorts' -- Whole Foods and Weight Watchers
That's probably the reason why the company has been the subject of takeover rumors for the past few years.
Traders have speculated that privately-held supermarket giants Publix and Albertsons (which also owns Safeway) might be interested in Whole Foods. But nothing has come to pass.
Enter Kroger.
It sort of makes sense why Kroger (KR) might want to acquire Whole Foods on the cheap. It's been an aggressive acquirer of regional chains in the past few years.
Kroger most recently scooped up Roundy's, which operates hundreds of stores in Wisconsin and Illinois.
But Kroger already has a big organic business of its own. It's not clear why the company would want or need the headaches that come with Whole Foods.
There were rumors earlier this year as well that Kroger might want Whole Foods rival The Fresh Market. But The Fresh Market wound up going private, selling out to Apollo Global Management (APO) in March.
Spokespeople at Kroger and Whole Foods both declined to comment on the speculation Friday morning. But Dealreporter had a story Friday indicating that Kroger is not looking to buy Whole Foods. Shares of Whole Foods dipped following that report.
That's probably for the best. Kroger has its own problems to deal with. Plunging prices of agricultural commodities have led to lower prices at grocery stores around the country.
Related: Your grocery bill is cheaper. Here's why
Food deflation may be great news for shoppers, but it is destroying profit margins at big supermarket chains. Kroger's stock is down nearly 30% this year. Rivals SuperValu (SVU) and Sprouts (SFM) have plunged more than 20% as well.
Kroger also has to contend with increased competition from Walmart (WMT), Target (TGT), Costco (COST), Trader Joe's and even Amazon (AMZN) -- which has expanded into the food delivery business with Prime Fresh.
Whole Foods has its own piece of the delivery business thanks to its investment in hot startup Instacart. But is that enough to turn Whole Foods around? It's not looking that way.
Tough competition and a bad reputation may continue to haunt Whole Foods for a while.