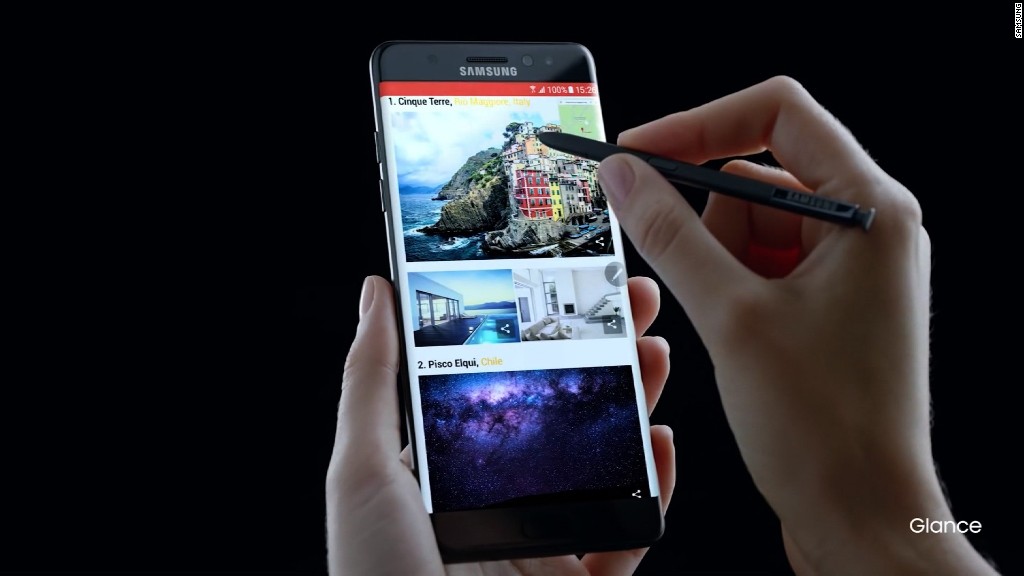 Apple's stock has been on fire thanks to Samsung's problems.
Wait. That's not right. Apple's stock has been red hot? No. Apple's stock has exploded? Uhh. Even worse.
Let's just say Apple appears to be benefiting from Samsung's Galaxy Note 7 disaster. And now that Samsung has made the decision to discontinue the phone altogether, Apple could climb even higher.
Shares of Apple (AAPL) rose nearly 2% in early trading Tuesday following Samsung's obituary announcement for the Galaxy Note 7. Apple's stock has surged almost 10% since Samsung announced its first recall of the phone in early September.
Apple has not released sales figures for the iPhone 7, though. That surprises many tech experts and investors because Apple typically announces how many devices were shipped during the first weekend after a new iPhone goes on sale.
The company said before the iPhone 7 launch that it would not give early sales figures because it had already sold out its existing supply. As a result, Apple said it had no reason to change earnings and sales targets that it gave for the current quarter in July.
Related: What you should do if you own a Galaxy Note 7
Analysts expect that Apple sold 45 million iPhones overall in the quarter. That's down from 48 million in the same period a year ago.
But several analysts raised their forecasts over the past few weeks partly because of Samsung's woes and solid preorder figures for the iPhone 7 reported by T-Mobile (TMUS), Sprint (S) and AT&T (T).
Still, it's hard to figure out just how big a benefit Apple will get from Samsung's problems.
Some argue that other companies making Android phones, such as Huawei, Sony (SNE), LG and Xiaomi, could get a bigger sales lift. Frustrated Galaxy Note 7 users could merely opt for another Android instead of switching to an iPhone.
HTC, which is making the new Google (GOOGL)-branded Pixel phone, could also get a boost.
There are also reports that Samsung is still on track to debut another phone, the Galaxy S8, at the Mobile World Congress trade show in Barcelona in February.
So some Samsung customers could simply wait for that phone and stick with an older model until then -- assuming they don't feel that Samsung's reputation is irreparably damaged.
Related: What you should do if you own a Galaxy Note 7
But that's a big if. CFRA Research analyst Angelo Zino wrote in a report on Monday that he thinks Apple could sell a lot more iPhones in its next fiscal year, which ends in September 2017, because of Samsung's problems.
"Samsung's issues may weigh on future product launches," Zino wrote.
Samsung's stock plunged more than 8% in Seoul on Tuesday after it announced the demise of the Galaxy Note 7. But it's still not clear how much long-term damage the botched launch of this phone will inflict on the company.
The company will take a $10 billion hit as a result of the fiasco. Still, Samsung's stock isn't down that much over the past month.
Part of that is because of hopes that Samsung will be able to move on fairly quickly. If the Galaxy S8 is a hit, all will be forgiven.
But some activist investors have also been pushing for big corporate governance changes at Samsung. That has propped up the stock despite the Note 7 debacle. Samsung was at an all-time high just last week.
Related: What Note 7 crisis? Samsung stock hits new high
And as if all this drama weren't enough, the long-running patent dispute between Apple and Samsung hits the Supreme Court on Tuesday.
The issue is how much Samsung should pay Apple after a jury ruled in California in 2012 that Samsung willfully infringed several of Apple's smartphone patents. The Supreme Court isn't expected to decide until June.
But investors aren't worrying about or waiting for that decision. The judge and jury known as Wall Street seems to have decided that Apple is once again winning the smartphone wars.