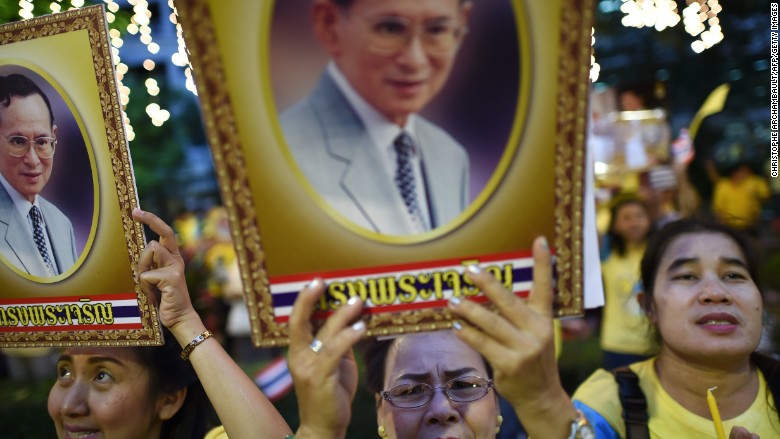 The death of King Bhumibol Adulyadej is raising new questions about Thailand's economy, a tourist hotspot where growth has been derailed time and again by political instability and violence.
The king's 70-year reign came to an end on Thursday, and mourning began immediately. The 88-year-old was revered by his people, the vast majority of whom have known no other monarch.
"The highly revered king has been an important unifying figure in the country," said analysts at Capital Economics.
Economists are worried that his death could plunge the country back into turmoil and deepen its economic malaise. Thailand suffers from tepid growth and weak investment, and is at risk of falling further behind regional rivals such as Vietnam.
The Thai stock market dropped 5% this week as worries mounted over the king's health. The baht shed 2% against the U.S. dollar.
Related: The life of the Thai King
The worries are mostly to do with politics. Democratically elected Thai governments have been overthrown by the military twice in the past decade, including a coup that put the current ruling junta in power.
"The king has helped add some legitimacy to the current military government," said Capital Economics. "Without him, there are a number of times over the past decade where the country could have been plunged into civil war."
Investment growth has averaged just 3% over the past 10 years, which is the slowest rate of any major economy in southeast Asia, according to Capital Economics.
Political upheaval has stalled public infrastructure products and scared off private investors.
Tourism, which is roughly 10% of Thailand's economy, has helped paper over the cracks. The industry supports a total of 5.4 million jobs, according to the World Travel and Tourism Council.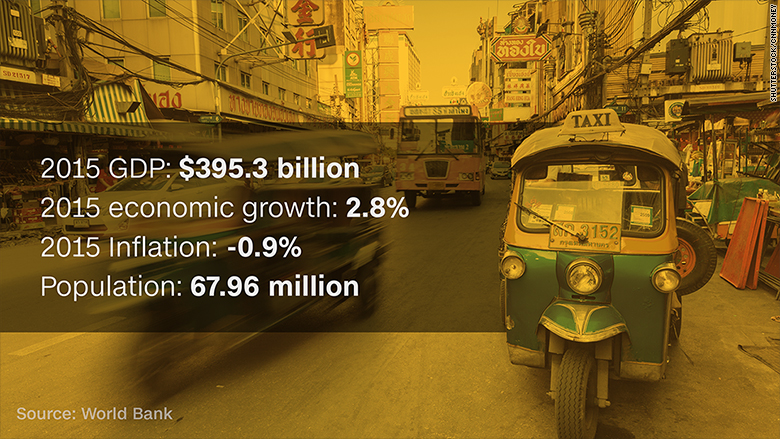 Related: Tourism is spiking in these 8 countries
But deep seated problems remain: Political tensions between rural workers in the country's north and wealthier urban residents of Bangkok has not been resolved, for example.
"The bottom line is that it is difficult to be upbeat about Thailand's medium term outlook until the political picture becomes clearer," said Capital Economics.
Other analysts are more sanguine, arguing that the royal succession will result in only short term disruption.
"Government agencies are somewhat better prepared for this event than is commonly reported," wrote analysts at the Eurasia Group.
"We expect any market volatility around the king's death will be short lived because the succession will be politically and institutionally stable," they said.