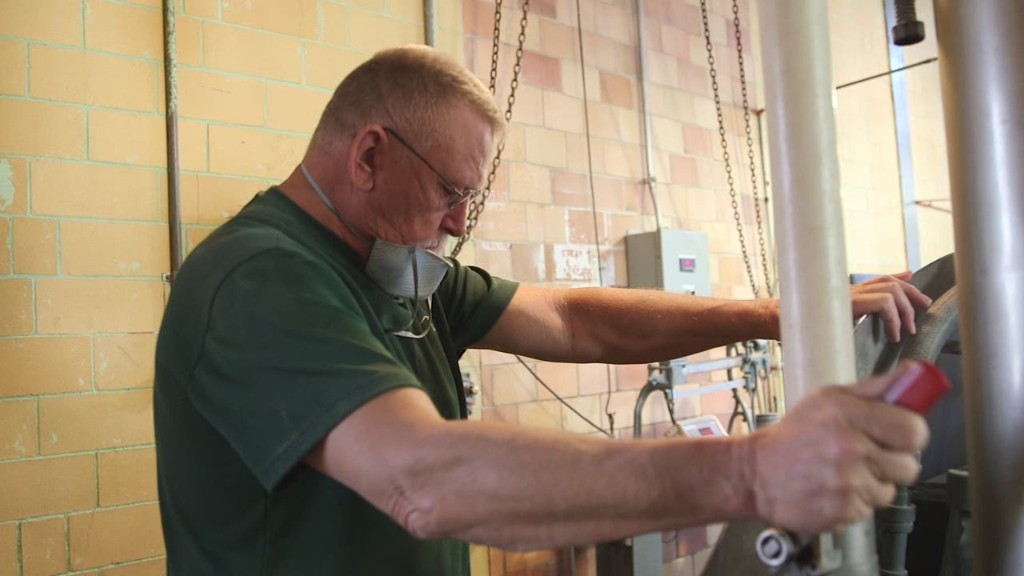 One bourbon. One scotch. One ETF? Or show me the way to the next whiskey stock?
Yup. There's now a fund that is devoted entirely to brown liquor. It's always 5 o'clock somewhere, right?
The Spirited Funds/ETFMG Whiskey and Spirits ETF (try saying that after a few shots) debuted this week. Like most ETFs, it has a cutesy ticker symbol -- WSKY (WSKY).
Some of the top stocks in the fund are Diageo (DEO), which owns Johnnie Walker and bourbon maker Bulleit, Pernod Ricard (PDRDF), the owner of Chivas Regal, The Glenlivet and Jameson, as well as America's Brown-Forman (BFB), the parent company of Jack Daniels.
Now I LOVE bourbon. It's the main reason why the e-mail pitch for this fund didn't instantly go to my deleted box like scores (hundreds!) of other messages from PR people do.
But should I (or you) buy what I know -- or in this case, drink?
Related: Scotland's smallest distillery impacted by Brexit
On the surface, this ETF looks very risky. There are only 23 stocks in the fund. And Diageo, Pernod Ricard and Brown-Forman make up more than 40% of the ETF's assets. The fund and index it is based on are rebalanced quarterly.
Still, and this may be the booze talking, I think there's reason to believe this ETF could be a legit investment.
David Bolton, president and CEO of Spirited Funds, the company that runs the index the ETF is based on, notes that the whiskey business is booming worldwide.
It is also one of the most rapidly growing parts of the alcohol market in the U.S. -- which generated $72 billion in sales last year.
"This may have a niche feel to it. But it is a broad index. There is incredible demand from a global perspective for spirits, and particularly brown spirits," Bolton said.
Sam Masucci, founder and CEO of ETF Managers Group, which partnered with Spirited Funds to create the WSKY ETF, adds that the craft bourbon and whiskey business is rapidly growing too, similar to the microbrewery trend in the U.S.
The WSKY ETF could be just another example of an industry run amok. There are tons of quirky ETFs out there catering to niche subsectors of the market as well as investing themes.
Want more business news, personalized? Download the CNN MoneyStream app
There's a smartphone ETF and social media ETF -- even though some would argue that all you need are Apple (AAPL), Facebook (FB) and Google parent Alphabet (GOOGL) to capitalize on trends in those businesses.
And guess what? Owning an S&P 500 ETF already gives you exposure to all three.
Worried that a hacker stole information you have in that Yahoo email account you've neglected to delete? There are now two ETFs devoted entirely to cybersecurity -- the PureFunds ISE Cyber Security (HACK) and First Trust Nasdaq Cybersecurity (CIBR) ETFs.
There is an ETF that caters to companies favored by Millennials (MILN)-- as well as one that owns companies that aging Baby Boomers are going to need in their retirement. That one has the somewhat offensive ticker symbol of OLD (OLD).
On a diet? There's a health and fitness ETF (FITS) for that.
Need a diet because you're too busy sitting on your coach playing Minecraft? There's a video game ETF (GAMR) too. Or maybe you need the obesity ETF (SLIM) instead? You could just go outside and play more Pokemon Go on your phone too.
There's even a Nashville ETF (NASH). Not for the TV show. But companies based in the city. (If the Pancake Pantry and Loveless Cafe went public, they would be top holdings. And if you go there too often, you could short the fitness ETF and go long the obesity one.)
Related: Lehman Brothers is back -- in a whiskey bottle
But to give Bolton credit, he isn't reaching with the stocks it owns in the WSKY fund.
It doesn't include supermarkets where you could buy alcohol for example. It also doesn't own agricultural giants that help harvest the wheat, rye and corn used in the distilling process.
Heck, Japanese giant Suntory isn't even in the ETF, despite the fact that it bought Jim Beam a few years ago. Bolton said he's hoping that Suntory will spin off Beam in an initial public offering so he can include that in the index and ETF.
"All whiskey should be neat. So we wanted this as pure play as possible," he said.
Three cheers to that! Although I drink my bourbon with stainless steel ice cubes. I hope/think that's still considered neat.