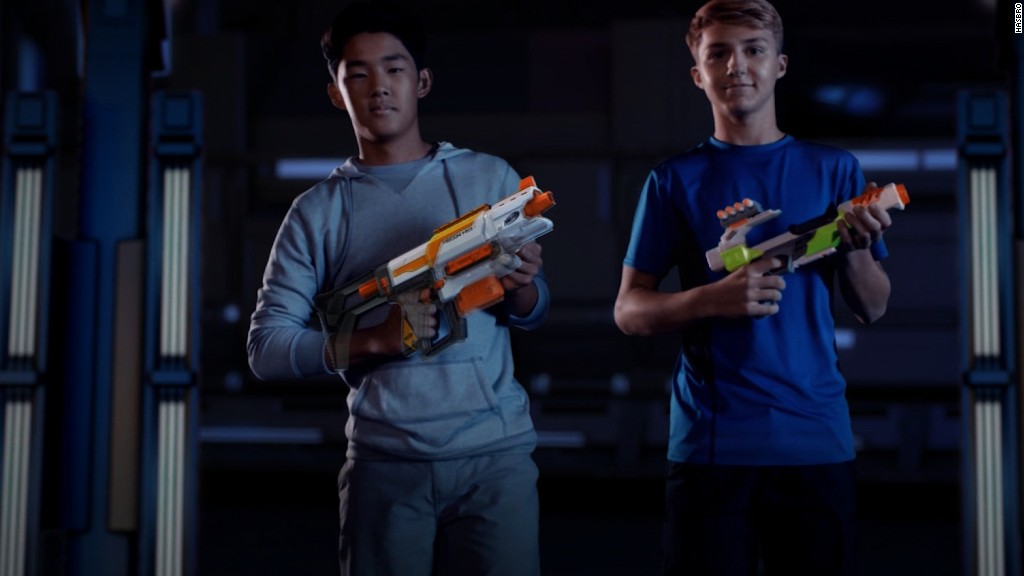 Hasbro is minting money thanks to Cinderella, Snow White, Elsa and Anna.
The toymaker reported results Monday morning that easily topped forecasts -- and strong sales of Disney Princess and Frozen toys for girls was the main reason. Hasbro's stock surged on the news.
Sales of toys in Hasbro's girls segment are up 57% from a year ago. Sales from toys for boys were up just 2%.
It appears that the ties to Disney are paying huge dividends for Hasbro (HAS). Its top rival Mattel (MAT) previously had this lucrative Disney license, but Hasbro took over the rights this year.
Interestingly, Hasbro did not mention toys for another Disney movie -- the new Star Wars prequel "Rogue One'" -- in its earnings release. "Rogue One" toys went on sale at the end of last month.
Star Wars was not cited at all. (In case you are living under a rock on Tatooine, Disney (DIS) now owns Star Wars maker Lucasfilm.)
But it seems unlikely that demand will be as strong for products tied to this movie as they were for last year's "The Force Awakens" -- the seventh official release in the Star Wars saga.
Related: It's a bull market for toys
"Rogue One" is an offshoot movie that takes place between the third and fourth episodes and is being billed as a "Star Wars Story."
Still, Hasbro is also benefiting from another animated movie outside of the House of Mouse's realm.
Hasbro said sales of Trolls toys were strong in the quarter as well. A "Trolls" movie -- made by DreamWorks Animation, which was acquired by Comcast (CMCSA) this summer -- is due out at the beginning of November.
So it looks like the festive holiday spirit has arrived early for Hasbro. Shares soared nearly 8% Monday morning. The stock is now up more than 20% this year.
Start your day right with CNNMoney's new market newsletter: Before The Bell
But investors shouldn't shed any tears for Mattel. The maker of Barbie and Fisher-Price toys has enjoyed a comeback this year despite the loss of the Disney toys.
Mattel recently won the rights to Jurassic World toys from Hasbro. And the company has been undergoing a renaissance since new CEO Christopher Sinclair took over last year.
Shares of Mattel rose 2% on Monday. The stock is up 13% this year. Mattel will report its third quarter earnings on Wednesday.