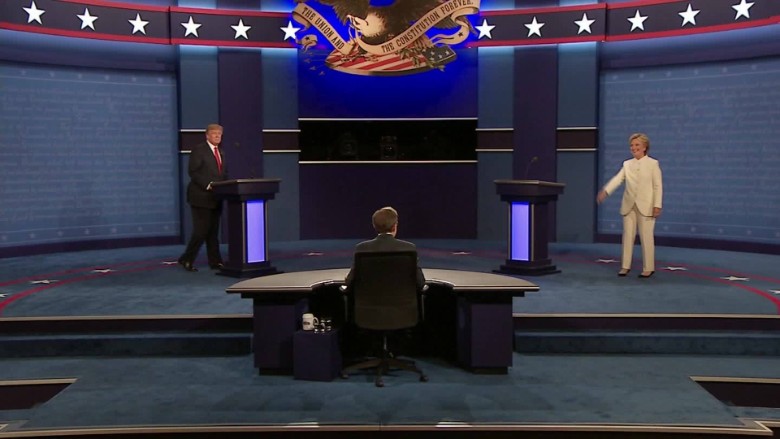 1. Debate reactions: Investors are staying calm after a nasty presidential debate that pitted Donald Trump against Hillary Clinton.
U.S. stock futures are holding steady.
European markets are mixed in early trading, with investors seeming uncertain on which way to go. Asian markets mostly ended with positive results.
"The markets' reaction to the debate was fairly muted," said Kathleen Brooks, research director at City Index in London. "Some of the policies that Clinton laid out during the final debate, including higher taxes, changes to the health care sector and green energy initiatives, could unsettle markets in the long-term."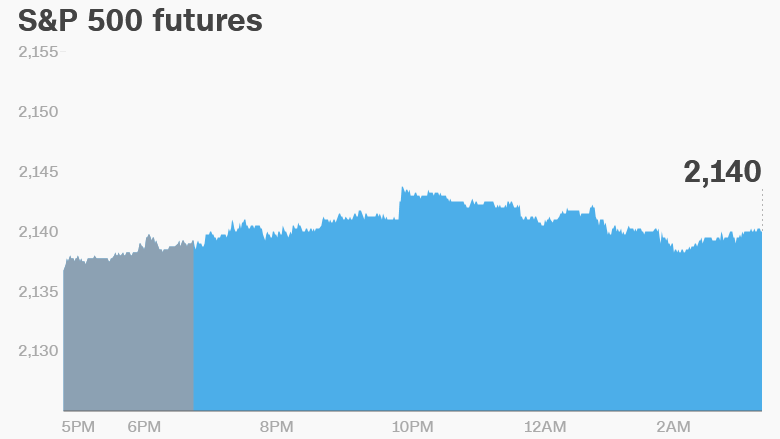 Related: Investors really want Clinton to win
2. ECB expectations: The European Central Bank announced it's maintaining its negative interest rates and massive economic stimulus program.
Markets were not expecting any major policy changes.
ECB President Mario Draghi said his central bank team would decide in December about extending its stimulus program past March 2017 to support Europe's economy and inflation levels.
The euro spiked as Draghi made his comments.
3. Focus on autos -- Tesla, Mitsubishi: Shares in Tesla (TSLA) look set to dip when markets open as investors react to the automaker's self-driving car announcement.
Tesla on Wednesday unveiled new technology that will make its cars fully self-driving. Tesla expects that by the end of 2017, these cars should be able to drive from New York City to Los Angeles without the driver having to do anything.
Meanwhile, investors are watching Mitsubishi Motors, which is expected to announce that Nissan chief Carlos Ghosn will add to his duties and serve as chairman of the scandal-plagued firm. Shares were up nearly 3% on Thursday in Tokyo.
4. Market movers -- American Express, eBay, oil: American Express (AXP) shares are shooting up and eBay (EBAY) shares are tumbling by about 7% premarket as investors react to new earnings released on Wednesday afternoon.
Crude futures are dipping by about 1% after oil hit its highest level in a year on Wednesday.
5. Earnings: Earnings season rolls on with quarterly reports before the bell from American Airlines (AAL), Nestle (NSRGY), IMAX (IMAX), Verizon (VZ), Union Pacific (UNP) and Dunkin' Brands (DNKN).
PayPal (PYPL), E*Trade (ETFC) and Microsoft (MSFT) plan to release earnings after the close.
6. Coming this week:
Thursday - Verizon (VZ) earnings
Friday - McDonald's (MCD) earnings