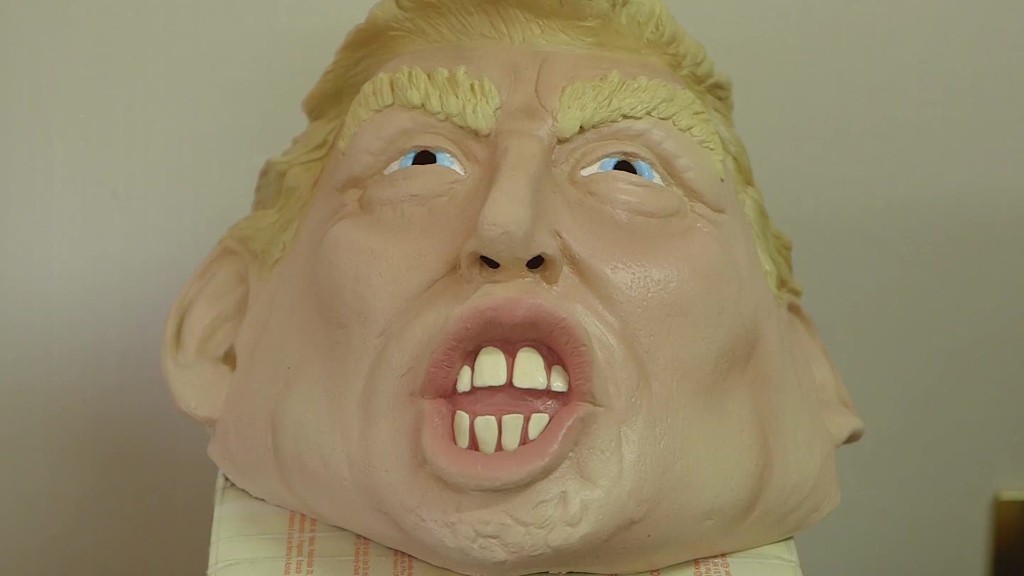 Election Day is November 8 -- just eight days after Halloween.
So it should come as no surprise that there will be lots of Donald Trumps and Hillary Clintons ringing doorbells and asking for candy, even if this ugly presidential campaign has been more trick than treat for many Americans.
That could be great news for retailer Party City.
Halloween is this company's Christmas. Party City announced late last month that it was hiring 35,000 seasonal employees to handle the surge in demand for costumes.
The company is expected to report a more than 10% increase in earnings for the fourth quarter, which includes October.
More than a third of Party City's total sales this year should come in the fourth quarter. And analysts are predicting that nearly 70% of its overall profits will be generated between October and the end of December.
Investors have taken notice. Shares of Party City (PRTY), which went public in April 2015, are up more than 25% this year.
Party City always tends to do well this time of year. Kids (and grown-ups) like to play pretend and get dressed up as superheroes or cartoon characters.
But some of the most popular costumes this year aren't fictional characters. They are presidential candidates. (OK. I guess you can argue that Trump and Clinton are sort of like cartoon characters. Probably not superheroes, though.)
So which candidate are Party City customers supporting more -- Clinton or Trump?
Well, let's just say that if Halloween costumes were a substitute for the Electoral College, then the next inhabitant of the Oval Office will be a Republican. Actual votes are still what counts, of course.
"There is more demand for Trump than Clinton. He is his own character. There was demand for him in years past even before he ran for president. People were dressing up as him when he was on The Apprentice," said Gregg Melnick, president of Party City.
Melnick said there does seem to be more demand for politician costumes this year than in past election cycles. But there are plenty of other popular Halloween outfits as well.
Party City has licenses with big media firms, including Disney (DIS) and subsidiaries Pixar, Marvel and Lucasfilm, as well as Viacom's (VIAB) Nickelodeon and Warner Bros. -- which is owned by CNN parent Time Warner (TWX). He said Pokemon is big, too.
So Party City is poised to benefit from trends in pop culture entertainment. (Disclosure: My 3-year-old is supporting the home team and dressing as Batman! DC Comics is also owned by Time Warner. His older brother will be Pokemon character Charizard.)
Related: What it takes to work at a haunted house
But Melnick said more and more younger customers are choosing to make their own costumes from supplies they buy at Party City instead of purchasing costumes based on licensed characters.
"What we are seeing is that people are influenced by their phones. They are dressing up as taco and hot dog emojis. People are dressing up as Facebook filters," Melnick said. "The DIY part of our costume business is very hot."
Of course, there are many people who still want to escape real life and masquerade as superheroes. But Melnick said that even within the comic book genre of costumes, people are choosing darker characters.
Melnick said that anti-hero Deadpool, who had his own hit movie earlier this year, is a popular choice. So is Harley Quinn and other characters from "Suicide Squad."
Oh well. I'm glad my youngest decided to go old school and chose the Dark Knight. Although he'd look awfully cute in a Trump wig.