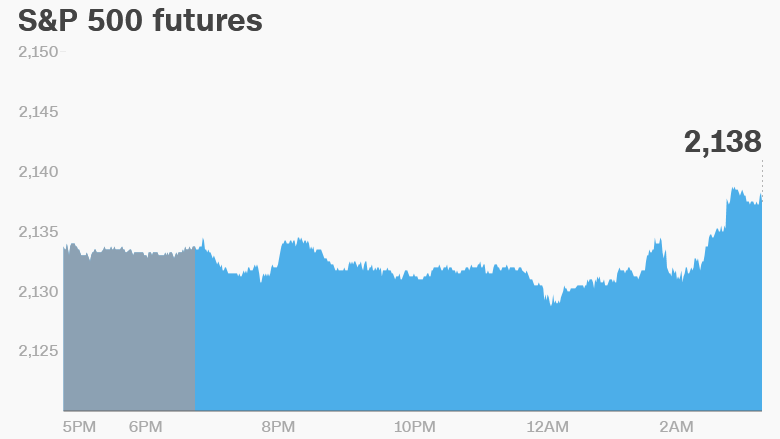 1. Apple's Mac reveal: Apple continues to be front and center in the news as it is expected to unveil a new, upgraded Mac computer on Thursday at 1 p.m. ET.
Apple (AAPL) shares were punished Wednesday after the company reported another quarterly sales decline.
Investors will be hoping the new Mac will be a big moneymaker, especially since customers are losing interest in the Apple Watch.
Apple's big rival Samsung (SSNLF) reported quarterly results overnight, showing the fire-prone Galaxy Note 7 burned through its mobile phone profits. This was expected. Samsung recently killed off the Note 7 following a failed recall.
2. Market movers -- Tesla, Groupon: Tesla (TSLA) stock is revving higher after the electric car maker posted a surprise profit of $22 million in the third quarter.
That's just the second time it's been in the black. Its only other quarterly profit came more than three years ago.
Elon Musk, Tesla's CEO, described the profitable quarter as "definitely one of the best moments at Tesla" on a conference call with analysts.
While Tesla basks in the sun, Groupon (GRPN) is in a dark place.
Groupon reported late on Wednesday that it was buying rival LivingSocial, and it also reported quarterly results. The double announcement failed to impress Wall Street and shares look set to get pummeled once the opening bell rings in New York.
Before the Bell newsletter: Key market news. In your inbox. Subscribe now!
3. ZTO IPO has arrived: The biggest New York IPO of the year has arrived. And it's from China.
Chinese delivery company ZTO Express will start trading on the New York Stock Exchange Thursday under the ticker symbol 'ZTO'. It's raised about $1.4 billion by selling shares for $19.50 each.
4. Earnings flood: Lots of big names are reporting quarterly numbers on Thursday. The before-the-bell crowd includes Blackstone (BX), Twitter (TWTR), ConocoPhillips (COP), Ford (F), UPS (UPS), Deutsche Bank (DB) and Volkswagen (VLKAY).
Then Google's parent company Alphabet (GOOG) is set to release results after the close, alongside Amazon (AMZN), Expedia (EXPE) and LinkedIn (LNKD).
5. How's Britain holding up?: The U.K. economy grew much faster than expected in the July to September period, according to a preliminary estimate from the Office for National Statistics.
This is the period that directly followed the Brexit referendum, so expectations for growth were low.
GDP grew by 2.3% in the third quarter compared to the same time last year. Compared with the previous quarter, the economy grew by 0.5%, slower than the 0.7% expansion reported in the March to June period.
Download CNN MoneyStream for up-to-the-minute market data and news
6. Global market overview: Traders are a fickle bunch. Global stock markets have been bumping between small gains and losses this morning.
U.S. stock futures and European markets can't seem to make up their minds which way to go.
But most Asian markets ended the day firmly in the red.
7. Coming this week:
Thursday - Apple's Mac reveal; Alphabet, Amazon (AMZN), Twitter (TWTR), Ford (F), UPS (UPS), ConocoPhillips (COP) earnings
Friday - MasterCard (MA) and Anheuser-Busch (BUD) earnings, third-quarter U.S. GDP
Correction: A previous version of this article mistakenly said that Apple reported a loss in its latest quarter. The company reported a sales decline.