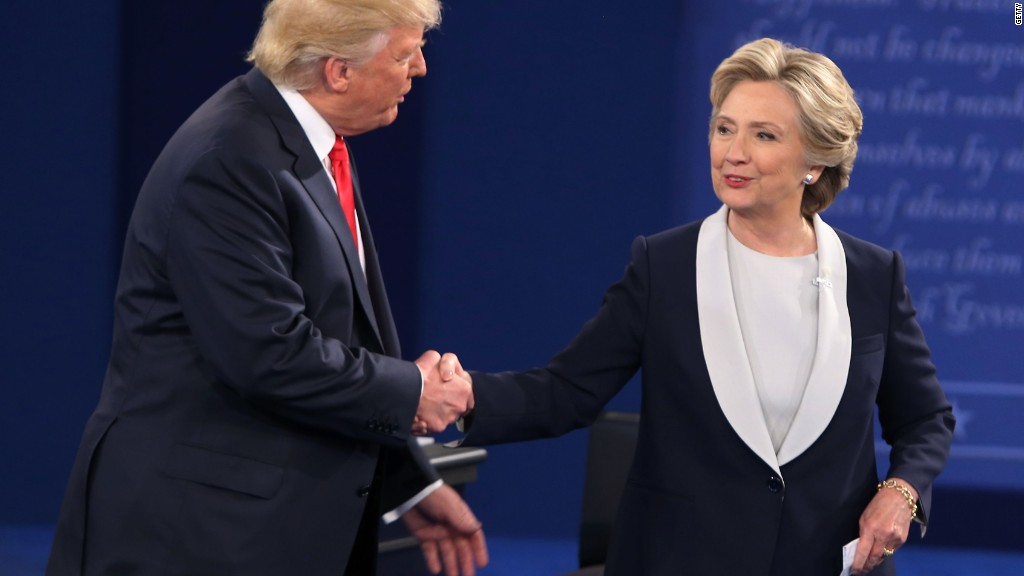 America finally got some good economic growth.
The U.S. economy expanded at a 2.9% annual rate from July through September compared with the same time a year ago -- the fastest economic growth in two years.
It was the last reading on economic growth before the election, and it came as welcome news: Growth was sluggish in the first half of the year, averaging just above 1%.
"This shows that the U.S. is roughly on track. It's a natural bounce back following a pretty underwhelming year so far," says Luke Bartholomew, fixed income investment manager at Aberdeen Asset Management.
While the economy gained momentum in the third quarter, growth this year comes in at 1.7% -- still slow compared with historical standards.
Related: Why Trump resonates: 'middle skill' workers' wages plummet
Donald Trump, the Republican presidential nominee, released a statement calling the quarterly growth "modest." Economists took a brighter view: Barclays and the research firm High Frequency Economics called it solid.
Trump also said that economic growth over the past year has been "dismal." He has promised economic growth of 4% if he is elected president, but economists surveyed by CNNMoney say that is unrealistic.
For the third quarter, American shoppers continued to drive growth, while business spending was less of a drag. Consumer confidence hit a nine-year high in September, according to the Conference Board.
Another big boost to growth in the quarter was trade, a central issue for Trump, who has threatened to impose tariffs against Mexico and China and tear up free trade deals like NAFTA.
Exports grew by 10% in the quarter, the best pace in nearly three years. A huge jump in shipments of soybeans explained much of the increase in exports, economists say. China has been one of the biggest buyers of U.S. soybeans. American agricultural exports to China have increased by 200% over the past decade, according to the USDA.
Again, the pickup in exports is good news, but it's not likely to last.
"It looks like a temporary boost," says Bricklin Dwyer, chief U.S. economist at BNP Paribas. "You can't keep shipping whole heaps of soybeans, but it's certainly not bad news."
Related: Millions in gig economy can't find better pay or jobs
For much of the year, businesses had lots of unsold items sitting in the back room, which worked against growth. This factor, also known as inventories, didn't hold growth back in the third quarter.
Businesses really cut back spending on new equipment, sales of which were down 2.7%. Although some experts debate whether the uncertainty of the election could be weighing down business spending, it's declined for four straight quarters. Many economists believe other factors, like a strong dollar and sluggish global economy, play bigger roles in the equipment cutback.
Solid growth numbers help clear the way for the Federal Reserve to raise interest rates at the end of this year. Sluggish growth, and a bad jobs report in May, held the Fed back from raising rates earlier this year, among other reasons. The Fed is expected to raise rates in December.