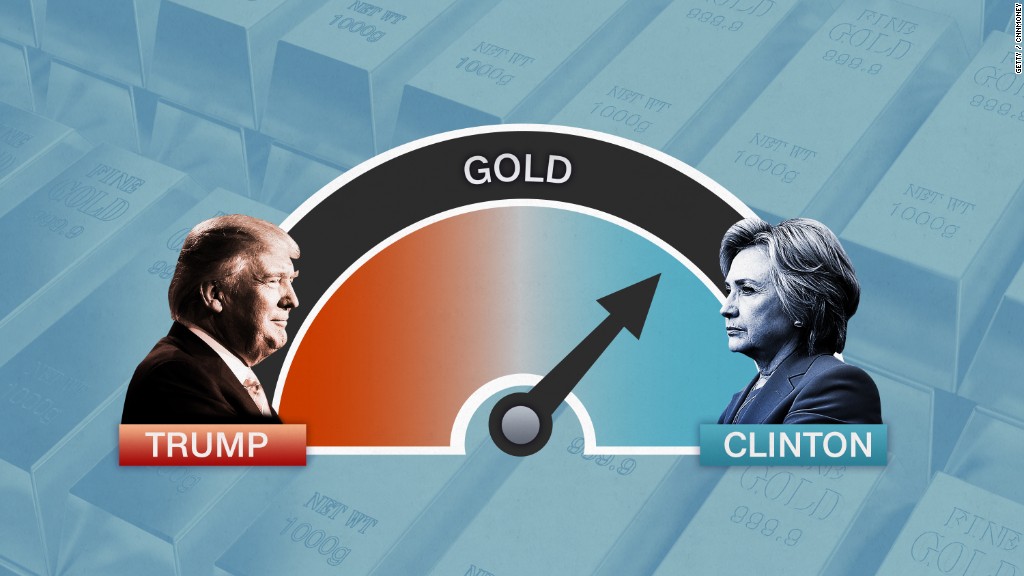 It may be Halloween, but Wall Street isn't too spooked by the latest twists in the probe of Hillary Clinton's emails.
The market was relatively flat Monday. That followed a modestly wild day Friday, when stocks quickly dropped after FBI Director James Comey announced that the FBI had discovered additional emails and is reviewing them to see whether they are related to the bureau's investigation into Clinton's handling of classified information.
But the market recovered as the day wore on and finished only slightly lower as investors appeared to come to the conclusion that it was unlikely any proverbial smoking guns would be found in the emails.
So if there's any October Surprise from all the latest news about Clinton's emails, it may be that Wall Street may not care all that much. Investors still seem to be predicting a Clinton victory over Donald Trump.
For one, no CEOs of any Fortune 100 firm had donated to Trump as of August. And outside of the controversial venture capitalist and Facebook board member Peter Thiel, most big Silicon Valley tech executives have been supporting Clinton.
Most market experts think that Hillary Clinton in the White House, combined with Republicans controlling at least one of the two chambers of Congress, is the best case scenario for stocks. It means more gridlock -- music to the ears of many investors.
Clinton is also perceived as being far more predictable than Trump.
And while you're probably tired of hearing that the market hates uncertainty, there's a reason that people on Wall Street (and the financial media) constantly say that. It's because it's true.
That's why many investors view Trump warily, even though he is a Republican -- the party that big businesses often prefer.
"While Trump has been a more consistent advocate for free-market policies, he has also been a critic of trade and immigration," said Jason Pride, director of investment strategy with Glenmede, in a recent report. "Combined with his non-traditional campaign persona, Clinton represents a more known and welcomed outcome."
Related: Corporate America's bogus blame the election excuse
A Clinton win may no longer be viewed as a slam dunk by the markets as it was just a few weeks ago. Stocks have pulled back a bit from their highs lately, a possible sign that investors are growing more concerned about a Trump upset victory.
But it's important to note that the Dow, S&P 500 and Nasdaq are all still up about 4% this year and they are also not far from their all-time highs. In other words, investors aren't panicking. They may just be in a holding pattern.
Corporate America may not be as worried about the election as you might think either.
John McAdam, CEO of networking equipment company F5 (FFIV), told me last week that none of his big business customers have expressed any concerns about the election. It's had no impact on their IT spending plans for the near-term.
And several sectors of the market that could slump or thrive with Clinton as president are acting as if she still is likely to win as well.
Joe Heider of Cirrus Wealth Management said that big pharmaceutical and biotech stocks could do poorly under a Clinton administration given numerous comments about runaway drug pricing.
With that in mind, it's worth noting that the SPDR S&P Pharmaceuticals (XPH) and iShares Nasdaq Biotechnology (IBB) ETFs are both down nearly 15% since the first presidential debate on September 24.
Rob Lutts of Cabot Wealth Management notes that alternative energy stocks might also do well during a Clinton presidency. So it's telling that shares of First Solar (FSLR) are up about 10% since the first debate.
Of course, investors have been wrong before about election outcomes, most notably (and recently) with the U.K.'s decision to leave the European Union -- the so-called Brexit.
Ultimately, voters decide who will be the next president -- not the market. Luckily, we'll find out soon enough what the outcome is.
"The best part about the election will be that it's over. We can focus again on earnings," Lutts said. "People can start looking again at where there is growth in the economy."