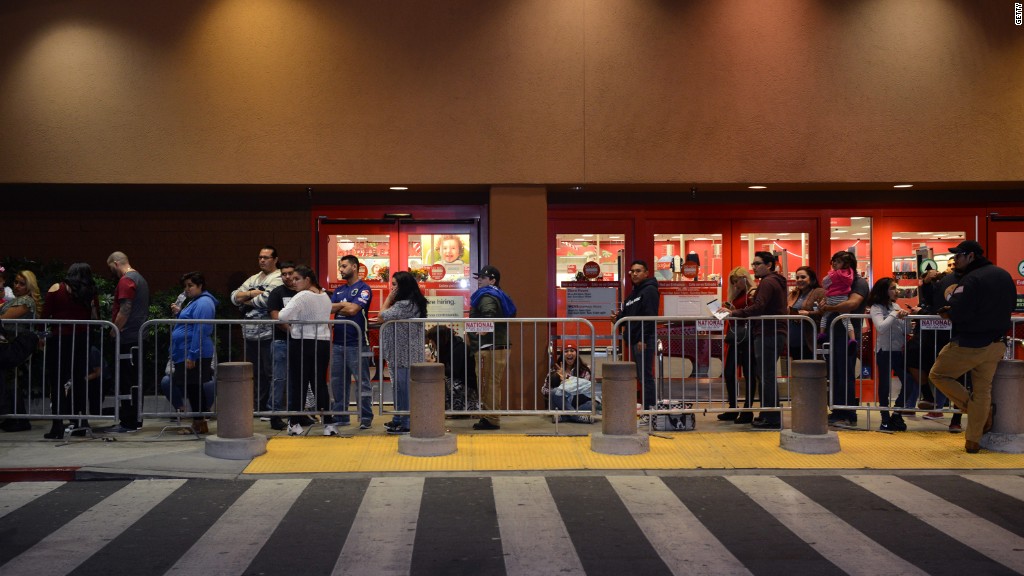 1. Black Friday biopsy: How much did Americans splurge on shopping's biggest weekend? Decent, but not if you're a brick-and-mortar location.
Online sales on Thursday and Friday surpassed $5 billion with more than $1.2 billion coming from mobile devices, according to Adobe. The National Retail Federation is expected to release a report on Sunday detailing broader shopping numbers.
Now we'll wait to see if customers open their purses and wallets on Cyber Monday.
2. O'Hare airport strike: Hundreds of workers at Chicago O'Hare International Airport plan to strike on Tuesday. The airport is a hub for both American Airlines (AAL) and United Airlines (UAL).
Janitors, baggage handlers, cabin cleaners and wheelchair attendants are asking for a $15 hourly wage. The strike won't affect more critical workers, such as air traffic controllers and security screeners.
3. Trump appointments: President-elect Donald Trump could appoint key members of his economic team this week.
Billionaire investor Wilbur Ross is considered the leading contender for commerce secretary. Steven Mnuchin, a former Goldman Sachs (GS) exec turned Hollywood producer, is said to be the top pick for Treasury secretary. Jonathan Gray, who heads real estate for private equity firm Blackstone (BX), said last week that he was out of the running.
4. Jobs report: Trump, who says he'll spend $1 trillion on infrastructure projects to boost U.S. employment, and the rest of us will see an updated set of American jobs numbers on Friday.
In October, the U.S. economy added a solid 161,000 jobs. Unemployment edged down to 4.9% -- now half of what it was in 2009, when unemployment peaked at 10%.
5. Coming this week:
Monday - Cyber Monday
Tuesday - Report on GDP in the U.S.; Chicago O'Hare airport workers set to strike
Wednesday - OPEC meeting, U.K. economic forecast
Thursday - Auto sales
Friday - U.S. jobs report