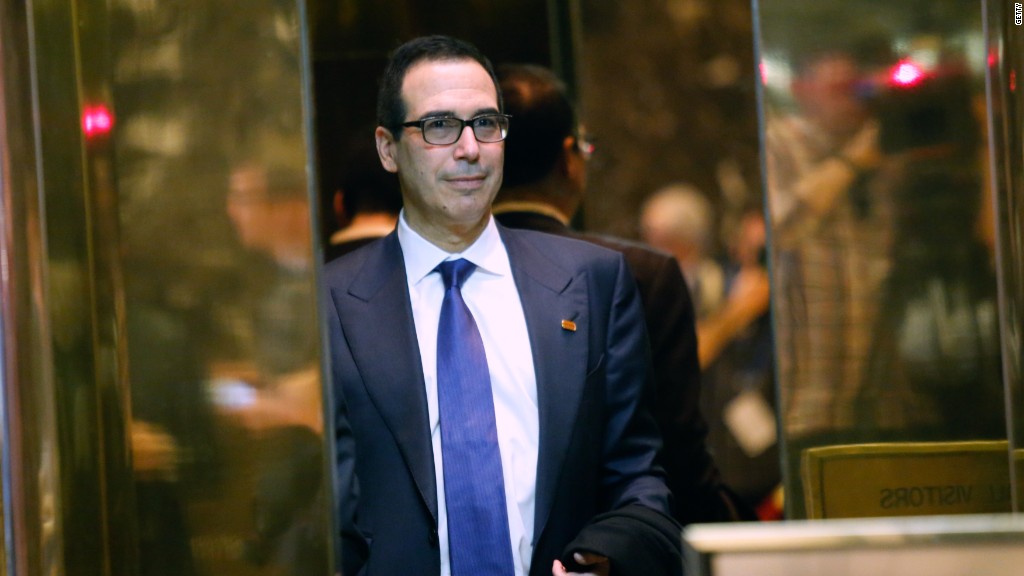 Jonathan Gray, said to be one of two finalists for Treasury secretary in the Trump administration, says he is no longer in the running for the job.
Gray is the global head of real estate at the Blackstone Group (BX) private equity firm and widely considered heir apparent to Blackstone CEO Stephen Schwarzman.
"I had a terrific meeting and robust policy discussion with the president-elect," Gray told CNNMoney on Wednesday. "It was an honor to be considered for Treasury secretary, but I still have much work to do at Blackstone."
That could clear the way for former Goldman Sachs (GS) banker and film producer Steven Mnuchin to be tapped for the Treasury post.
Sources had told CNN this week that Gray and Mnuchin were the two remaining contenders. Mnuchin served as Trump's chief fundraiser during the campaign, and is the former principal investor and CEO of OneWest, the bank that was formed when he purchased failed subprime lender IndyMac in 2009.
The Treasury secretary is essentially the federal government's banker, paying its bills, collecting taxes and selling and managing U.S. debt. The department has about 100,000 employees, of which about 91,000 work for the IRS. The secretary is also a top regulator of banks and Wall Street and the face of the U.S. in negotiations with finance ministers around the globe.