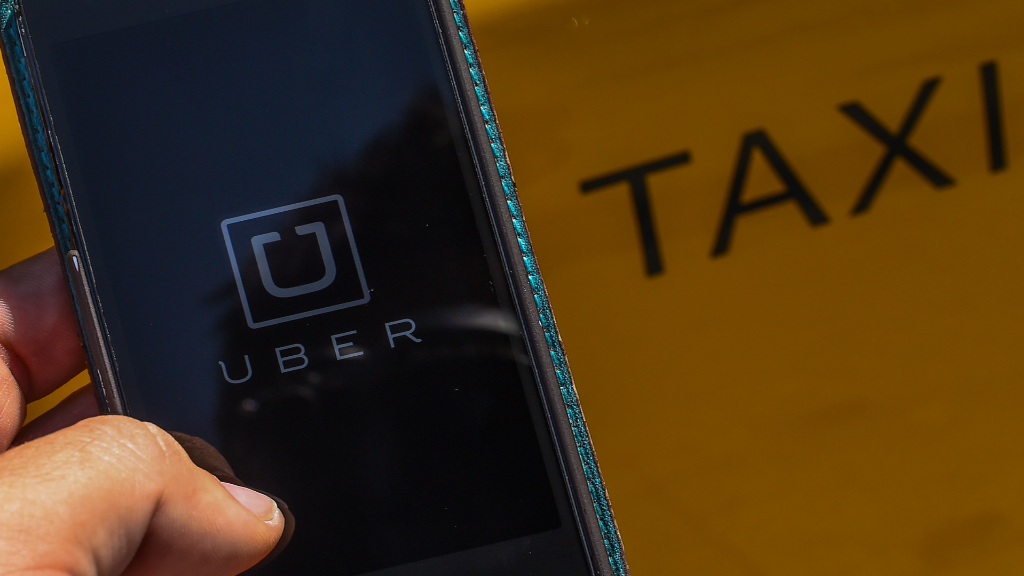 After retreating from China this year, Uber's plans for world domination hinge on its big bet in Latin America.
Mexico City is now the busiest city in the world for Uber. Second is Sao Paulo, Brazil. The company has experienced a tenfold increase in rides across the region in the last year and plans to be in around 200 cities by the end of 2017. It's currently in 92 cities.
"A lot of our attention and resources are shifting toward Latin America," says Rodrigo Arevalo, Uber's head of Latin America. "We see ourselves as a fuel center and contributor for other regions where we are facing more fierce competition."
In just two years in Mexico City, the ride sharing giant has become an integral part of urban life, with around 50,000 drivers navigating the megacity. The Mexican capital was a clear candidate for Uber: a population of 23 million people living in low-rise housing across a vast urban sprawl.
Related: Your Uber app won't work in China anymore
Security is one reason Uber has excelled in Mexico. Traditional street taxis in Mexico City are a known method of "express kidnapping," when riders are forced to pay a small, immediate ransom -- often at the ATM machine.
"We are obsessed with safety," Uber's Mexico General Manager Francisco Sordo told CNNMoney. "For Mexico in particular, [safety] has definitely been one of the major reasons why the adoption has been so massive."
The company carries out extensive background screening on drivers, and its platform allows passengers to share their ride with friends and family.
Situated in a brand new glass skyscraper just off the city's iconic Reforma boulevard, Uber's offices maintain a Silicon Valley feel. Individual offices are banned so the most prized real estate on the floor -- the corner -- is home to two ping pong tables with panoramic views of the city. An egg station and espresso bar keep staff fueled for early starts and late nights in the office. Fridges are stocked with beer. It feels more startup than skyscraper.
Related: Black riders wait longer for Uber rides, study reveals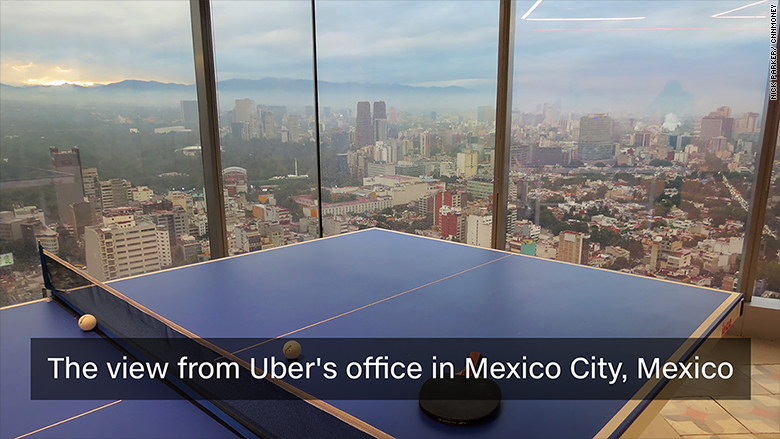 "When I first arrived, Uber was a very small company. My parents didn't understand my decision," says Guillermo Gonzalez, an operations manager in his 20s. "You can see how it has changed from two years back to today. I've even been to special events like weddings and I have to not say I work for Uber because my girlfriend gets angry about people trying to ask me questions and understand the business."
Uber's success in Mexico and the rest of Latin America stands in sharp contrast to its failed bet on China, where it sold its business to rival Didi Chuxing.
"I think the reception has been easier in Latin America. We have cultures that are very, very open," says Arevalo. "Whereas in China almost every American company faces [culture] shock."
One key challenge was that many Latinos don't carry credit cards. So Uber introduced cash payments, which helped it reach more of its target market: everybody. There is also a ready supply of drivers, with low wages and contractual work in short supply.
Juan Carlos Alejo used to work for a classical record company, until digital music put it out of business. Now he drives for Uber.
"I never thought I would be a taxi driver, but this is different," he says, driving through rain slicked streets. "Above all it is the ratings system: Drivers need to be polite and keep their cars clean. There is respect between the drivers and passengers."
Related: Uber drivers in U.K. win right to paid time off and minimum wage
Regional competitors such as Cabify are more focused on wealthy Latinos, while Uber X subsidizes drivers to build market share across the entire population.
While competition is weaker, Uber's disruptive presence has inevitably sparked protests across the region among traditional taxi companies.
Then there is the issue of regulation: So far, Mexico City is the only city in Latin America to impose laws on rideshare apps, with 1.5% of revenue earmarked for a government fund. Reports suggest progress has been slow and Arevalo diplomatically describes the regulation's implementation as a "work in progress."
As Uber plans to double its presence in Latin America, each new city presents a potential regulatory headache. But for Arevalo, the work is just getting started.
"We are just at the tip of the iceberg. In Latin America, less than 5% of the population uses Uber. The challenge here is: how do we get to absolutely everyone?"