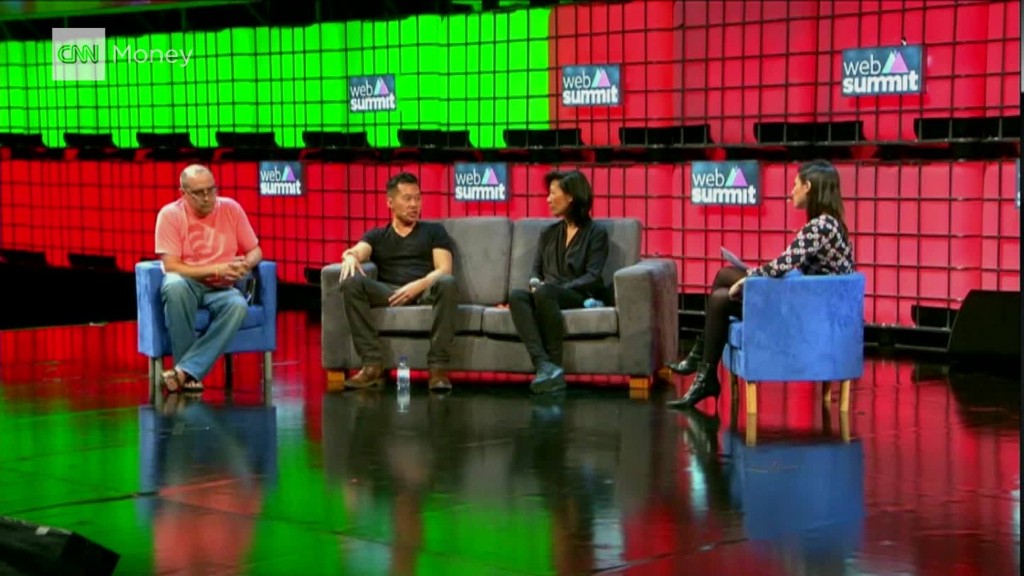 Even though the Nasdaq is at an all-time high, many big tech stocks have slumped since Donald Trump won the election last month. But there has been one notable exception -- Microsoft.
Shares of Microsoft (MSFT) are up 5% since Trump defeated Hillary Clinton to become the next president of the United States. Microsoft's stock is even at an all-time high. The company's market value is approaching half a trillion dollars.
But Facebook's (FB) stock has fallen 4% since the election. Google owner Alphabet (AB100MOM) is up less than 1%. Amazon (AMZN) is down more than 1%. Netflix (NFLX) is relatively flat.
Yes, all of these stocks were down more in the first few days after Trump's victory and have bounced back since. But Microsoft is still the best performer since the election.
One possible reason? The likelihood of lower taxes thanks to a Trump administration and Republican-controlled Congress.
Trump's proposal to allow companies to bring back, or repatriate, cash currently sitting overseas at a much lower tax rate would benefit Microsoft. He has called for a one-time tax rate of 10% -- down from 35% -- to return foreign-held cash back to the U.S.
Microsoft CEO Satya Nadella is one of several tech leaders that is set to meet Trump on Wednesday to discuss job creation and other topics. But the issue of corporate taxes could come up as well.
Related: Nadella, Elon Musk. Jeff Bezos and other tech giants to meet with Trump
Microsoft, according to its most recent quarterly filing with the SEC, had $111.1 billion of its total cash hoard of $136.9 billion held overseas.
Other older tech companies like Apple (AAPL) and Oracle (ORCL) also hold a big chunk of cash in foreign accounts. And those two have outperformed the likes of Facebook and Amazon since the election too.
If Microsoft and other tech giants were able to bring back their cash to the U.S., the hope is that they can use some of it to do things that would help the economy.
They could hire more workers, invest more in research and development, and purchase start-ups, for example.
Along those lines, one fund manager noted that investors have become more enamored with Microsoft lately because of its increased exposure to the rapidly growing cloud computing market, where it competes with Amazon and Salesforce (CRM).
"Investors crave any information that shows the company is successfully transitioning from a mature growth desktop software company to a full fledged cloud play," said Daniel Morgan, senior portfolio manager with Synovus Trust Company.
Related: VC Peter Thiel adds tech allies to Trump transition team
But Microsoft and other older tech giants would probably push to satisfy their shareholders, too, though. They could use cash that's brought back home to boost stock buybacks and increase dividends.
"Larger technology sector companies would benefit significantly from Trump's proposed tax policies," said CFRA Research analyst Scott Kessler in a report about the tech sector shortly after the election.
Hank Smith, chief investment officer at Haverford Trust, agreed.
Smith even used some of Trump's lingo, saying in a note after the election that "the ability to repatriate foreign earnings will hugely benefit old technology companies" like Microsoft, Apple and Cisco (CSCO).
Another possible reason why Microsoft could be holding up better than other tech stocks?
While several tech executives haven't been shy of voicing their displeasure with Trump. particularly due to concerns about immigration and what Trump might do to the H1-B visa program, Microsoft has been a bit more cordial.
Microsoft president and chief legal officer Brad Smith said in a blog post that boosting job growth and increased investments in infrastructure were two key areas Microsoft felt were among the most important issues for Trump and other leaders to address.
And in a LinkedIn post after the election, Nadella congratulated Trump and said he looked forward towards working with him and other leaders in Washington.
Interestingly, Microsoft now owns LinkedIn -- and Nadella has been far more conciliatory than LinkedIn co-founder Reid Hoffman, who bashed Trump repeatedly on the campaign, even creating a card game that made fun of him.
Related: 2016 has been a terrible year for tech IPOs
Trump also hasn't publicly attacked Microsoft the way he has other big tech companies, most notably Amazon.
Although Trump might want to talk to Nadella about the bio Microsoft has of him on its online store.
He's listed as an "actor" with a "no-nonsense glare and distinctive comb-over" who "began seeking publicity through stunts like affiliating himself with the conspiracy-theorist 'birther' movement, and dropping the f-bomb in public statements about gas prices."
The bio concludes by noting that Trump won the Republican nomination for president -- but hasn't yet been updated with the news of his victory in the general election.