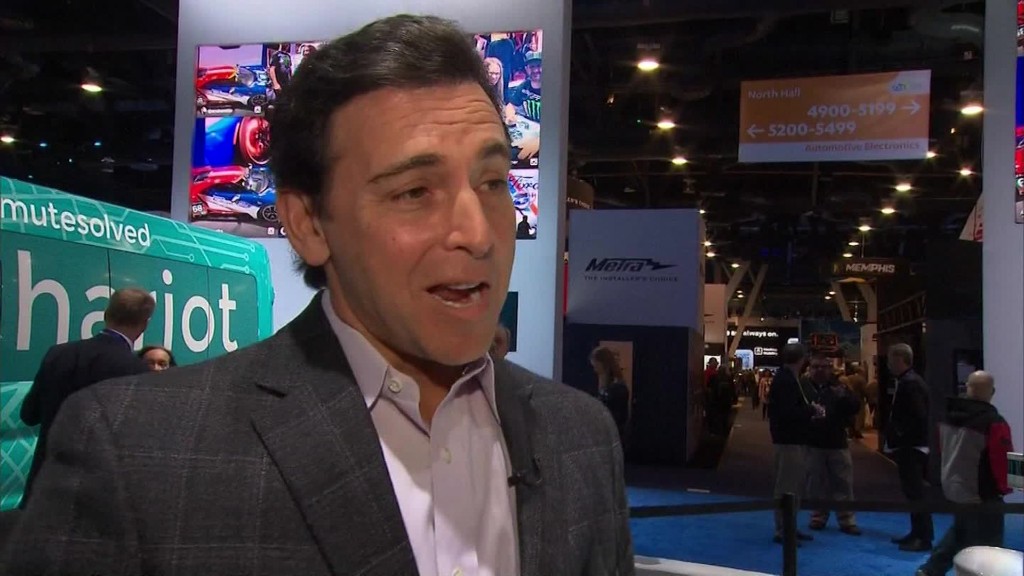 If President-elect Donald Trump is able to get the economy growing at a faster clip, many giants of Corporate America will benefit. But there will also be some notable losers.
The biggest beneficiaries are likely to be the companies that generate an overwhelming majority of their sales domestically.
An increase in consumer spending in the U.S. would give a bigger boost to these firms than companies that rely more heavily on foreign markets.
According to data from FactSet Research, nearly half of the companies in the S&P 500 index (240 to be precise) get more than 70% of their annual sales from the U.S.
That list includes AT&T (T) and Verizon (VZ), Disney (DIS), Comcast (CMCSA) and Home Depot (HD).
Berkshire Hathaway (BRKB) and Starbucks (SBUX) are also on it. So is defense contractor Lockheed Martin (LMT), which has been a target of angry Trump tweets because of the cost of the F-35 jet.
Walmart (WMT), American Express (AXP), UPS (UPS) and Netflix (NFLX) are other high-profile companies that are all expanding abroad, but whose profits are still more closely tied to the U.S.
Related: Corona has a Trump-Mexico problem
These companies could get a lift from Trump's inward-looking policies if he and the Republican-led Congress boost funding for infrastructure projects and cut taxes as much as they are proposing.
This stimulus could lead to higher levels of consumer and big business spending.
That could also help Ford (F) and GM (GM) somewhat. Those companies, who have also been targets of Trump for operations they have in Mexico, each get a little more than 60% of their revenue from the U.S.
Of course, there is no guarantee that Trump is going to get everything he wants from Congress. There's also the possibility that economic isolationism backfires and winds up hurting economic growth and U.S. consumers.
Potential Losers
Many big U.S. companies that rely heavily on foreign sales stand to lose if Trump's tough talk on tariffs winds up igniting a trade war.
Boeing (BA) generates nearly 60% of its sales from outside the U.S.
GE (GE), Coke (KO), McDonald's (MCD), Procter & Gamble (PG) and Nike (NKE) sell more of their products abroad than in the U.S. So it's possible that those stocks could lag versus those with more of a U.S. presence -- especially if the dollar picks up more steam.
Although the dollar has started to weaken lately as Trump tries to talk it down, the greenback is still up significantly against other currencies since his election.
Related: IMF thinks Trump stimulus will boost U.S. growth
Investors think Trump's domestic focus should boost the dollar, which is bad for companies that sell more of their goods and services abroad -- and good for those which import less and focus on the U.S.
That could hurt big tech firms Apple (AAPL), Microsoft (MSFT), Facebook (FB) and Google-owner Alphabet (GOOGL), which also get more than half their revenue from international markets. So do Intel (INTC), Oracle (ORCL) and IBM (IBM).
But these and other tech stocks have actually led the market lately due to hopes that Trump's proposed corporate tax changes will lead them to bring more cash that they have sitting overseas back to the U.S.
The bet is that Apple and other giant tech firms may use that cash to hire more workers in the U.S., increase their dividends and buy back stock.
That may be true, but these tech companies may also find it tougher to do business internationally if foreign governments retaliate against Trump with their own tariffs on U.S exports.
Related: Trump's trade threats have CEOs running scared
Another potential laggard? Oil giant ExxonMobil (XOM), whose former CEO Rex Tillerson is Trump's choice to be Secretary of State.
ExxonMobil generated only a little more than a third of its overall sales in the U.S. in its most recent fiscal year.
So unless oil prices skyrocket under Trump, it may not benefit as much from Trump's policies as other energy companies that have already positioned themselves to cash in on the U.S. shale boom.
Under Tillerson's watch, ExxonMobil invested a lot more in oil reserves in deep-sea fields as well as the Russian Arctic region. It now seems to be playing catch up back in the U.S.
ExxonMobil just announced plans this week to buy shale oil assets in the Permian Basin of Texas and New Mexico for $5.6 billion.