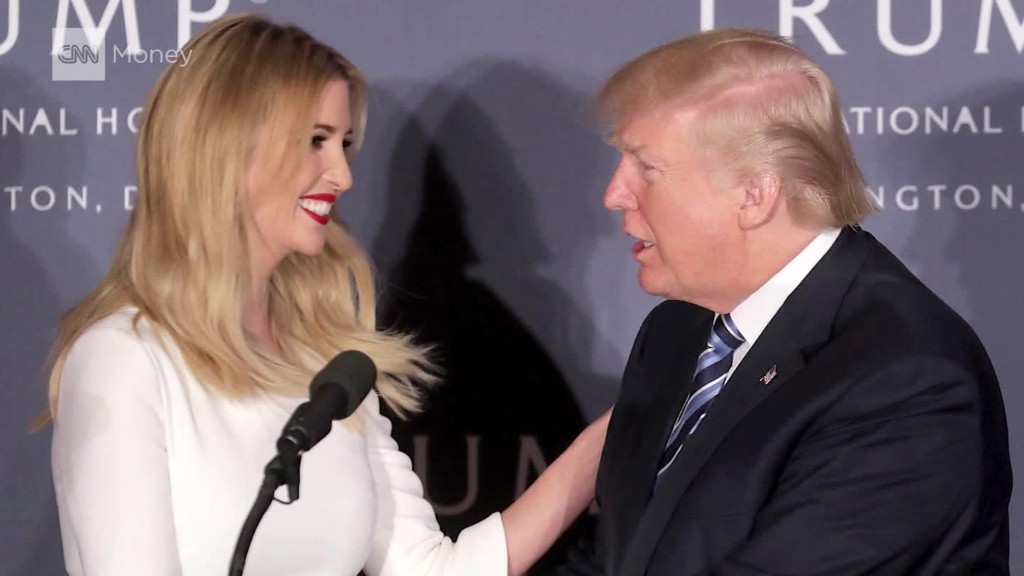 Is the politics of Ivanka Trump's father harming her fashion label?
The brand would tell you "no." A spokesperson for the first daughter's fashion label said Wednesday that the brand's overall sales were up 21% in 2016 compared to the prior year.
Rosemary K. Young, senior director of marketing at Ivanka Trump said the brand is growing.
"The Ivanka Trump brand continues to expand across categories and distribution with increased customer support, leading us to experience significant year-over-year revenue growth in 2016. We believe that the strength of a brand is measured not only by the profits it generates, but the integrity it maintains. The women behind the brand represent a diverse group of professionals and we are proud to say that the Ivanka Trump brand continues to embody the principles upon which it was founded," Young said.
Ivanka Trump has taken a leave of absence from her namesake company while she serves as a White House adviser.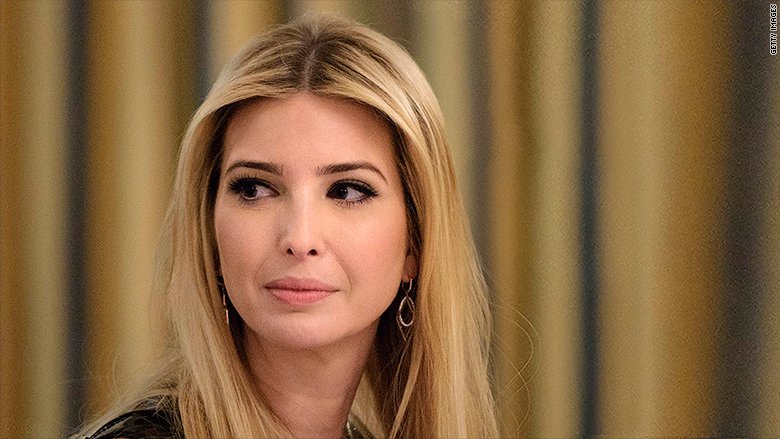 The first few weeks of 2017, however, have brought some unfavorable news for the brand. Nordstrom (JWN) decided to stop carrying the label "based on the brand's performance," spurring President Trump to tweet a controversial jab at the company on Wednesday.
"Sales of the brand have steadily declined to the point where it didn't make good business sense for us to continue with the line for now," a Nordstrom spokesperson said. "We've had open conversations with them over the past year to share what we've seen and Ivanka was personally informed of our decision in early January."
Related: Trump's Nordstrom blast retweeted by @POTUS
There are other indicators that retailers are looking to distance themselves from the brand.
The company that owns TJ Maxx and Marshalls confirmed to CNNMoney on Wednesday that it recently sent a memo to workers instructing them not to highlight the Ivanka Trump brand in stores. TJX Companies (TJX) spokesperson said employees were told to "remove all Ivanka Trump merchandise from features and mix into the runs" -- meaning the brand should not be highlighted on a standalone rack.
The New York Times said it reviewed the memo and reported that employees were also told to throw away any Ivanka Trump signage.
The company declined to provide a reason for the instructions.
Neiman Marcus recently removed its Ivanka Trump brand landing page from its website, and there's no longer any Ivanka Trump products for sale on its site.
A spokesperson for Neiman's confirmed to CNNMoney last week that the store has had a "very small Ivanka Trump precious jewelry business," and the company "continuously assess whether our brands are carried in stores, on our website, or both...based on productivity."
Related: What we know, and don't, about Trump's trust
Neiman's declined to indicate whether it intended to keep Ivanka Trump products in stores or resume online sales in the future.
Retailer Belk said Wednesday that it plans to pull Ivanka Trump products from its website, but will continue to offer the line in its flagship stores. The retailer indicated that the decision was in response to customer feedback.
"We want to thank all of you who have reached out to express your views about Ivanka Trump branded merchandise sold by Belk," a company statement reads. "We continually review our assortment and the performance of the brands we carry. We make adjustments as part of our normal course of business operations. In this regard, we are no longer carrying Ivanka Trump branded merchandise on our website."
There are, however, plenty of retailers that are still carrying the brand. A spokesperson said over 800 retailers -- including Bloomingdale's, Amazon (AMZN), Lord & Taylor, Macy's (M) and Zappos -- all carry Ivanka Trump products.
Brand and marketing expert Eric Schiffer of Reputation Management Consultants said the negative publicity may affect the label's performance in the U.S., but the Ivanka Trump brand will likely perform just fine abroad.
"It would be near impossible to nuke Ivanka's brand given the proximity she has to the White House and the glamor that heats up to any brand tied to it," Schiffer told CNNMoney.
"Ivanka's brand should continue to do well overseas where fewer details filter through about Trump...But Ivanka absolutely won't be boosting her brand in the U.S., and it will continue to get bashed in the teeth with far lower sales from women disgusted at Trump and his positions."