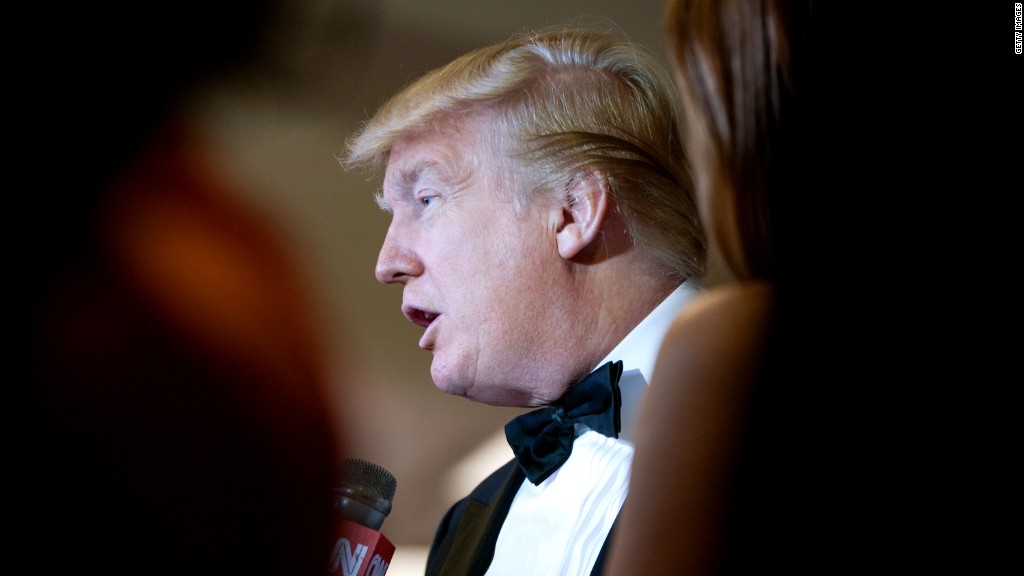 One major part of President Trump's plan to avoid conflicts of interest was a promise to place his vast business assets into a trust run by his adult sons.
Three weeks into his administration, neither the president nor his company has released paperwork to show the public how such a trust will work.
But a newly surfaced document provides a peek into how Trump's assets are being managed.
The document, made public by ProPublica last week, was filed in January with an alcohol board in Washington, D.C. It notifies the agency that Trump's stake in the historic post office that he rebuilt as a luxury hotel has been transferred to the trust.
Attached to the notice is a summary that reveals the existence of a revocable trust -- one created "to hold assets for the exclusive benefit" of Trump.
His son Donald Trump Jr. and Trump Organization executive Allen Weisselberg were appointed trustees the day before the inauguration, but Trump can remove them at any time.
Trump's other adult son, Eric, is not listed on the trust document. He appears on other business registration paperwork and retains a key executive role with the Trump Organization.
Related: What Trump is really doing about his business
The document leaves open many questions about Trump's financial entanglements. It does not, for example, say whether Trump's stakes in hundreds of other businesses have also been transferred to the trust, as promised.
And the answers it does provide trouble ethics experts, who have repeatedly said the president's decision not to sell his business assets invites myriad conflicts of interest.
"I think the trust, in large part, appears to be window dressing," said Steven Schooner, a professor of government procurement law at George Washington University.
No expert would look at the documents "and see a good-faith effort to affirmatively resolve the concerns, or ensure that we're not seeing the president abuse the Oval Office for personal benefit," he said.
While the circumstances may be unprecedented, it is not surprising that the trust is structured for Trump's financial benefit, said John Pankauski, a trust lawyer in West Palm Beach, Florida.
Under a typical trust arrangement, "The trustee's job, to be crude, is to look out for (and) protect the beneficiary and try to make money," Pankauski said.
That means Donald Jr. and Weisselberg are responsible for looking after Trump's bottom line -- a major point of concern for ethics lawyers who worry Trump and his sons could use the presidency to profit personally.
Trump himself said at the January 11 press conference, referring to his sons: "I hope at the end of eight years, I'll come back and say, oh, you did a good job. Otherwise, if they do a bad job, I'll say, 'You're fired.'"
Related: How Congress could get Trump's tax returns
The full trust agreement, which formalizes Trump's promise to give up control of his holdings, would be private unless Trump or his company released it.
Trump's lawyers promised that the trust would hold his ownership or licensing stakes in golf courses, hotels, resorts, commercial real estate, even Trump Tower itself. While Trump declined to sell them, the trust was meant to convey separation between the president and his business interests.
"Here is just some of the paperwork that's taking care of those actions," his lawyer Sheri Dillon told reporters on January 11, gesturing to stacks of manila envelopes on a table.
Trump has also resigned his management positions in companies across his business empire, according to a document provided to CNN last month.
Related: Trump Organization documents say he has resigned from more than 400 businesses
Trump Organization general counsel Alan Garten did not respond to repeated requests from CNN asking for documentation related to the trust agreement, which deals with ownership, not management responsibility.
Garten also did not return a request for comment Tuesday from CNN asking whether Trump's interests in hundreds of other business entities had been transferred to the trust.
Dillon, through a representative, declined comment. At the January 11 press conference, she said she and her colleagues had designed a structure to "assure the American people the decisions he makes and the actions that he takes as president are for their benefit and not to support his financial interests."
For experts like Schooner, that explanation doesn't hold water. He said the plan laid out by Trump and his organization "is to approach this from a legalistic standpoint of what can they get away with, rather than what is the right thing to do."
Under a true blind trust, Trump would liquidate his assets and give the cash to a money manager who is not related to him and would manage the investments without his knowledge, separating his personal bottom line from his decisions as president.
Trump also promised not to discuss the business with his sons, but they have not stayed away from government: Both were members of their father's presidential transition team. And both were spotted talking to at least one member of Congress last week as the president announced his choice to replace the late Justice Antonin Scalia on the Supreme Court.
Schooner said the trust arrangement also doesn't appear to address one of the most glaring concerns brought by ethics experts and Democratic lawmakers: the lease for his Washington hotel.
Trump signed the lease for the federal property two years before he ran for office. Now that he's president, he has effectively become both landlord and tenant -- an apparent violation of a clause in the lease that prohibits elected officials from benefiting from it.
--CNN's Drew Griffin contributed to this story.