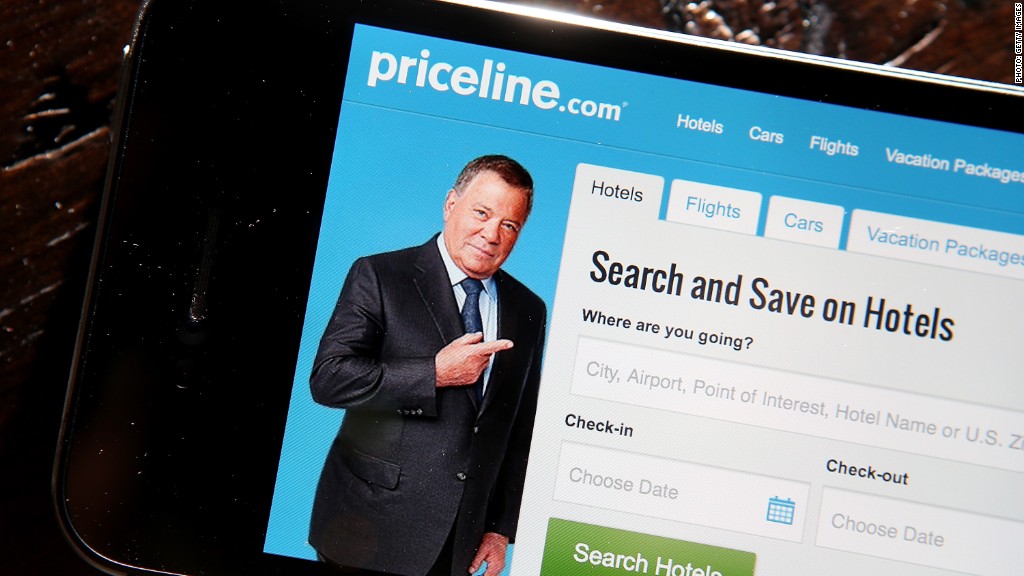 For $1,760, I can book an eight-night vacation on Priceline for me, my wife and our two kids during Easter break at Disney's Port Orleans Resort. Covers the flight and two rooms.
Or I could use that money to buy one share of Priceline (PCLN) stock. Yup. Just one.
Priceline's shares are now trading a record high of about $1,730. Shares surged 6% Tuesday following an earnings report after the close Monday that wowed Wall Street. Sales and profits beat forecasts.
The amazing thing about Priceline is that the high stock price has not scared off investors.
One share of Priceline costs twice as much as two other high-flying (sorry) tech stocks with sticker shock prices. Google owner Alphabet (GOOGL)and Amazon (AMZN) both trade around $850 a share.
But investors continue to love Priceline because it has consistently delivered strong growth over the long haul.
Earnings have increased an average of 16% a year over the past few years and profits are expected to keep increasing at a 16% rate annually for the next few years.
That's helped Priceline stay ahead of rivals like Expedia (EXPE).
And the stock, despite its high absolute price, is still relatively reasonable when looking at valuation metrics that most investors use -- the price-to-earnings ratio.
Priceline is trading at 23 times earnings estimates for 2017. That's not a bubble-like price for a company that's growing as consistently as it has.
And the company continues to make acquisitions to boost its lead in the online travel market. Earlier this month, Priceline announced plans to buy Momondo, a European travel search engine that also owns Cheapflights.
Over the past few years, Priceline has bought Booking.com, Asian hotel reservations site Agoda, travel search engine Kayak, restaurant reservation service OpenTable and Rentalcars.com.
Related: Priceline bounced back quickly following Brexit fears
Investors love that Priceline has diversified beyond the gimmicky "name your own price" service that made the company famous in the late 1990s.
And who could forget those commercials with William Shatner as the Negotiator?
The company even had some people believing that Kaley Cuoco of "The Big Bang Theory" fame was his daughter after she appeared in ads with him. (I really should have trademarked the phrase "Don't Short the Shat!")
Fears about a slowing global economy -- particularly turmoil in Europe due to Brexit and worries about China -- briefly dented Priceline's stock last year. But it recovered.
The company also didn't suffer from the surprise resignation of CEO Darren Huston last April after it was revealed that he had an extramarital affair with a female employee.
So if you have $1,750 lying around, a share of Priceline might ultimately wind up being more rewarding (financially at least) over the long haul than a nice vacation. But a share of Priceline stock doesn't come with mouse ears.