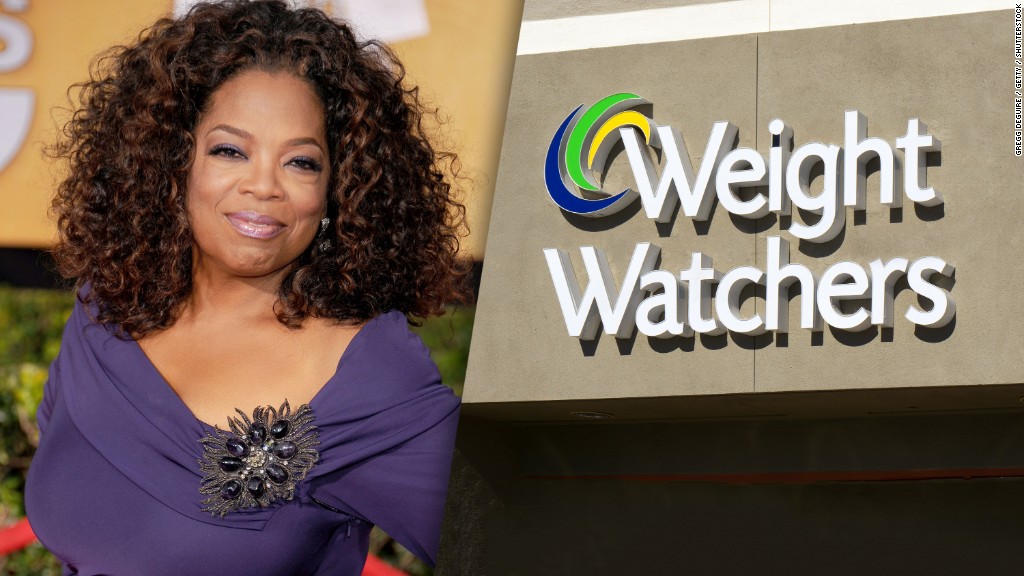 It looks like a lot of people made a New Year's resolution to go on a diet.
Weight Watchers shares soared more than 25% Wednesday after the Oprah Winfrey-backed company reported strong earnings for the fourth quarter and a 10% jump in subscribers late Tuesday.
Nutrisystem also reported solid results on Tuesday morning, sending its stock up nearly 20%.
Shares of Nutrisystem (NTRI) have now gained nearly 35% already this year while Weight Watchers (WTW) has surged 60%.
That's great news for Winfrey, who is an investor in Weight Watchers as well as a board member and celebrity spokeswoman. Winfrey's stake in the company is now valued at $115 million, an increase of more than $40 million this year.
Shares of Weight Watchers are still down about 30% from the peak price above $28 that they hit shortly after Winfrey first announced her investment in the company back in October 2015.
The stock is currently trading at around $20, but it was as low as $9.50 in the past 12 months. You could say that the share price has fluctuated as much as the weight of a person on a yo-yo diet.
It took some time for Winfrey's endorsement to lead to a jump in subscribers. CEO Jim Chambers also stepped down last September, adding to some concerns about the company's financial health.
But Winfrey has helped validate the company's weight loss service. She said in December that she's shed more than 40 pounds and has continued to appear in TV commercials for the company.
Related: Oprah's loss is Weight Watcher's gain
Weight Watchers has also assured investors that it is looking for a new CEO to replace Chambers.
Board member Christopher Sobecki, a managing partner at private equity firm Invus, said during a conference call with analysts Tuesday that the CEO search is "on track" and that "there is high interest in the position."
The recent success of Weight Watchers does not appear to be hurting rival Nutrisystem at all.
Nutrisystem, which also owns the South Beach Diet, said on Tuesday that it was continuing to add more customers. CEO Dawn Zier didn't even mention Weight Watchers during her company's conference call with analysts.
And it also looks like neither company is having a problem attracting more paying members even though there are many free diet and health and fitness apps available on smartphones for people looking to shed a few pounds.
Of course, it remains to be seen if investors' love for both companies fade as the year goes on and many well-intentioned dieters go back to eating too many sweets and let their gym memberships lapse.
But for now, Wall Street is bullish on calorie counting. And Oprah Winfrey is counting more cash too.