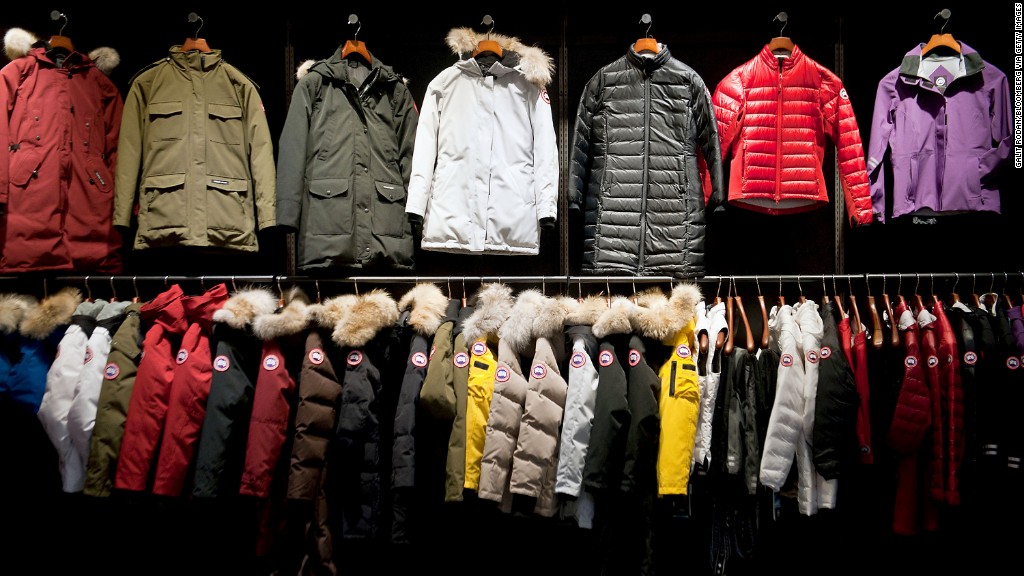 Move over, bulls and bears.
The animal spirits on Wall Street were of a decidedly more avian variety Thursday. Anserine if you want to be technical. Parka maker Canada Goose went public and shares soared nearly 40% right out of the gate. Honk honk!
Canada Goose sold its shares on both the New York Stock Exchange and Toronto Stock Exchange.
And despite the fact that the start of spring is just days away, Canada Goose may have benefited from a late winter cold spell. Temperatures were below the freezing point in both Toronto and New York!
Canada Goose priced its offering in Canada at C$17 -- above its initial range. That works out to an offering price of about $12.78 on the NYSE. The stock opened at $18 on the NYSE but then cooled off a bit.
Related: Canada Goose files for IPO
After its pop on Thursday morning, Canada Goose is valued at about $2 billion.
The company's expensive jackets (nearly $1,000 for adults and $450 for kids!) have been a hit with many celebrities and other super wealthy people.
Alibaba's (BABA)Jack Ma, Oscar winner Emma Stone, Canadian rapper Drake and even James Bond -- or Daniel Craig, that is -- have been spotted wearing them.
But it seems that the company's coats are popular with the not so rich and famous as well.
Canada Goose reported a sales increase of more than 40% in the first nine months of this fiscal year compared to the same period last year.
The company is profitable too -- earnings were up 26% from a year ago.
Canada Goose is the second high-profile unicorn (a private company with a market value of at least $1 billion) to go public this month.
Snapchat parent Snap Inc. (SNAP) also debuted on the NYSE and surged 44% on its first day of trading.
But Snap has cooled off considerably in the past week, as investors worry about slowing user growth and its lack of profits.
Related: Wil Snapchat IPO lead to Uber, Airbnb and other mega-unicorns going public?
Shares are down 17% from their first-day closing price and have fallen more than 30% from the peak price they hit on their second day of trading.
Fashion is also a notoriously fickle business. Shares of luxury accessory companies Coach (COH), Kate Spade (KATE) and Michael Kors (KORS) are all well below their highs from a few years ago, for example. And high-end jeweler Tiffany (TIF) has fallen on hard times too.
There could also be a backlash against Canada Goose that has nothing to do with concerns about its financials.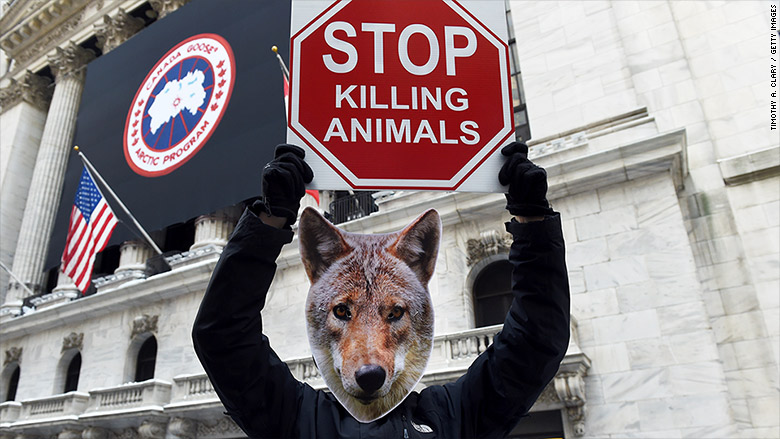 Animal rights activist group PETA told CNNMoney it planned to buy shares of Canada Goose once it started trading Thursday so it can be an activist investor and voice its disapproval with how the company uses goose down and coyote fur in its jackets.
PETA held a protest outside of the NYSE Thursday morning.
"Cruelty is part of every Canada Goose jacket trimmed with real fur and filled with real down," said PETA president Ingrid Newkirk. "PETA is pushing the company to stop peddling parkas that cause immense pain and suffering to coyotes and geese."
CNNMoney's Alanna Petroff contributed to this story