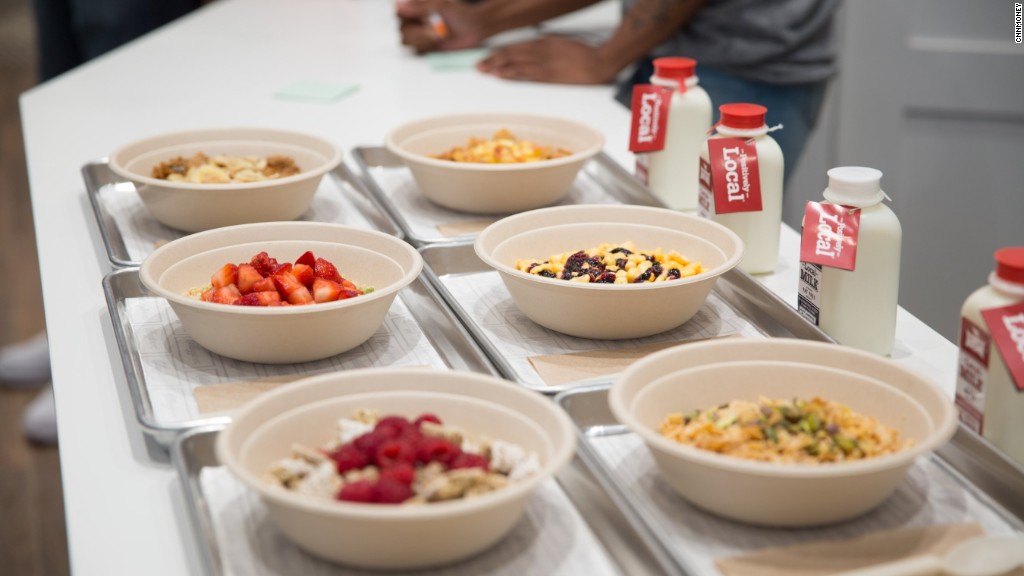 Better eat your Wheaties? General Mills wishes you were. And people apparently aren't so cuckoo for Cocoa Puffs either.
General Mills, which owns those two popular cereal brands as well as Cheerios, Lucky Charms and Trix, reported weaker than expected revenue for its latest quarter Tuesday morning. Sales fell 5% from a year ago--more than expected.
And it's the seventh straight quarter that sales at General Mills (GIS) were down.
General Mills is having trouble getting people to eat cereal. And it's a challenge that rivals are dealing with as well.
Kellogg (K) said last month that sales for what it dubs its morning foods, which includes iconic brands Frosted Flakes and Rice Krispies as well as Pop-Tarts, were down from a year ago. (Morning foods? I've been known to munch on a Pop-Tart after dark.)
The latest quarterly sales for Post (POST), which owns Fruity Pebbles and Honey Bunches of Oats, were flat compared to a year ago.
Soda and snack food giant Pepsi (PEP), which also owns Life and Cap'n Crunch cereal maker Quaker Foods, only reported a 5% increase in revenue from that unit in its most recent quarter.
And Pepsi didn't even talk about cereal in its earnings release or conference call. Instead, CEO Indra Nooyi touted the company's new healthier Quaker Breakfast Flats fruit and nuts bars.
Related: Special K ads banned over health benefits claims
All this begs the question. Does anyone besides Seinfeld-loving Gen Xers and Baby Boomers even eat cereal anymore?
There's anecdotal evidence that Millennials aren't cereal addicts. Part of it is the cost.
Even though deflation for many agricultural commodities have put a dent in food prices lately, the general trend for cereal over the past few years has been higher prices for smaller boxes.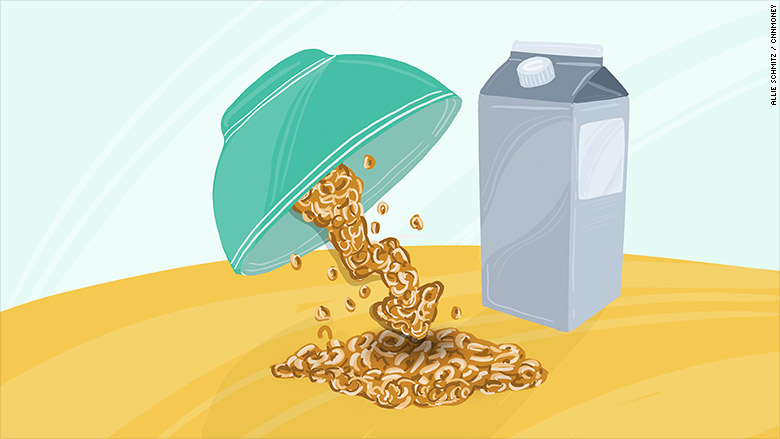 So cash-strapped younger people may not find cereal to be a good value.
What's more, numerous stories about the loads of sugar in many breakfast staples have parents less inclined to give their kids fruity and chocolatey cereals in the morning. As a dad of two preternaturally wired young boys, I can attest to that.
And it's a big reason why many of the cereal companies are starting to cut back on sugar and artificial colorings and pushing healthier offerings with more grains.
What do you think? Do you still eat cereal every now and then? If not every day? I put the following poll up on Twitter.
This is by no means anything close to a scientific survey of course, but it seems that more people are skipping a bowl at breakfast.
Here's what some of you had to say about cereal -- or the lack of it -- in the morning. (I didn't even ask about the quintessential milk vs. dry debate!)
One reader argued that cereal isn't sufficient enough of a breakfast. Another remarked that the high cost of brand name cereal is an issue too.
Several others said that Millennials just don't eat cereal -- but one Twitter follower offered up a suggestion for how to change that.
Ha! Bacon and cereal is an idea I can rally around. Paging Warren Buffett! Now that Berkshire Hathaway (BRKB)-backed Kraft Heinz (KHC), which owns Oscar Mayer, has been turned down by Unilever (UL), maybe it should buy General Mills or Kellogg instead!