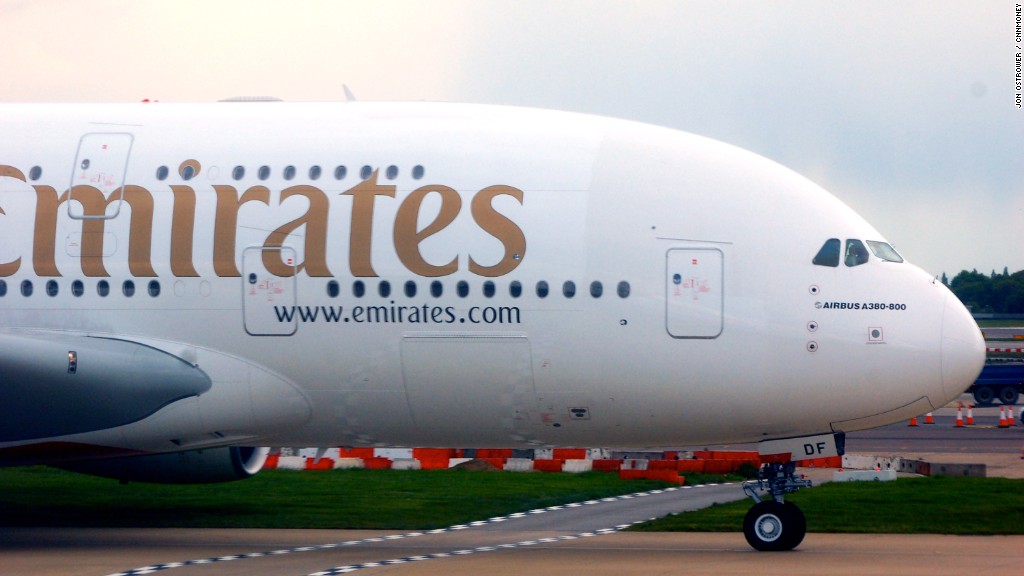 Fast-growing Middle Eastern airlines have been luring business travelers away from carriers in the U.S., Europe and Asia for years. But they may find the seats in the front of the plane going unfilled after the U.S. and U.K. banned large electronics in the cabin on some flights from the region.
Their European rivals appear best placed to capitalize on the needs of higher paying passengers who refuse to be separated from their devices.
By Wednesday, Qatar Airways flights from Doha to the U.S. were already operating under the new restrictions, which U.S. and U.K. authorities say are based on concerns that devices larger than a smartphone could carry explosives. Affected airlines have until Saturday morning to abide by the new rules.
Wall Street analysts are already warning that business travelers may change who they fly with if they can't get work done on their laptops or tablets.
Long flights from the Middle East and Africa back to the U.S. offer business travelers invaluable time that they can often use to toil away uninterrupted by phone calls or personal commitments.
Related: Gulf airlines worry electronics ban will hurt them
"Hubs that don't impede the productivity of long-haul business travelers (such as Frankfurt, Paris, and so forth) could logically be expected to" charge a premium ticket price "at the expense of the Middle East," wrote JPMorgan airline analyst Jamie Baker.
Baker said in a research note Wednesday that European airlines are likely to be the biggest beneficiaries of the electronics ban. Germany and France, home to global carriers Lufthansa and Air France, have not matched the restrictions put in place by the U.S. and the U.K.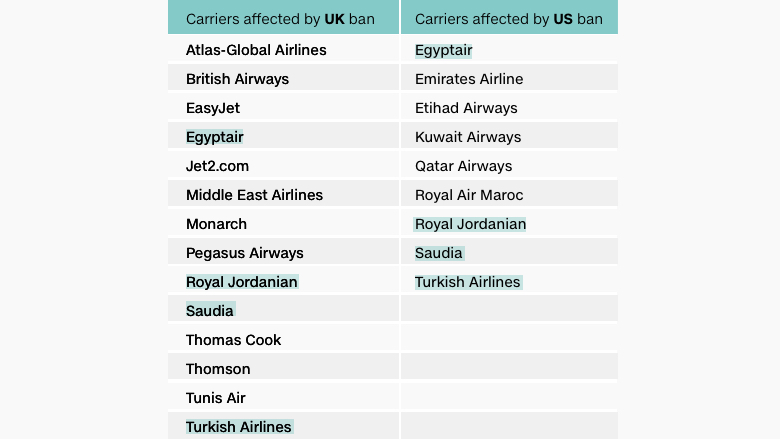 He also pointed to "the tech-heavy corridor between the U.S. and India" as one where significant numbers of business travelers could choose to avoid transfers at Middle East airports.
But Dubai Airports CEO Paul Griffiths said he thinks only "a very tiny proportion" of travelers will change airlines.
"I don't think it will have a big impact on numbers," he told local radio, as long as "we are very, very diligent in both communicating to people exactly what the restrictions are and actually have an efficient process to deal with the situation."
Aviation information provider Flightglobal estimates the nine affected airlines under the U.S. ban have about 18,000 seats each day flying from their Middle East and North African hubs directly to the U.S. on 50 routes.
Related: Airline electronics ban: What you need to know
Carriers in Turkey, Qatar and the United Arab Emirates have bought hundreds of new jets to open new routes across the planet, much to the consternation of big U.S. and European airlines.
But after years of blistering growth, carriers like Emirates, Etihad Airways and Turkish Airlines had started to struggle even before this week's new security restrictions added to their difficulties.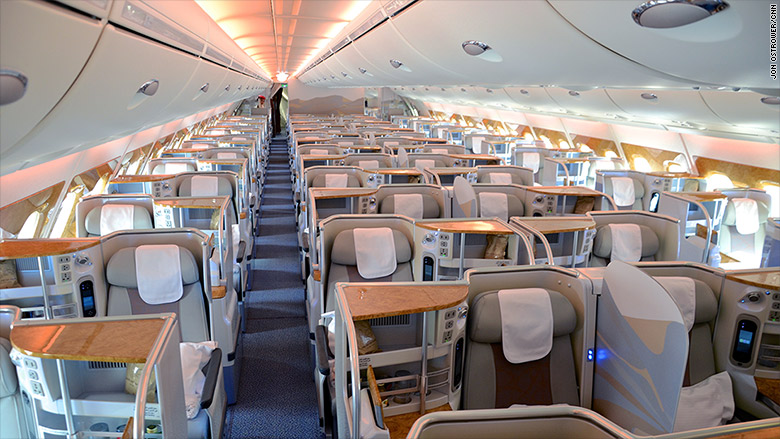 They were already suffering from falling revenues as a result of increased competition for cheap fares, terrorism concerns and the Trump Administration's efforts to ban travelers from some Muslim-majority nations.
"It's not helping," said Emirates President Tim Clark in an interview with CNN on Wednesday. "Hey ho, there are other years to come."
Related: Emirates president: 'Amazing' to suggest Dubai airport is not safe
Emirates is still putting on a brave face. After the new restrictions were announced Tuesday, it sent a tweet touting its elaborate inflight entertainment systems fitted in the seats aboard its Airbus A380s and Boeing 777s that fly to the U.S.
"Who needs tablets and laptops anyway?" it asked.
However, the practicality of checking electronics may collide with corporate cybersecurity rules. Policies at government agencies, financial institutions or aerospace and defense contractors, for example, prohibit laptops from being stored in checked luggage for fear of theft of sensitive or proprietary data.
One frequent business traveler who works in Southern California for an aerospace company told CNNMoney he was rebooking an April trip from the U.S. to the United Arab Emirates because of the new restrictions. The sensitive data he travels with doesn't allow him to separated from his laptop while traveling internationally.
Related: What security experts are saying about airline electronics ban
The new itinerary he was considering involves an extra stop from the U.S. through London on Qatar Airways. Qatar was included in the U.S. ban, but not the U.K. one. Royal Jordanian, the airline with which he initially booked, was on both.
He said he was waiting to rebook to make sure other countries didn't join in the ban.
The Department of Homeland Security and the Transportation Security Administration have yet to offer an explanation of why airports in Qatar and the U.A.E. are included in their ban, but excluded from the U.K.'s.
"Reasons that are best known to themselves," Clark said. "Of course it's hugely disruptive."
-- Zahraa Alkhalisi contributed to this report.