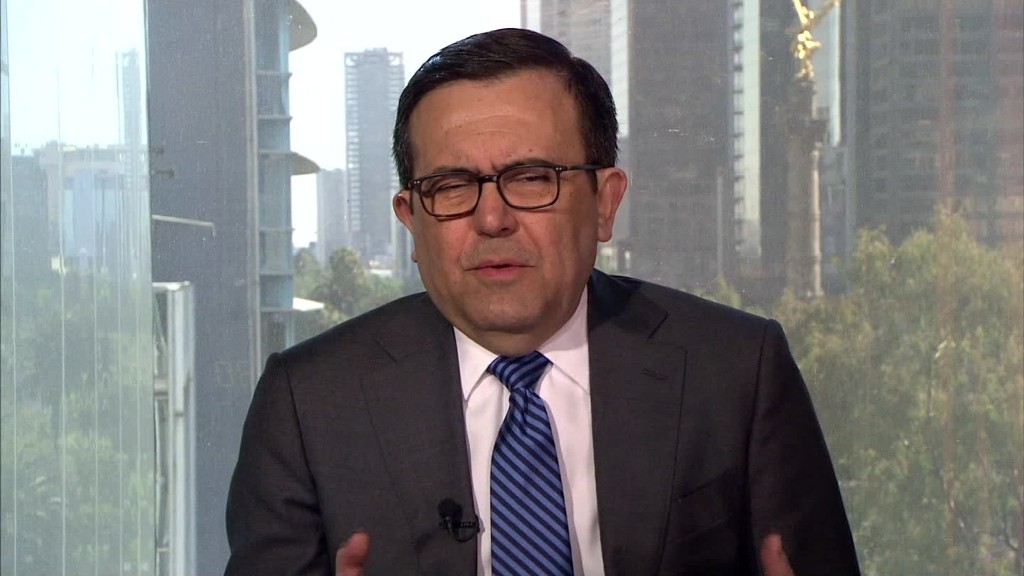 Mexico says it is willing to pull out of a trade deal with the U.S. and Canada if it isn't a win-win for everyone.
"If what is on the table is something that is not good for Mexico, Mexico will step away from NAFTA," Mexico's foreign minister, Luis Videgaray, told Bloomberg TV Thursday in Acapulco, Mexico, referring to the trade agreement between the United States, Canada and Mexico.
Videgaray emphasized he believes trade talks will be constructive and the countries will be able to work out an updated agreement that benefits each of them. Pulling out isn't a first step but a last resort, he said. But it's a last resort Mexico is willing to take.
"Both parties have leverage with each other. The questions is: Can you pull your leverage without hurting yourself? Probably not. We're not approaching this in that sense. It should be a constructive process," Videgaray said.
Related: Mexico, U.S. don't agree on how to negotiate NAFTA
President Trump campaigned against NAFTA, calling it a "one-sided deal" that's only benefited Mexico. He too has threatened to pull out of the agreement and to slap tariffs, or taxes, on imports from Mexico.
Trump says he wants a better deal for American workers -- but his team isn't very clear on what exactly a better deal looks like.
Any day U.S. commerce secretary Wilbur Ross is expected to formally notify Congress of the Trump administration's plans to renegotiate. That notice triggers a 90-day consultation period. After those 90 days, real trade talks can begin. Ross said he expects negotiations to last about a year.
Ross and other Trump trade advisers have talked about revising something called rules of origin.
A part of NAFTA, the rules of origin mean a product has to have a certain percentage of its parts sourced from the three member countries.
For example, 62% of the parts in a car have to be sourced from the three countries. The rest of the parts in the car can be sourced from elsewhere in the world. Ross is hoping to increase that percentage but won't say how much.
Related: I sent money home to Mexico to support family
President Enrique Peña Nieto has outlined a broad plan for what Mexico wants in negotiations. Primarily, protections for Mexicans in the United States, no tariffs, and new provisions on e-commerce and rules of origin.
But Mexican officials too aren't precise about what they want.
The two countries' negotiators remain divided on how to actually negotiate the deal.
Ross said at a March 10 press conference with Mexico's economic minister, Ildefonso Guajardo, that the U.S. might do separate trade talks with Canada and Mexico. Guajardo immediately stepped in to say the entire agreement should be negotiated with all three parties present.
"NAFTA is a trilateral agreement. ... It makes a lot of sense to discuss [the chapters] trilaterally," Guajardo said standing next to Ross in Washington.