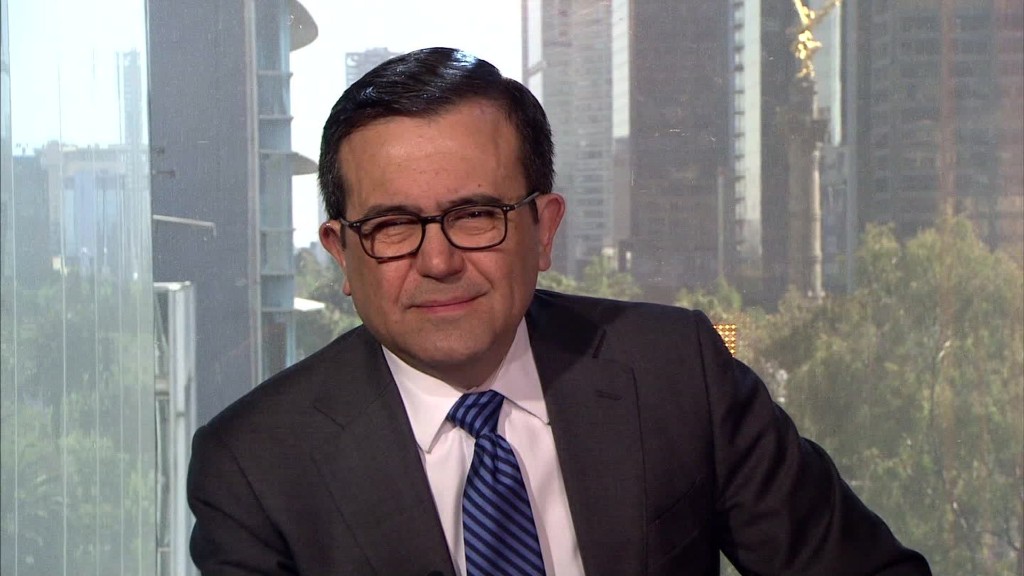 Dalia Maldonado is considered a life saver by her family and friends in Mexico.
She paid for her father Francisco's knee surgeries. She pitched in $400 for her friend Esmeralda's leukemia treatment. And she regularly helps pay for food and bills for her parents and relatives.
But Maldonado is not with them in Sonora, Mexico. She sends about $250 home every month from Menifee, California, where she works in real estate, earning about $35,000 a year. Her parents have a combined income of $20,000 in Mexico.
The cash Maldonado sends home is called a remittance, which has become Mexico's biggest source of foreign revenue.
Last year, Mexico received $27 billion in remittances -- a record high and far more than what the country got from its oil exports, $18.7 billion, according to Mexico's central bank. The vast majority of remittances sent to Mexico come from the U.S. and they support millions of low-income families in Mexico.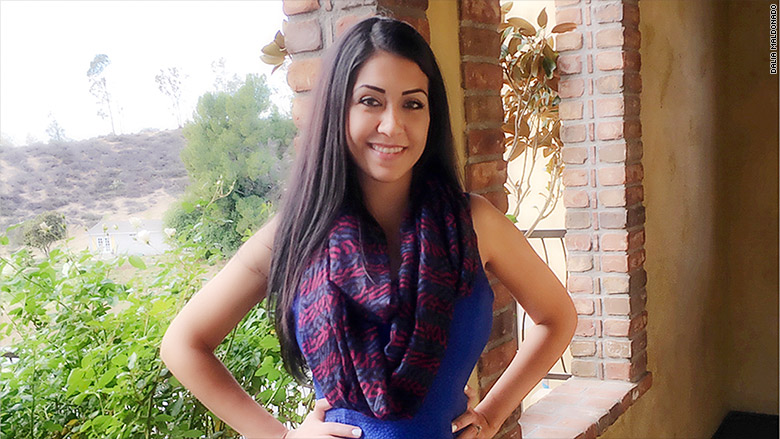 President Trump could make it harder for Maldonado and millions of other Mexicans in the U.S. to send money home.
During his campaign, he threatened to tax remittances to pay for the wall. In January, after being elected, he hinted at it again.
Related: My American job is moving to Mexico
"Mexico...will reimburse us for the cost of the wall. That will happen, whether it's a tax or whether it's a payment -- probably less likely it's a payment," Trump said at a press conference on Jan. 10.
While Trump hasn't addressed remittances since taking office, the threat is still very real. On Saturday, Mexico's finance minister, Jose Antonio Meade, defended the free flow of remittances at the G20 summit in Germany, arguing they're a critical component for economic growth in developing countries.
Maldonado says a tax on remittances would spell trouble for Mexico.
"If Trump makes it more difficult for people to send money to Mexico, there will be more poverty in Mexico," says Maldonado, 33. Now a dual citizen, she's lived in the U.S. for 11 years. She uses an app called Remitly to send money home.
Remittances have helped alleviate some poverty in Mexico. In 1995, the first full year after the trade agreement NAFTA became law, Mexicans only sent $3.6 billion home. Today, it's catapulted to about eight times that amount.
Over the same period, Mexico's poverty level has fallen. In 1994, there were 9.2 million Mexicans living in poverty. Today that figure stands at 3.8 million, according to the World Bank.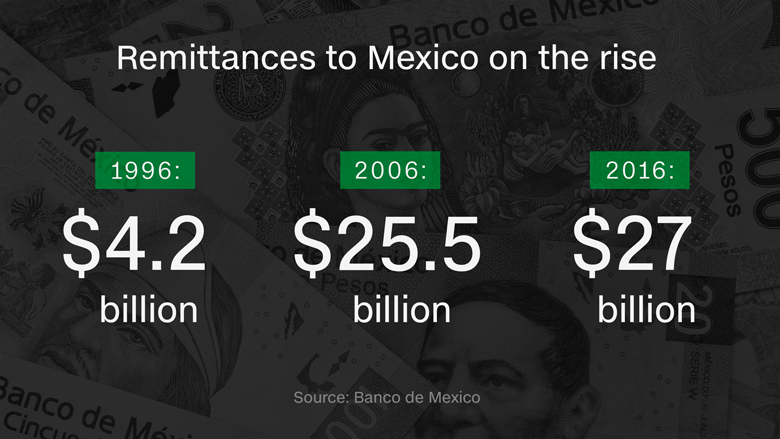 Related: Why a trade deficit isn't like losing money
In recent months, there's been a surge of remittances. Economists say two factors are behind that: the value of Mexico's peso is near an all-time low so it's a good time to take advantage of the exchange rate by sending dollars home. Second, Trump.
"We also do not rule out that many senders could be strategically front-loading these transfers in anticipation of potential restrictions...by the U.S. administration," Alberto Ramos, head of Latin America research at Goldman Sachs (GS), wrote in a research note earlier in March.
Alejandro, for instance, has recently starting to send more money home. A father of four in Manteca, California, east of San Francisco, Alejandro sends home $400 a month to his sister, Carina, and aunt in city of Leon, Mexico, about five hours north of the nation's capital, Mexico City. He earns roughly $3,000 a month as a machine technician. (Alejandro asked that his last name not be used because he only has residency, not citizenship, in the United States.)
The money helps Carina pay for her three children to go to private school.
Related: Trump's top trade negotiator boosts Mexican peso
Remittances "are very important for our country. In Mexico, there's a lot of poverty and the jobs don't pay well...[Without remittances] there would be more hunger," says Alejandro.
It remains unclear how Trump will pay for the wall. On Thursday, his administration's budget proposal only asked for $1 billion for the "first installment" of the wall, which White House and congressional officials estimate will cost between $12 and $21 billion.
Mathematically, taxing or halting remittances could help pay for the wall.
But Maldonado and other Mexicans say they'll just find another way to send money home rather than pay Trump's potential tax. Many will get it home the old-fashioned way: Haul it to Mexico.
"If he starts doing that then I will save money and bring it home when I see my parents," says Maldonado.